Cranston Returned to the Duke City (Posted: 12/12/2016)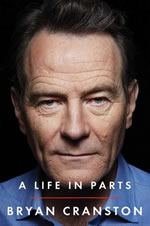 Bryan Cranston graced the stage at the KiMo on October 18, 2016 as part of a joint fundraiser for Bookworks and the Albuquerque Public Library Foundation. The award winning actor of television, stage and movies and author of "All the Way" took part in the "A Word with Writers" series as part of the national book tour for his memoir. The book is told in short story format about Cranston's life and rise to fame.
Bob Odenkirk of "Better Call Saul" fame interviewed Cranston. The evening was lively and included references to the award winning and popular television series, "Breaking Bad" in which they both starred. The sold-out audience each received a copy of the new book and greeted Cranston in a warm manner.

Sherman Alexie Visit a Big Success (Posted: 06/28/2016)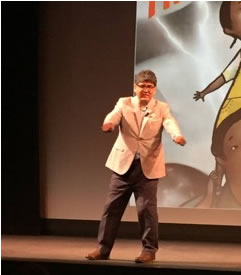 Sherman Alexie mesmerized the audience at his May 26 performance at the KiMo Theatre.
Sign up for our newsletter so you will know about the next "A Word with Writers" event."

A Word With Writers featuring Isabel Allende was a sell out! (Posted: 04/04/2016)
Ms. Allende did not disappoint and the crowd at the Kimo was enthralled with her presentation. The author was particularly gratified to have sufabulous attendance and participation as this was the end of a 13 city book tour. Thank you Albuquerque readers for your support.


Cherry Hills Branch Library (Posted: 04/04/2016)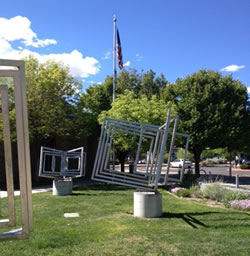 Your bicycling member of the APLF Library Board was happy to be able to roll right up to the side of the Cherry Hills Library in late April to tour the light, airy facility and meet its Branch Manager, Leigh Turner. Ms. Turner, who is also area manager for three other libraries, East Mountain, Lomas/Tramway, and Juan Tabo, was welcoming and clearly pleased with her library.
Ms. Turner has been branch manager for 15 years, though that's only slightly more than half of her career as a librarian. "I can't think of anything more satisfying than being a librarian, and I can't imagine myself doing anything else," she told me. She had been a librarian for Colorado Springs's Pikes Peak Library District and for several hospitals in Colorado and Albuquerque before settling for good – everybody's good! – at the Cherry Hills Branch.
Cherry Hills' branch manager loves to read herself, favoring English mysteries. She walks most days of the week, often listening to an audiobook as she strides along. Ms. Turner has a son in Korea, a daughter and her first grandchild in California. He said that both are avid readers. When asked how that came about, she hesitated (I think because it was a foregone conclusion): she read to them and then alternated listening to them read and reading to them when they were very young.
Ms. Turner introduced me to many of her staff, which totals fourteen – ten permanent and four substitute staff, who keep the library open more than almost all of the other branches, on seven days a week. She pointed with pride to the fact that Cherry Hills checks out more material (books, audiobooks, films, CDs) than any other branch in the system. She said that the patrons of the Cherry Hills Branch are great readers.
The Cherry Hills Branch was built in 1998 with the strong support of the surrounding communities, which lobbied City Council endlessly (and successfully) for its construction in what was then a rather empty part of the city. The area has grown, however, and the branch, the ABC Library System's farthest north, has become busier and busier.
One doesn't feel that life is hectic there – at least it hasn't on any of the occasions when I've been there. The branch's high ceilings and abundance of natural light probably contribute to its calm, and have given me several quiet afternoons to study or read.
It probably wasn't as quiet one recent afternoon when more than 200 children and parents came for a reading program; that was exceptional, but groups of more than 100 are not uncommon, Ms. Turner said. The Branch hosts about a dozen children's reading-centered activities each month, from Read to the Dogs to Let's Lego and Leap into Science, all housed in the children's area, watched over benignly by a huge Clifford the Big Red Dog.
Adult activities are also common in the library: a weekly "Itch to Stitch" group gathers in one of the two large meeting rooms (there are also two smaller study rooms and a beautiful outdoor amphitheater-like setting) and Master Gardeners, Genealogy, and Spanish Literature all graced a recent month's schedule.
As with all of the branches, wifi is available, along with 16 computers in the adult "Computer Corral" and two in the large children's area, "Portal to Reading." There's a large collection of audiobooks and eBooks, many films to check out, and a large and rotating book collection (Cherry Hills participates in the system's "floating collection" policy, such that it keeps books from elsewhere in the system returned there.) It has a huge "Hold Books" section – about 800 items at any time.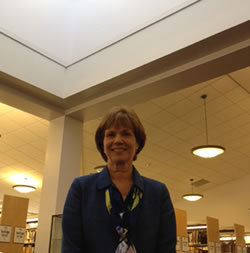 I took a photo of Ms. Turner standing in the natural light of what is affectionately called "The Squaretunda" (it would be a rotunda if it were round).
There's nothing but positive to sat about the Cherry Hills Branch, but, as many artists have said about New Mexico, so also about Cherry Hills: "It's the light." It's also the people – the clientele, families, kids, seniors, and the excellent staff, led by and embodied by Leigh Turner.
901 Barstow NE
Albuquerque, NM 87111
505-857-8321
Open Sunday 1-5, Mon, Tues. 10-8, Wed.-Sat. 10-6

A Word With Writers (Posted: 05/08/2015)
Join us for an evening with writers Mira Jacob and Kirstin Valdez Quade presented by The Albuquerque Library Foundation and Bookworks.
When: June 13, 2015, 7:00 pm
Where:
Kimo Theater
419 Central NE
Albuquerque, NM
Tickets for the event are $7. The first seven rows of the theater will be sold in advance for $20. Tickets are available online at KimoTickets.com or at the Kimo box office.
Proceeds from the ticket sales will benefit the Albuquerque Public Library Foundation.
Authors will sign books after the talk, and books will be available for purchase in the lobby from Bookworks.
Mira Jacob is the author of the critically acclaimed novel The Sleepwalker's Guide to Dancing which was shortlisted for India's Tata First Literary Award, honored by the APALA, and named one of the best books of 2014 by Kirkus Reviews, the Boston Globe, Goodreads, Bustle, and The Millions.
Kirstin Valdez Quade's fiction has appeared in The New Yorker, The Best American Short Stories, and elsewhere. She was a Stegner Fellow and Jones Lecturer at Stanford University and teaches writing as the Nicholas Delbanco Visiting Professor at the University of Michigan. She is a 2013 Rona Jaffe Foundation Writer's Award winner and a 2014 honoree of the National Book Award of "5 under 35."

Anne Hillerman, Rock With Wings Fundraiser (Posted: 04/21/2015)
When: May 5, 2015, 7:00 pm
Where:
South Broadway Cultural Center
1025 Broadway Blvd SE (south of downtown Albuquerque)
Albuquerque, NM 87102
Tickets $5 and all funds to benefit the Albuquerque Public Library Foundation. Tickets available in advance at Bookworks. Please come in or call 344-8139.
Doors will open at 6:30 with a signing with Ms. Hillerman to follow.
Bookworks will sell Ms. Hillerman's books at the event and prior to the evening, including the brand new Leaphorn & Chee mystery, Rock with Wings and the new trade paperback of Spider Woman's Daughter.
For more information, contact Bookworks at 344-8139.
From Anne Hillerman's amazon.com page:
Anne Hillerman, daughter of best-selling mystery writer Tony Hillerman, will continue her father's Navajo detective series with "Spider Woma's Daughter," due for publication Oct. 1, 2013 (HarperCollins.) The book follows the adventures of Joe Leaphorn, Jim Chee and Bernadette Manuelito as they track a would-be cop killer, travel to Chaco Canyon on the trail of a murderer, and discover intrigue in the world of ancient Indian art and artifacts. She is the author eight non-fiction books including "Tony Hillerman's Landscape: On the Road with Chee and Leaphorn." She and photographer Don Strel made numerous road trips to photograph and write about the landscapes beloved by New Mexico's best known mystery writer. Working on that book inspired her novel.
"In the process of researching Tony Hillerman's Landscape, I re-read all of the Chee/Leaphorn mysteries, paying close attention to the settings. I ran into mud, dust storms, rez dogs, snow and those pricelessly beautiful days Tony Hillerman wrote about for more than 35 years," Anne said. "I loved nearly every minute of it. My personal highlights included New Mexico's Bisti badlands, the mysterious landscape near Ship Rock and vast, empty Chaco Canyon."
Anne, the eldest of Tony and Marie Hillerman's six children, came to New Mexico as a child and enjoys living in the Southwest. She is currently at work on the second book in the new mystery series. Her other major non-fiction projects include "Gardens of Santa Fe," with features photos of Santa Fe's finest gardens and interviews with their creators, and "Santa Fe Flavors: Best Restaurants and Recipes." Both received top honors at the New Mexico Book Awards. She worked for many years as a journalist, receiving awards for her writing from the New Mexico Press Association and the National Federation of Press Women. When she isn't working, Anne likes to ski, garden and experiment with new recipes in the kitchen. She is a founder of the Tony Hillerman Writers Conference held annually in Santa Fe, N.M.
Synopsis of new book from amazon.com:
Navajo Tribal cops Jim Chee and Bernadette Manuelito, and their mentor, the legendary Lieutenant Joe Leaphorn, investigate two perplexing cases in this exciting Southwestern mystery from the New York Times bestselling author of Spider Woman's Daughter. Doing a good deed for a relative offers the perfect opportunity for Sergeant Jim Chee and his wife, Officer Bernie Manuelito, to get away from the daily grind of police work. But two cases will call them back from their short vacation and separate them—one near Shiprock, and the other at iconic Monument Valley.
Chee follows a series of seemingly random and cryptic clues that lead to a missing woman, a coldblooded thug, and a mysterious mound of dirt and rocks that could be a gravesite. Bernie has her hands full managing the fallout from a drug bust gone wrong, uncovering the origins of a fire in the middle of nowhere, and looking into an ambitious solar energy development with long-ranging consequences for Navajo land. Under the guidance of their mentor, retired Lieutenant Joe Leaphorn, Bernie and Chee will navigate unexpected obstacles and confront the greatest challenge yet to their skills, commitment, and courage

In Praise of Libraries (Posted: 04/21/2015)
A salute to society's most successful civic institution
By Joe Queenan. Printed in the March 2015 issue of The Rotarian
The public library is the only civic institution in my community that is uncompromisingly successful. Not everyone in my small town is crazy about the police force, and not everyone is all that pleased with the public schools. No one ever seems terribly happy with the planning board, the architectural review board, the board of trustees. Some people think the volunteer firemen get too much money for new equipment, though no one ever dares say it out loud.
The public library is different. The public library is the community's kindly grandmother: helpful, patient, understanding. Nobody in my town ever stands up and says he dislikes the public library. Nobody in your town does, either. Grumpy old librarians who keep shushing you, sure. But not the library itself.
The public library is an indispensable institution that somehow manages to get taken completely for granted. Like the clouds above us, like the birds that fill those skies, it is a glorious creation that is hiding in plain sight. Society pays little attention to it, even though society cannot survive without it. Not any real society. Small towns can do without movie houses and fancy restaurants and stores that sell 50 kinds of balsamic vinegar. They can even do without bookstores. But small towns cannot do without a public library. Cannot, cannot, cannot. You can look it up.
The public library serves many functions in a community. It is an adjunct to the public schools, a place where kids can do their homework. It is a day care center of sorts, where small children gather for story hour. It is a safe haven where senior citizens can pass the time in the company of others, where the unemployed can look for work. It is a place where the lonely can be less lonely, the bored less bored, the dejected less dejected, and the ignorant more enlightened. It is the one place in a small town where teenagers cannot possibly get into serious trouble. Well, not without really setting their minds to it.
The public library has features that make it different from any other institution. It is public, in the true democratic sense of the word, and it is free. The value of being free cannot be overestimated. You cannot hang out in the local coffee shop for free. You cannot hang out in the diner for free. You cannot hang out at the senior citizens center for free if you are not a senior. Yes, you can pass the time in the park or along the banks of the river, but not in December, especially not in Chicago. But you can hang out in a library no matter who you are, no matter what your income, no matter how you are dressed, no matter what your interest. The library's philosophy is simple: Come one, come all.
The wide array of things that libraries offer means that they reach all levels of society. They make society better than it would be if left to its own devices. Libraries are a subtle, almost cunning, bulwark against the racial and socioeconomic segregation that society naturally gravitates toward, even when it does not do so out of malice. People congregate in libraries in a way that they do not congregate elsewhere. Because they are not bound by narrow class or economic or cultural strictures, libraries can cater to everyone. Poor people do not shop at the local gourmet store. Teenagers do not frequent stores that sell expensive perfumes or whimsical gifts or Inuit pottery or Veuve Clicquot. The library is the only place where people of all colors, creeds, ages, and political beliefs freely, easily, and inadvertently intermingle. The public library is the only fully democratic institution I know of.
Libraries are both aspirational and inspirational. I love going into a library and watching little kids do their homework. I love to watch retirees devouring newspapers and magazines, refusing to recede from life just because they are no longer working. I love to watch people who do not look like book lovers reading books anyway. Anyone can read in the privacy of their own homes, but there is something joyous about watching people reading or studying or researching or exploring in public. Time spent in a library is time not spent in front of a television. That in itself makes the public library the most valuable institution a society could possibly imagine. Being in front of a television will only inspire you to watch more television. Being in front of a stack of books could inspire you to take a gander at Jane Eyre or Persuasion or Beloved or, at the very least, Ethan Frome. You just never know what might happen in the public library.
Public libraries are not judgmental in the way that other institutions are. They offer good books, but they also offer bad books. Lots and lots and lots of bad books. If you want wheat, they will lend you wheat. If you want chaff, they've got plenty in stock. Inside the library, it's a free-for-all, culturally speaking. Some people are reading David Baldacci; some people are reading David Copperfield. But the most valuable thing that libraries offer us is a path through the looking glass, a sense of wonder. American life is all about planning and regimentation and scheduling and efficiency. The public library is where serendipity reigns. It is the place where you throw out all the rules and wing it. I personally never go into the library and come out with what I went in for. I go in looking for a luminous, elegiac novel by a terse, glacial Englishwoman and come out with a rousing mystery set in Reykjavík. I go in for Freedomland or Atonement or Bel Canto and come out with Get Shorty or Dracula. When I go into the supermarket, I already know what I am bringing home. When I wander into the library, I might bring home anything.
Maureen Petry is the director of the Warner public library in Tarrytown, N.Y., the village I have called home for 32 years. I asked her about the challenges libraries face. "Some people think libraries are obsolete, because you can Google everything," she says. "Some people don't see why we need all these books. Well, last year, 192,000 items circulated in this building. Not all of them were books, but most of them were. So somebody still thinks library books are important."
She adds: "We are a community center, yes, so we offer help with doing your taxes and applying for jobs and improving your English. But we can't just be that. We can't just be a service organization. We can't lose sight of our identity as a cultural center."
Petry says you cannot underestimate the role of the library as a community adhesive. She believes that people become more appreciative of libraries as they mature. This is, indeed, a sign of maturity.
"The library is especially valuable to people as they grow older," she says. "You cannot overstate this. Maybe you're sitting at home, all alone. Maybe you don't get that many visitors anymore. So you come here. When you go to the library, you see children, families, people of all age groups. It makes you feel that you are part of a community." She pauses.
"In the library, you get to feel that you are part of something bigger than yourself. It's life."
And a big part of life is adventure. Yes, public libraries are a place to learn, but they are also a place to play. They are a place to experiment, a place to go hither when one is expected to go yon. Not all work conducted in the library is rewarded, not all efforts bear fruit, not every pathway leads where you might expect it to go. So what? The journey is what matters, not the destination. With all those strange books on all those strange subjects arrayed along the shelves, the library reminds me of the old trunk back in kindergarten that little kids can root around in, trying on different costumes: cowboy, pirate, ballerina, certified public accountant.
At school and at home, authority figures – parents, teachers, older siblings, Uncle Ralph – can tell young people, "You're not old enough to read that yet; that book is not age-appropriate." In the library, young people can choose what they read. They can gain access to otherwise forbidden knowledge. The library is thus both the ultimate backstage pass and the rabbit hole we can follow Alice down. The library is not just the House of Knowledge. It is the House of Dreams.

Shopping at Smith's & Amazon Can Benefit Libraries (Posted: 02/11/2015)
Sign-ups on Amazon and with your Smith's reward card help the Library Foundation.
When you shop on Amazon, the company will make a donation to the Foundation. All you have to do is sign up at smile.amazon.com. Select The Albuquerque Public Library Foundation as your charitable organization and shop as usual. Make sure you start all subsequent shopping sessions the same way. The shopping experience is identical to the regular Amazon site: same selection, same prices. (Some products are not eligible for the donation.)
If you shop at Smith's, get a rewards card or update your existing one at www.smithscommunityrewards.com. Register to create an account. After you create your account, you fill in the name of your desired charity, The Albuquerque Public Library Foundation, or # 72646. Then, every time you use your card, the Foundation will benefit. In 2014, the Foundation received more than $700 from Smith's. Your registration will not affect coupons or gas rebates. Select "Albuquerque Public Library Foundation" from the drop-down list.

Raising Readers (Posted: 02/11/2015)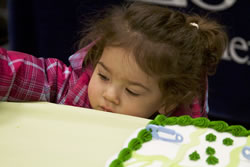 Your Foundation dollars at work.
The Foundation focuses on free library services for people of all ages, with particular emphasis on reading readiness for children from birth to age 5. The board hopes you will join us in raising $40,000 in 2015:
To provide library resource information to new parents through their medical professionals;
To promote library-centered infant social, physical, cognitive and language development;
to expand early-childhood-specific literacy centers in the public libraries;
To purchase age-appropriate furniture for the early childhood reading area at the new Central and Unser branch, scheduled to open in the spring.
To learn more about these programs and other library offerings, visit abclibrary.org or call the Foundation at 505-553-1074. To donate by check, credit card or PayPal, click below.


Howard Henry Loves the Library! Quotes, Quips and Quirks (Posted: 11/13/2014)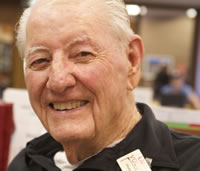 Howard Henry digs away almost every day, in genealogy records, that is. "What do you want to know?" he asks. If you tell him, he and a team of volunteer researchers on the second floor of the Main Library know where to find it.
Howard's own genealogy sheds light on his commitment. His grandfather, born in 1827, fought not only in the Spanish War in Mexico in the mid 1840s, but in the Civil War for the Yankees in 1865. Howard's dad, born in 1874, worked as a casino dealer on a riverboat. Mooring the boat for a bite to eat, Howard's father decided his waitress would become his bride. Howard, born in 1927, became the seventh and youngest child of their union.
Howard doesn't keep a straight face very long. His colorful history flows as if he were a man of 27, rather than 87. He was born in Dodge City, KA, which counted 10,000 residents at the time. He worked at age 15 as a stevedore on the freight docks for the railroad, but showed his real talents in school where he excelled in typing and shorthand. Following graduation in 1944, Howard joined the Navy and headed to Japan, a voyage that was interrupted by the dropping of the atomic bomb. Howard's ship was diverted to northern China.
His final destination became San Francisco, where his skills served him well. Howard went to business college and court reporting school. From then on, he was the fastest and most accurate court reporter anyone could have, working in Chicago, Los Angeles, San Diego, Dodge City, Deming and then Albuquerque, where he landed in 1957.
He explains his passion. "I was always very detailed-oriented. I also had an aunt who did court reporting. She talked about it frequently and went all over the country looking up family histories. When she died, she never published," he laments, "and all her work was thrown away."
Howard now has thousands of pages published, having read newspapers, books, births, deaths, census records and the minutiae of numerous other documents since he retired in 1993 as a court reporter in Albuquerque. He arranged the printing of scores of documents, giving the copyright to the Albuquerque Genealogy Club, a volunteer organization that works on the second floor of the Main Library. The club makes money from the sale of the books, says Howard with pride.
The Albuquerque Genealogy Club also volunteers its services to help others who want to trace their histories, whether in New Mexico or other parts of the country. "Navigating documents on the Internet has become much easier than going through paper documents," declares Howard, who used to be his own search engine, going line by line, column by column, page by page.
The Genealogy Center is open during regular hours at the Main Library. It welcomes individual inquiries and group tours. Read more at the ABC Library website.

New Seed Collection Grows with Neighborly TLC (Posted: 04/04/2014)
A major new collection is coming to a library near you: seeds. To build the collection, the library asks Albuquerque seed savers to help. Our special interests are local heirloom seeds and those that are easy for beginners to save. Our wish list includes varieties of food, flowers, herbs and plants native to Albuquerque and Bernalillo County.
To help, bring your locally-saved seeds separated by variety in sealed envelopes or bags to the Juan Tabo Branch Library, 3407 Juan Tabo NE. We will ask you to complete a form about the seeds that we can attach to your contributions.
Many seed, soil and gardening events take place April-June at the Juan Tabo Library and the BioPark Botanic Gardens. Call the Juan Tabo Library at 505-291-6260 for details.
The ABC Seed Library is a collaborative effort among the ABC Library, Friends for the Public Library, the ABQ BioPark Botanic Garden, the Bernalillo County Cooperative Extension Service, and community members. For more information, please e-mail juantabo@cabq.gov or stop by the library.

Smart Investing for Teens (Posted: 04/04/2014)
ABC Library was one of 17 public libraries nationwide to win a grant from the American Library Association (ALA) in partnership with the Financial Industry Regulatory Authority (FINRA) Investor Education Foundation as part of Smart Investing@your library®. The grant will help the ABC Library provide effective, unbiased financial and investor education to the community. ABC Library is partnering with WESST® to offer various financial literacy programs for teens over the next two years.
Albuquerque Bernalillo County Library will collaborate with a nearby charter school and a statewide, nonprofit small business development and training organization to deliver financial education for teens ages 14 to 17. Eight library locations throughout the county and Amy Biehl Charter High School in Albuquerque will host learning activities. Program modules will address managing your money, planning your future, making your money grow and protecting what you have. The grant amount was $63,270.