Belshaw Lends Personality to North Valley Library Reopening
Opening a library that has been gutted by smoke from a fire of unknown origin is reason for celebration. Many visitors came to the North Valley Library, 7704 Second St. NW, June 22, 2014, not only to see the new interior and early literacy center, but also to hear New Mexico writer and former Albuquerque Journal columnist, Jim Belshaw, talk about how the library felt just like a home where you'd like to stay awhile.
He praised the commitment by donors, the Albuquerque Public Library System staff, volunteers and The Albuquerque Public Library Foundation for bringing new life to the 14,000-square-foot building. The fire incident caused major smoke damage, destroying 80 percent of the 50,000 items in its collection.
New lighting, carpet and heating and cooling systems were installed, and sections were created for adults, young adults and children. Numerous literacy activities take place for people of all ages and education. In addition to regular books and periodicals, audio books, e-books and periodicals, and e-resources for any conceivable subject are available. Go to www.abclibrary.org/northvalley for further information.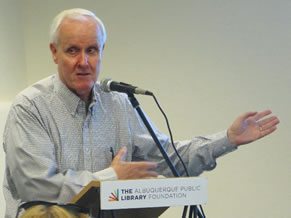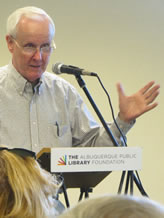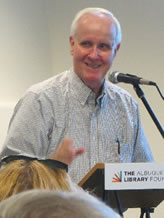 Photos by Rod Geer

Mission: The Foundation, a 501(c)(3), nonprofit organization, is dedicated to the vitality of the Albuquerque Public Library System by raising funds to enrich programs and services essential to literacy and learning.

Challenge: Despite support for libraries in bond elections, economic constraints have made public funding inadequate. The libraries struggle to maintain hours, staffing, collections, programs and operations.

Objective: Develop additional sources of funding, including individual donations, grants and corporate contributions, to restore and revitalize library services and operations for people of all ages and resources.
Strategy: The Foundation offers donors flexible, tax-deductible ways, including memorials and bequests, to have an impact on libraries in their neighborhoods and community and to create a personal legacy.