Do you know how to develop early readers?
Sandia National Laboratories donates $6,000 to Foundation for Early Reading Centers
Children need to hear 1,000 stories read to them, or three stories a day, before they learn to read on their own. Early Literacy Centers at Juan Tabo, Main, North Valley, San Pedro and South Valley libraries teach parents and caregivers with children from birth to five how to use colors, letters, numbers, sounds, shapes and textures through singing or books to enhance learning.
Lockheed Martin on behalf of Sandia National Laboratories has donated $6,000 to the Foundation to expand this successful early reading approach from five centers to seven. Each center costs $3,000. A handful of Early Literacy Backpacks filled with teaching materials (see photo) are available at the existing centers for checkout for three weeks. Many more are desired.
Donors are urged to add to Sandia's investment in reading readiness by making donations to increase the number of backpacks and expand the centers to as many library branches as possible. To find your closest center, go to abclibrary.org.hours-locations, or to donate, abqlibraryfoundation.org.
I Love the Library!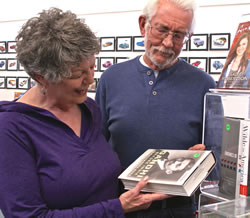 Susan and Tom Slates head for the new releases shelf at Los Griegos Library. They found that a donation to the Foundation made the perfect gift for a friend who loves to read.
In 2014, Susan Slates realized there was no more suitable gift to honor a friend's birthday than to make a donation to the Albuquerque Public Library Foundation. Susan's friend, a teacher, was delighted with the gesture, and Susan was able to support her own and her husband's favorite pastime.
Susan and Tom are inveterate readers. Tom has an old-fashioned relationship with the library. A retired general contractor, he declines to use the Internet and goes to Los Griegos Library in person to pick up and return his books.
Susan finds books online at home and downloads some or reserves them and picks them up at various libraries. Susan's membership in two book clubs would make her first grade teacher proud. "Miss Stone thought reading was the key to life," says Susan. "I grew up close to Ernie Pyle Library and my mom took me there frequently."

Mission: The Foundation, a 501(c)(3), nonprofit organization, enhances the Albuquerque Public Library system by raising funds for programs and services essential to literacy and learning.

Challenge: Despite support for libraries in bond elections, economic constraints have made public funding inadequate. The libraries struggle to maintain hours, staffing, collections, programs and operations.

Objective: Develop additional sources of funding, including individual donations, grants and corporate contributions, to restore and revitalize library services and operations for people of all ages and resources.
Strategy: The Foundation offers donors flexible, tax-deductible ways, including memorials and bequests, to have an impact on libraries in their neighborhoods and community and to create a personal legacy.