Do you know how to develop early readers?
Sandia National Laboratories donates $6,000 to Foundation for Early Reading Centers
Children need to hear 1,000 stories read to them, or three stories a day, before they learn to read on their own. Early Literacy Centers at Juan Tabo, Main, North Valley, San Pedro and South Valley libraries teach parents and caregivers with children from birth to five how to use colors, letters, numbers, sounds, shapes and textures through singing or books to enhance learning.
Lockheed Martin on behalf of Sandia National Laboratories has donated $6,000 to the Foundation to expand this successful early reading approach from five centers to seven. Each center costs $3,000. A handful of Early Literacy Backpacks filled with teaching materials (see photo) are available at the existing centers for checkout for three weeks. Many more are desired.
Donors are urged to add to Sandia's investment in reading readiness by making donations to increase the number of backpacks and expand the centers to as many library branches as possible. To find your closest center, go to abclibrary.org.hours-locations, or to donate, abqlibraryfoundation.org.
Bookworks Hosts Isabel Allende for an Albuquerque Public Library Foundation Fundraiser at the KiMo on November 19, 2015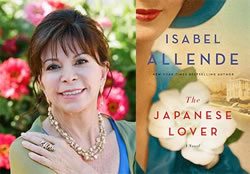 Internationally renowned Chilean-American author Isabel Allende will make a visit to Albuquerque November 19 on her 13-stop United States book tour for her new romance novel of World War II, The Japanese Lover.
Allende will be in conversation with veteran KUNM radio reporter, Carol Boss, who hosts the Women's Focus program. Tickets are $35 each and include a signed hardcover of The Japanese Lover and a $5 donation to the Albuquerque Public Library foundation.
"We always are pleased to be working with Bookworks and we are excited that such a prominent and influential author will be available to her readers," says Julia Clarke, president of the Albuquerque Public Library Foundation.
In The Japanese Lover, Allende sets her story in 1939, as Poland falls under the shadow of the Nazis. Young Alma Belasco's parents send her away to live in safety with an aunt and uncle in their opulent mansion in San Francisco. There, as the rest of the world goes to war, she Alma encounters Ichimei Fukuda, the quiet son of the family's Japanese gardener. Unnoticed by those around them, a tender love affair blossoms. After the attack on Pearl Harbor, the two are cruelly pulled apart as Ichimei and his family—like thousands of other Japanese Americans—are interred by the United States government. Throughout their lifetimes, Alma and Ichimei reunite again and again, but theirs is a love that they are forever forced to hide from the world.
Sweeping through time and spanning generations and continents, The Japanese Lover explores questions of identity, abandonment, redemption, and the unknowable impact of fate. Written with the attention to historical detail and keen understanding of her characters that Allende has been known for since her landmark first novel The House of the Spirits, The Japanese Lover is a profoundly moving tribute to the constancy of the human heart in a world of unceasing change.
Allende won worldwide acclaim when her bestselling first novel, The House of the Spirits, was published in 1982. In addition to launching her career, the book, which grew out of a farewell letter to her dying grandfather, also established her as a feminist force in Latin America's male-dominated literary world. She has since written twenty other books, including the most recent The Japanese Lover.
Tickets are on sale now, available online at http://www.bkwrks.com/allende-tickets or from Bookworks by calling 505-344-8139 or in person at the store on 4022 Rio Grande Blvd NW.

Mission: The Foundation, a 501(c)(3), nonprofit organization, enhances the Albuquerque Public Library system by raising funds for programs and services essential to literacy and learning.

Challenge: Despite support for libraries in bond elections, economic constraints have made public funding inadequate. The libraries struggle to maintain hours, staffing, collections, programs and operations.

Objective: Develop additional sources of funding, including individual donations, grants and corporate contributions, to restore and revitalize library services and operations for people of all ages and resources.
Strategy: The Foundation offers donors flexible, tax-deductible ways, including memorials and bequests, to have an impact on libraries in their neighborhoods and community and to create a personal legacy.