Sherman Alexie Visits Albuquerque May 26 with Thunder Boy Jr.
Bookworks and the ABQ Public Library Foundation Host A Word With Writers at the KiMo.
Event sponsors:
New Mexico Bank and Trust
Sandia Laboratory Federal Credit Union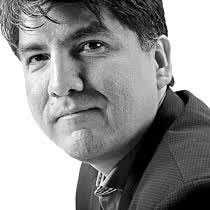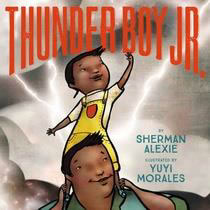 National Book Award winner, Sherman Alexie, visits Thursday, May 26, on tour for his new picture book, Thunder Boy Jr. (Little Brown & Company, on sale May 10).
Mr. Alexie, will read this book and speak on his work at the KiMo Theater on Thursday, May 26, 7 p.m. as part of the Bookworks-Albuquerque Public Library Foundation fundraiser, A Word With Writers. Lee Francis, Director of WordCraft Circle of Native Writers and Storytellers, will introduce Mr. Alexie.
Tickets are $50, $25 and $5. Priority tickets are $50 and include front row seating and signing line placement along with a signed copy of Thunder Boy Jr. A $25 general admission ticket admits one with a signed copy of Thunder Boy Jr. and the option to purchase one add-one ticket for $5. Bookworks will have Alexie's backlist titles for sale, and Alexie will sign books following the event. Each ticket purchase also includes a donation to the library foundation.
"We look forward to working with Bookworks on our fourth installment of A Word With Writers. We hope this event appeals to families who love Mr. Alexie's work," says Julia Clark, President of the Albuquerque Public Library Foundation.
Danielle Foster, co-owner of Bookworks says, "We are so excited to be hosting Sherman Alexie for our Word with Writers series. We just love his new book, Thunder Boy Jr. and we can't wait to share it with our community!"
In the new book, illustrated by Caldecott award-winning Mexican illustrator, Yuyi Morales, the title character, Thunder Boy Jr., is named after his dad, but he wants a name that's all his own. Thunder Boy Jr. wants a name that celebrates something cool he's done, like Touch the Clouds, Not Afraid of Ten Thousand Teeth, or Full of Wonder. But just when Thunder Boy Jr. thinks all hope is lost, he and his dad pick the perfect name—a name that is sure to light up the sky.
The book is already seeing rave pre-publication reviews in School Library Journal, Booklist, Horn Book, and Publishers Weekly. A perfect Father's Day book to share with the whole family, Thunder Boy Jr. includes Alexie's lyrical text and Morales's vivid and heartfelt illustrations that celebrate the special relationship between father and son.
"Mr. Alexie has been so hugely supportive of our work as independent booksellers," says Amanda Sutton, Marketing & Events Director at Bookworks. "We've been looking forward to his return on book tour since we last hosted him in 2012."
For more information or to buy tickets, please visit http://www.bkwrks.com/sherman-alexie, call Bookworks at 505-344-8139 or in person at 4022 Rio Grande Blvd NW.
Download Sherman Alexie event flyer
Event details:
A Word With Writers with Sherman Alexie
Thursday, May 26, 2016 - 7:00pm
KiMo Theater
421 Central Ave NW
Albuquerque, NM 87106.
TLC Plumbing, Heating and Cooling Supports Literacy Initiative
The Albuquerque Public Library Foundation is pleased to welcome TLC Plumbing, Heating and Cooling as the sponsor of ABC Library's Literacy Kit program for 2016.
Early Literacy Centers are located at eight branches of ABC Library: Erna Fergusson, Lomas-Tramway, Central & Unser, Main, North Valley, San Pedro, South Valley, and Juan Tabo. These centers give children and parents a welcoming spot to explore the components of Every Child Ready to Read®, providing an opportunity to share special books, puzzles, puppets and educational toys.
In addition, children and their families may extend their enjoyment by checking out a Literacy Kit to take home. Kits are designed to engage children and families in various ways, and each one is based on one of the components of the ECRR program: Reading, Writing, Talking, Singing/Rhyming, and Playing.
Many thanks to TLC for their support of this valuable literacy initiative.

Mission: The Foundation, a 501(c)(3), nonprofit organization, enhances the Albuquerque Public Library system by raising funds for programs and services essential to literacy and learning.

Challenge: Despite support for libraries in bond elections, economic constraints have made public funding inadequate. The libraries struggle to maintain hours, staffing, collections, programs and operations.

Objective: Develop additional sources of funding, including individual donations, grants and corporate contributions, to restore and revitalize library services and operations for people of all ages and resources.
Strategy: The Foundation offers donors flexible, tax-deductible ways, including memorials and bequests, to have an impact on libraries in their neighborhoods and community and to create a personal legacy.