I Love the Library! Quotes, Quips and Quirks about Your Family History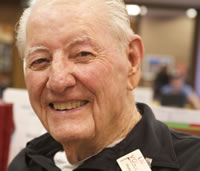 Howard Henry digs away almost every day, in genealogy records, that is. "What do you want to know?" he asks. If you tell him, he and a team of volunteer researchers on the second floor of the Main Library know where to find it.
Howard's own genealogy sheds light on his commitment. His grandfather, born in 1827, fought not only in the Spanish War in Mexico in the mid 1840s, but in the Civil War for the Yankees in 1865. Howard's dad, born in 1874, worked as a casino dealer on a riverboat. Mooring the boat for a bite to eat, Howard's father decided his waitress would become his bride. Howard, born in 1927, became the seventh and youngest child of their union.
Howard doesn't keep a straight face very long. His colorful history flows as if he were a man of 27, rather than 87. He was born in Dodge City, KA, which counted 10,000 residents at the time. He worked at age 15 as a stevedore on the freight docks for the railroad, but showed his real talents in school where he excelled in typing and shorthand. Following graduation in 1944, Howard joined the Navy and headed to Japan, a voyage that was interrupted by the dropping of the atomic bomb. Howard's ship was diverted to northern China.
His final destination became San Francisco, where his skills served him well. Howard went to business college and court reporting school. From then on, he was the fastest and most accurate court reporter anyone could have, working in Chicago, Los Angeles, San Diego, Dodge City, Deming and then Albuquerque, where he landed in 1957.
He explains his passion. "I was always very detailed-oriented. I also had an aunt who did court reporting. She talked about it frequently and went all over the country looking up family histories. When she died, she never published," he laments, "and all her work was thrown away."
Howard now has thousands of pages published, having read newspapers, books, births, deaths, census records and the minutiae of numerous other documents since he retired in 1993 as a court reporter in Albuquerque. He arranged the printing of scores of documents, giving the copyright to the Albuquerque Genealogy Club, a volunteer organization that works on the second floor of the Main Library. The club makes money from the sale of the books, says Howard with pride.
The Albuquerque Genealogy Club also volunteers its services to help others who want to trace their histories, whether in New Mexico or other parts of the country. "Navigating documents on the Internet has become much easier than going through paper documents," declares Howard, who used to be his own search engine, going line by line, column by column, page by page.

Mission: The Foundation, a 501(c)(3), nonprofit organization, enhances the Albuquerque Public Library system by raising funds for programs and services essential to literacy and learning.

Challenge: Despite support for libraries in bond elections, economic constraints have made public funding inadequate. The libraries struggle to maintain hours, staffing, collections, programs and operations.

Objective: Develop additional sources of funding, including individual donations, grants and corporate contributions, to restore and revitalize library services and operations for people of all ages and resources.
Strategy: The Foundation offers donors flexible, tax-deductible ways, including memorials and bequests, to have an impact on libraries in their neighborhoods and community and to create a personal legacy.