Book Club Bonanza (Posted: 03/05/2015)
Join us for a gathering of book club members and those interested in book clubs!
Saturday, May 2nd, 10 – 11:30 a.m. at the Erna Fergusson Library, 3500 San Mateo NE.
Space is limited, please pre-register. A $5 donation at the door will be appreciated.
Presentation on ways our public libraries support book groups.
Gizmo Garage – tech support for uploading library books onto your electronic device. Bring your Kindle or tablet.
Small group discussions on the following topics:

How to foster better book club discussions
Book Club logistics or what happens once you get there

Raffle for baskets of books, prizes for answering questions from popular literature, light refreshments.
An opportunity to meet other book club members
Take home a list of local book clubs' favorite books.
To pre-register – Before April 20th
Fill it out
Send it as an email attachment to abqlibraryfoundation@gmail.com
OR
Send the completed form by mail to the address below.
See you there!
Albuquerque Public Library Foundation
P O Box 25792
Albuquerque, NM 87125

Baby Showers (Posted: 02/11/2015)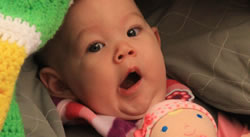 Expectant and new parents are invited to visit with many healthcare providers and vendors that serve families with young children from 1-3 p.m. on March 21 at Main and Oct. 17 at the new Central and Unser Library.
Refreshments, handouts and consultations with providers are free.
Participants have included Albuquerque Business Education Compact, St. Joseph Community Health, UNMH, ABQ Health Partners, March of Dimes, WIC, the New Mexico Breastfeeding Task Force and others.

Central & Unser Grand Opening this Spring (Posted: 02/11/2015)

Follow the translucent green tower to your new city library.
The sparkling new Central and Unser Library, which will serve a population of 40,000, is on schedule to open in the spring, thanks to the dedication of the construction staff, the architects and city staff working on the project.
Furniture arrives in February and shelving is expected in early March. Books and computers will be moved in soon after. Thirteen new staff have been hired and trained.
Donations from The Freedman Trust, The Albuquerque Library Foundation and many individuals covered almost 15 percent of construction costs. The balance was secured by Councilor Ken Sanchez from voters who approved Albuquerque's general obligation bonds and from the State and Bernalillo County.
The new library, with 25,000 square feet, is second only in size to Main, and its community meeting room capacity of 150 is second only to Main's 220 capacity.
The library also will be home to:
70,000 books;
40 public access computers;
the only separate Young Adult Room in the library system; and
a separate program room for children, third only to such dedicated rooms at Main and Cherry Hills.

Shopping at Smith's & Amazon Can Benefit Libraries (Posted: 02/11/2015)
Sign-ups on Amazon and with your Smith's reward card help the Library Foundation.
When you shop on Amazon, the company will make a donation to the Foundation. All you have to do is sign up at smile.amazon.com. Select The Albuquerque Public Library Foundation as your charitable organization and shop as usual. Make sure you start all subsequent shopping sessions the same way. The shopping experience is identical to the regular Amazon site: same selection, same prices. (Some products are not eligible for the donation.)
If you shop at Smith's, get a rewards card or update your existing one at www.smithscommunityrewards.com. Register to create an account. After you create your account, you fill in the name of your desired charity, The Albuquerque Public Library Foundation, or # 72646. Then, every time you use your card, the Foundation will benefit. In 2014, the Foundation received more than $700 from Smith's. Your registration will not affect coupons or gas rebates. Select "Albuquerque Public Library Foundation" from the drop-down list.

Raising Readers (Posted: 02/11/2015)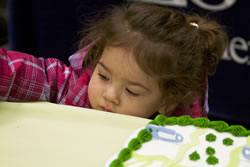 Your Foundation dollars at work.
The Foundation focuses on free library services for people of all ages, with particular emphasis on reading readiness for children from birth to age 5. The board hopes you will join us in raising $40,000 in 2015:
To provide library resource information to new parents through their medical professionals;
To promote library-centered infant social, physical, cognitive and language development;
to expand early-childhood-specific literacy centers in the public libraries;
To purchase age-appropriate furniture for the early childhood reading area at the new Central and Unser branch, scheduled to open in the spring.
To learn more about these programs and other library offerings, visit abclibrary.org or call the Foundation at 505-553-1074. To donate by check, credit card or PayPal, click below.


Book Club Event May 2 (Posted: 02/11/2015)
The Foundation needs the names of local book club members to invite to an exclusive May 2 book club event. Please email us at abqlibraryfoundation@gmail.com or call 505-553-1074 so we can add your book club and its members to our invitation list.

Author presentation planning (Posted: 02/11/2015)
A Word With Writers event is in the works, but depends on publishing schedules and author book tours. An announcement will be made as soon as we have more information.

Howard Henry Loves the Library! Quotes, Quips and Quirks (Posted: 11/13/2014)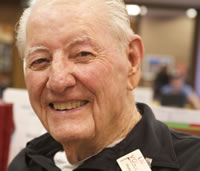 Howard Henry digs away almost every day, in genealogy records, that is. "What do you want to know?" he asks. If you tell him, he and a team of volunteer researchers on the second floor of the Main Library know where to find it.
Howard's own genealogy sheds light on his commitment. His grandfather, born in 1827, fought not only in the Spanish War in Mexico in the mid 1840s, but in the Civil War for the Yankees in 1865. Howard's dad, born in 1874, worked as a casino dealer on a riverboat. Mooring the boat for a bite to eat, Howard's father decided his waitress would become his bride. Howard, born in 1927, became the seventh and youngest child of their union.
Howard doesn't keep a straight face very long. His colorful history flows as if he were a man of 27, rather than 87. He was born in Dodge City, KA, which counted 10,000 residents at the time. He worked at age 15 as a stevedore on the freight docks for the railroad, but showed his real talents in school where he excelled in typing and shorthand. Following graduation in 1944, Howard joined the Navy and headed to Japan, a voyage that was interrupted by the dropping of the atomic bomb. Howard's ship was diverted to northern China.
His final destination became San Francisco, where his skills served him well. Howard went to business college and court reporting school. From then on, he was the fastest and most accurate court reporter anyone could have, working in Chicago, Los Angeles, San Diego, Dodge City, Deming and then Albuquerque, where he landed in 1957.
He explains his passion. "I was always very detailed-oriented. I also had an aunt who did court reporting. She talked about it frequently and went all over the country looking up family histories. When she died, she never published," he laments, "and all her work was thrown away."
Howard now has thousands of pages published, having read newspapers, books, births, deaths, census records and the minutiae of numerous other documents since he retired in 1993 as a court reporter in Albuquerque. He arranged the printing of scores of documents, giving the copyright to the Albuquerque Genealogy Club, a volunteer organization that works on the second floor of the Main Library. The club makes money from the sale of the books, says Howard with pride.
The Albuquerque Genealogy Club also volunteers its services to help others who want to trace their histories, whether in New Mexico or other parts of the country. "Navigating documents on the Internet has become much easier than going through paper documents," declares Howard, who used to be his own search engine, going line by line, column by column, page by page.
The Genealogy Center is open during regular hours at the Main Library. It welcomes individual inquiries and group tours. Read more at the ABC Library website.

Grant for Solar Education Outreach (Posted: 04/04/2014)
The ABC Library has been awarded a grant by the New Mexico Library Foundation for a solar educational outreach program that will help students think critically and increase STEM (Science, Technology, Engineering, and Mathematics) literacy through the study of solar cycles. In partnership with the Albuquerque Astronomical Society, the library has purchased a Lunt Solar Telescope and accessories in addition to other project supplies. (Go to abclibrary.org/csc for more information.)
The Albuquerque Astronomical Society, TAAS, is a non-profit organization of over 300 amateur astronomers from all walks of life across New Mexico. TAAS has been sharing New Mexico skies for more than 40 years, and is Albuquerque's leading public education resource for astronomy. Since 1959, TAAS's primary function has been public education, research, and the enjoyment of a common passion, the heavens. TAAS can be contacted on the TAAS HOTLINE at 254-TAAS (254-8227) or www.taas.org.

New Seed Collection Grows with Neighborly TLC (Posted: 04/04/2014)
A major new collection is coming to a library near you: seeds. To build the collection, the library asks Albuquerque seed savers to help. Our special interests are local heirloom seeds and those that are easy for beginners to save. Our wish list includes varieties of food, flowers, herbs and plants native to Albuquerque and Bernalillo County.
To help, bring your locally-saved seeds separated by variety in sealed envelopes or bags to the Juan Tabo Branch Library, 3407 Juan Tabo NE. We will ask you to complete a form about the seeds that we can attach to your contributions.
Many seed, soil and gardening events take place April-June at the Juan Tabo Library and the BioPark Botanic Gardens. Call the Juan Tabo Library at 505-291-6260 for details.
The ABC Seed Library is a collaborative effort among the ABC Library, Friends for the Public Library, the ABQ BioPark Botanic Garden, the Bernalillo County Cooperative Extension Service, and community members. For more information, please e-mail juantabo@cabq.gov or stop by the library.

Smart Investing for Teens (Posted: 04/04/2014)
ABC Library was one of 17 public libraries nationwide to win a grant from the American Library Association (ALA) in partnership with the Financial Industry Regulatory Authority (FINRA) Investor Education Foundation as part of Smart Investing@your library®. The grant will help the ABC Library provide effective, unbiased financial and investor education to the community. ABC Library is partnering with WESST® to offer various financial literacy programs for teens over the next two years.
Albuquerque Bernalillo County Library will collaborate with a nearby charter school and a statewide, nonprofit small business development and training organization to deliver financial education for teens ages 14 to 17. Eight library locations throughout the county and Amy Biehl Charter High School in Albuquerque will host learning activities. Program modules will address managing your money, planning your future, making your money grow and protecting what you have. The grant amount was $63,270.