New Literary Series Begins May 10 and Benefits Library Foundation (Posted: 04/04/2014)
Bookworks and The Albuquerque Public Library Foundation are collaborating on a new literary series to feature writers conversation with one another. Proceeds from ticket sales will benefit The Albuquerque Public Library Foundation.
A Word with Writers inaugural event is May 10, 7 p.m., at the KiMo Theatre. George RR Martin and Diana Gabaldon, both renowned sci-fi and fantasy authors have works published in a new anthology, Dangerous Women (Tor Books, January 2014). Dangerous Women is edited by Martin, with work by Gabaldon and other authors writing about "dangerous women."
Martin is best known for A Song of Ice and Fire, his internationally best-selling series that HBO has adapted for its TV series, Game of Thrones.
Martin also owns the newly renovated Jean Cocteau Cinema in Santa Fe, which shows independent movies and the Game of Thrones series. In 2011, Time Magazine named Martin as one of its 100 most influential people in the world.
In conversation with Martin will be Diana Gabaldon, the author of the internationally bestselling Outlander series. Gabaldon's work merges multiple genres, including sci-fi, fantasy, romance, historical fiction, and mystery. The Outlander series is being adapted as a Starz original television series, to debut in summer of 2014. A trained zoologist, Gabaldon was a science editor and university professor before embarking upon a successful career as a novelist. She splits her time between Arizona and Santa Fe. A new Outlander book, Written in My Own Heart's Blood, comes out in June.
"We are excited to partner with The Albuquerque Public Library Foundation to promote our love of reading, to hear amazing authors speak about their craft, and to raise funds for the library system, an essential need in our community," says Bookworks co-owner Danielle Foster.
"We are so pleased to work with Bookworks to bring these well-known and beloved authors to Albuquerque," says Julia Clarke, president of The Albuquerque Public Library Foundation. "This should be an outstanding program, and we hope the authors' admirers will join us on May 10th."
Tickets for the series are $7 for general admission. The first seven rows of the theatre will be sold in advance for $20 each. Tickets will be available through the KiMo Theatre ticketing, at 421 Central, or online at kimotickets.com. Authors will sign books after the talk, and books will be available for purchase in the lobby from Bookworks. Attendees will be allowed to bring in one previously purchased book, and authors will sign a limit of two books per person.
"We hope this series will highlight the outstanding authors we have available to us here in Albuquerque and also raise awareness for public libraries and independent bookselling," says Bookworks marketing director Amanda Sutton. "We are excited to continue our history of collaboration with the library system in an even-bigger, even-better way with A Word with Writers."
For more information, please contact Amanda Sutton, events and marketing director for Bookworks: events@bkwrks.com or 505-344-8139.
When: May 10, 7 p.m., doors open at 6 p.m.
Where: KiMo Theatre, 421 Central Ave. NW
Tickets: $20 first 7 rows, $7 all others
Available: online at kimotickets.com or at the door

North Valley Reopens with Visit from Belshaw June 22 (Posted: 04/04/2014)
Jim Belshaw, New Mexico columnist and writer, will be a featured guest at the North Valley Library's open house June 22, 3-5 p.m. The celebratory family-centered event marks the completion of renovations necessary after last summer's fire. Many donors helped fund the clean-up, new furniture and many new collections. Bring your children to enjoy exciting activities.

Acts of Generosity: Thank you Generous Donors on our First Anniversary (Posted: 04/04/2014)
Without the help of our many generous donors who responded to the needs for the North Valley Library following a devastating fire last July, as well as those who donated throughout the year and those who responded to our annual appeal in December 2013, we would not be able to bring new collections, furniture, infrastructure and cleanliness back the North Valley Library as quickly and safely as we did.
We hope you will join us for a celebration at North Valley June 22 from 3-5 p.m.
The Albuquerque Public Library Foundation passed its first year's anniversary April 28, 2014. We are grateful to you for keeping our 17 libraries active and for making literacy and learning events, free-access computers, materials and e-resources available without charge to the whole community.
We will continue to keep you apprised of our programs, projects and most urgent needs.

New Collection Grows with Neighborly TLC (Posted: 04/04/2014)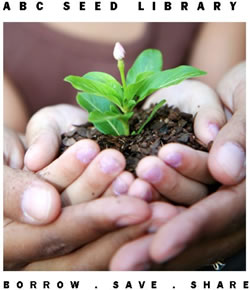 A major new collection is coming to a library near you: seeds. To build the collection, the library asks Albuquerque seed savers to help. Our special interests are local heirloom seeds and those that are easy for beginners to save. Our wish list includes varieties of food, flowers, herbs and plants native to Albuquerque and Bernalillo County.
To help, bring your locally-saved seeds separated by variety in sealed envelopes or bags to the Juan Tabo Branch Library, 3407 Juan Tabo NE. We will ask you to complete a form about the seeds that we can attach to your contributions.
Many seed, soil and gardening events take place April-June at the Juan Tabo Library and the BioPark Botanic Gardens. Call the Juan Tabo Library at 505-291-6260 for details.
The ABC Seed Library is a collaborative effort among the ABC Library, Friends for the Public Library, the ABQ BioPark Botanic Garden, the Bernalillo County Cooperative Extension Service, and community members. For more information, please e-mail juantabo@cabq.gov or stop by the library.

Library Confidential: Los Griegos Library (Posted: 04/04/2014)
"We love our patrons," says Los Griegos Library head librarian, Sue Heitz. Many young families with children come from the surrounding schools, including Griegos, MacArthur, and La Luz Elementary Schools.
Story times and Every Child Ready to Read® programs attract many children, parents, grandparents and caregivers. Retired people living nearby also enjoy the library's friendly atmosphere.
Los Griegos maintains a large international collection, much of it in Spanish, but also takes pride in its books from a sister city in Turkmenistan.
And another librarian, Brian Ho, has a background in Chinese and German languages. Besides studying linguistics at UNM, he especially is helpful on new technological devices, such as smart phones, iPads and Kindles.
The library, at 1000 Griegos Rd. NW, originally was built in 1956 and extensively remodeled in 1989.


I Love the Library! (Posted: 04/04/2014)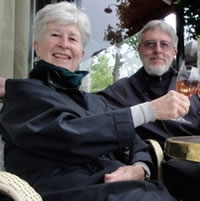 Janet and Bob Ford call librarians their heroines. They love each librarian's "picks," the new book sections, and periodicals, whether they are at the Tony Hillerman, Cherry Hills or Erna Fergusson branches. They go at least once a week and always discover new treasures. They never fail to head for the library when their grandchildren visit.
Janet and Bob Ford call librarians their heroines. They love each librarian's "picks," the new book sections, and periodicals, whether they are at the Tony Hillerman, Cherry Hills or Erna Fergusson branches. They go at least once a week and always discover new treasures.
Janet recalls riding her bicycle to her hometown Iowa library as early as age 7. She would fill up her bike basket with books about horses and later, science fiction. She did her high school research in the library. Janet, a writer, and Bob, a retired financial advisor, also wander the stacks for familiar authors and look for books whose reviews they have read.
Both also are community volunteers.They believe the library system is an often overlooked resource for businesses. "Just about anything you want, those librarians can find it."

As a general contractor, Gary Simpson spends most of his time on the road or at a construction site, a lifestyle that gave him little time to sit and read. Meticulous and thoughtful, he speaks excitedly about his new-found love: audio books.
Simpson renewed his 20-year-old library card at the Cherry Hills Library and now downloads audio books back-to-back. He notes that digital books provide several benefits. They shrink our environmental footprint, eliminate problems of losing or damaging a book and can be carried everywhere. "I'm psyched," Simpson says, eager to plug into his next book. "They fit with my lifestyle."

Grant for Solar Education Outreach (Posted: 04/04/2014)
The ABC Library has been awarded a grant by the New Mexico Library Foundation for a solar educational outreach program that will help students think critically and increase STEM (Science, Technology, Engineering, and Mathematics) literacy through the study of solar cycles. In partnership with the Albuquerque Astronomical Society, the library has purchased a Lunt Solar Telescope and accessories in addition to other project supplies. (Go to abclibrary.org/csc for more information.)
The Albuquerque Astronomical Society, TAAS, is a non-profit organization of over 300 amateur astronomers from all walks of life across New Mexico. TAAS has been sharing New Mexico skies for more than 40 years, and is Albuquerque's leading public education resource for astronomy. Since 1959, TAAS's primary function has been public education, research, and the enjoyment of a common passion, the heavens. TAAS can be contacted on the TAAS HOTLINE at 254-TAAS (254-8227) or www.taas.org.

Smart Investing for Teens (Posted: 04/04/2014)
ABC Library was one of 17 public libraries nationwide to win a grant from the American Library Association (ALA) in partnership with the Financial Industry Regulatory Authority (FINRA) Investor Education Foundation as part of Smart Investing@your library®. The grant will help the ABC Library provide effective, unbiased financial and investor education to the community. ABC Library is partnering with WESST® to offer various financial literacy programs for teens over the next two years.
Albuquerque Bernalillo County Library will collaborate with a nearby charter school and a statewide, nonprofit small business development and training organization to deliver financial education for teens ages 14 to 17. Eight library locations throughout the county and Amy Biehl Charter High School in Albuquerque will host learning activities. Program modules will address managing your money, planning your future, making your money grow and protecting what you have. The grant amount was $63,270.

Smith's Supports Library Foundation (Posted: 04/04/2014)
Smith's Community Rewards Program will support The Albuquerque Public Library Foundation if you link your Smith's Rewards Card with the Library Foundation. It will not effect any coupons or gasoline rewards you might be earning by shopping there.
1. Register online at www.smithscommunityrewards.com using your Smith's rewards card. If you have a Smith's rewards card, but do not have an account click on "create an account" or "register". If you do not have a rewards card, they are available at the customer service desk at any Smith's.
2. Set up the Smith's Rewards Account by entering your email address and password. Choose a favorite store by entering your zip code. You will receive an email from Smiths and will be asked to click on the link to activate your account. Click on "My Account" using your email address and password.
3. Click on Edit or Enroll Smith's Community Rewards information and put in your Smith's rewards card number. Update or confirm your information.
4. Enter the NPO number (72646) or name of organization, The Albuquerque Public Library Foundation, by selecting it from the list. Check confirm.
5. To verify you are enrolled correctly, you will see your organization's name on the bottom of your information page. You may use your account by swiping your card at the register or by using the phone number that you used in registering. Questions? Call 1-888-876-4847, option #1.