Colson Whitehead Brought us to Our Feet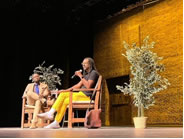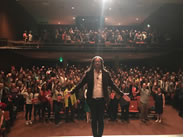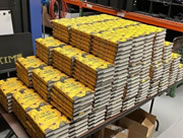 How exciting to be back at the KiMo Theater and to enjoy such an outstanding presentation by Hakim Bellamy and two-time Pulitzer Prize winner, Colson Whitehead.
There was a short monsoon rain just before the doors opened, but it didn't diminish the anticipation and enthusiasm of the nearly sold out audience.
As this was the first "A Word With Writers" in-person event since 2019, there many waves and hellos to friends and colleagues across the aisles of the theater.
Mr. Bellamy's well-prepared questions were met with Mr. Whitehead's thoughtful and authentic responses much to the delight of the audience.
The audience's rousing standing ovation at the end of this notable event was an uplifting moment.
Autographed copies of Mr Whitehead's recently published novel, Crook Manifesto - the second book in his Harlem trilogy, were ready for ticket holders as they came in the doors.
APLF is grateful to Bookworks for bringing this program to Albuquerque and for their partnership with the Albuquerque Public Library Foundation.
We also wish to thank the many volunteers and staff who worked tirelessly behind the scenes. Well done!