July, 2021
On Behalf of the Board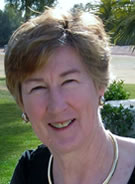 Julia Clarke
President, APLF Board of Directors
Libraries meet you where you are. . .
. . . at every stage of life. 21st -century life is busy, and there are new challenges every step of the way. Whether it's taking care of a newborn, helping a fourth-grader with a science fair project, learning a new skill for work, finding something for a teenager with a broken arm, or for a family elder learning to live with the challenge of vision loss.
Library staff members share heartwarming stories of new parents being thrilled to have digital resources available when their babies aren't sleeping through the night, or of finding just the right audiobooks available to download when it's not possible to hold a physical book, finding a resource to teach the basics of a software program being introduced at work, and of finding an engaging large print book or audiobook for those family members with vision challenges. The examples are endless. This work happens day in and day out, hour by hour, at all our libraries.
Our public libraries meet you where you are and help you find "just the right thing" for the situation at hand—even if you just need a really funny movie to boost your spirits or a classic holiday tear-jerker, we're here.
Thank you for your interest in our public libraries. Your continuing support ensures that The Public Library, Albuquerque and Bernalillo County remains a vibrant and effective member of the community, serving all who come through the doors of each of our 18 (and soon to be 19!) libraries every day.
Community Giving. Community Strong.