October, 2021
On Behalf of the Board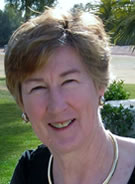 Julia Clarke
President, APLF Board of Directors
Hello again! October is quite a busy month in our community. Our wonderful weather is at its best with cool mornings and warm afternoons, and this month, we again are enjoying balloons along with welcoming family and friends to all celebrations of fall.
Our wonderful newsletter editor, Amy, is sharing information on the newest public art project to come to life in our city—the ARTE ESCONDIDO Banner Project. One of those banners came to life through the meeting of the artist with the fine staff at the Central and Unser Library.
Did you know that thirteen (13) of our libraries throughout Albuquerque and Bernalillo County have public art installations? Perhaps this fall will be the perfect time of year for you to tour the libraries and select your favorites. Mine include:
I hope you will enjoy exploring the public art available at the libraries!

This year there is an election on November 2nd. A General Obligation Bond question impacting all public library users will be on the ballot. The City is seeking approval for a $4,157,000 bond that will cover library materials (books, digital media, and electronic resources) as well as $500,000 for repairs and renovations to the City's 15 (soon to be 16!) libraries. Funding for needed improvements and repairs is designated for libraries in Council Districts 1, 3, 7 & 8. Please consider voting YES on this important ballot initiative.
Your support of our library system by voting for bond issues and by making contributions of any size to APLF is important to all who use our libraries every day.
Community Giving. Community Strong.