Lockheed Martin – Sandia National Laboratories Donates $6,000 to Foundation for Juan Tabo Teen Center
The Teen Center at the Juan Tabo Library has been recently renovated thanks to the generosity of Lockheed Martin on behalf of Sandia National Labs. This includes comfortable chairs in durable fabric, an X Box, X Box controls and X Box games.
This space at the Juan Tabo library creates a safe, welcoming, encouraging environment for teens that will allow for creativity. Through providing this space we hope to encourage lifelong learning and promote positive library participation in our community. Teens prefer to play with others of the same age rather than play games by themselves. Thank you Lockheed Martin!
TLC Plumbing, Heating and Cooling Supports Literacy Initiative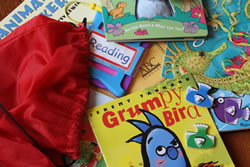 The Albuquerque Public Library Foundation is pleased to welcome TLC Plumbing, Heating and Cooling as the sponsor of ABC Library's Literacy Kit program for 2016.
Early Literacy Centers are located at eight branches of ABC Library: Erna Fergusson, Lomas-Tramway, Central & Unser, Main, North Valley, San Pedro, South Valley, and Juan Tabo. These centers give children and parents a welcoming spot to explore the components of Every Child Ready to Read®, providing an opportunity to share special books, puzzles, puppets and educational toys.
In addition, children and their families may extend their enjoyment by checking out a Literacy Kit to take home. Kits are designed to engage children and families in various ways, and each one is based on one of the components of the ECRR program: Reading, Writing, Talking, Singing/Rhyming, and Playing.
Many thanks to TLC for their support of this valuable literacy initiative.

Mission: The Foundation, a 501(c)(3), nonprofit organization, enhances the Albuquerque Public Library system by raising funds for programs and services essential to literacy and learning.

Challenge: Despite support for libraries in bond elections, economic constraints have made public funding inadequate. The libraries struggle to maintain hours, staffing, collections, programs and operations.

Objective: Develop additional sources of funding, including individual donations, grants and corporate contributions, to restore and revitalize library services and operations for people of all ages and resources.

Strategy: The Foundation offers donors flexible, tax-deductible ways, including memorials and bequests, to have an impact on libraries in their neighborhoods and community and to create a personal legacy.