$10,000 boosts North Valley Renovation (Posted: 11/12/2013)
Total bill will top $500,000 to complete repair and replacement after July 3 fire. 50,000 new books must be purchased.

Sara Sanchez is one of many Albuquerque residents who loves the city's libraries. Recently, Sanchez had the opportunity to show her devotion. As the administrator of her grandfather's estate, she gave a major boost to the renovation of the North Valley Library through a gift to The Albuquerque Public Library Foundation. She says her deceased grandfather, Michigan journalist Benjamin Nathanson, often visited libraries and would have been delighted to help get North Valley's doors open again. Sanchez' donation of $10,000 on behalf of Nathanson goes a long way to make that happen.
Other donors already had given nearly $4,000 to help the library. The fire and its smoke had devastated the inside of the 13,000-square-foot building at 7704-B Second St. NW. Painstaking hand-washing of every item and surface has been proceeding. Many items were not salvageable, such as carpet, lights, dropped ceilings, metal grid-work and chrome fixtures and pipes in the bathrooms.
Painted walls and ceilings are being thoroughly cleaned and repainted. The ductwork of the heating/air conditioning system was taken apart and thoroughly cleaned. Tile and vinyl floors were salvageable and have been cleaned. The wood ceiling has been sandblasted and refinished.
The Foundation hopes the library will be open in the spring, but no specific date has been set. Workers are moving as quickly as possible and library staff asks for your patience. Announcements will be made as soon as a schedule has been determined.

New Westside Library (Posted: 11/12/2013)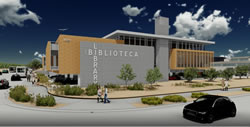 Groundbreaking due in December.
Generous contributors enabled the Foundation in April to give $100,000 toward the development of a new library at Central and Unser SW. This library will serve a population of 40,000. It will be the largest of all the branch libraries with 25,305 square feet. It will have a collection of 70,000 books and other media and 40 computers for the public to use.

Library Partners Focus on Reading Readiness (Posted: 11/12/2013)
The Foundation gave 600 packets to the UNMH Young Children's Health Center and St. Joseph Community Health that invite new parents and their children to come to the library to get a library card and a free board book. The packets are in English and Spanish.
Library Baby Showers have given more than 100 parents ideas on how to encourage reading readiness at an early age. The events are sponsored by ABC Libraries with help from The Albuquerque Public Library Foundation, Albuquerque Business Education Compact, St. Joseph Community Health, UNMH, ABQ Health Partners, March of Dimes, WIC and the New Mexico Breastfeeding Task Force and others.

I Love the Library! (Posted: 11/12/2013)
by Kathy Chilton, artist, mother, grandmother and creator of dozens of one-of-a-kind Onesies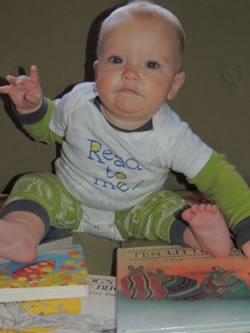 I've been puzzled by what to give as baby presents to my friends' newborn grandchildren. I wanted something I could always have available and that would be suitable for all babies. There are so many options: cute stuffed animals, bright manipulative toys, useful dishes, handy equipment and clever electronics. However, I wanted to find a gift for this growing crop of babies that would be both useful and inspiring, and I loved how the library inspires young readers.
Research now confirms that babies who are read to with regularity increase their language skills and start showing interest in books and reading on their own considerably earlier than babies who lack that stimulation. A good friend of mine who was trying to complete his university studies and take care of his new baby started to read his physics textbooks aloud in an enthusiastic way. He absorbed the content and the baby loved the sound and rhythm of her father's voice.
Since parents often dress their babies in Onesies, I asked another friend to use her sewing machine to embroider "Read to me" on a Onesie. My friend moved so now I write "Read to me" with permanent markers on the Onesies or other garments like bibs. I write it in Spanish and English. Simple or elaborate designs can give the same important message and are fun to do. I also might include sturdy books and a library card application if the family doesn't have one. These families have discovered that the message encourages all people, not only the relatives, to read to the baby.
Go to our Contact page to tell us your library story. E-News may edit for appropriateness and length.

1890s Marks Start of Library Philanthropy in Albuquerque (Posted: 11/12/2013)
Library Director Dean Smith recalls their efforts.

In the 1890s, a group of women donated books, money and time to start a circulating library in Albuquerque, says Dean Smith, director of the now 17 libraries in the Albuquerque Bernalillo County library system.
The early library had several homes until 1901 when it found a permanent location in a brick school building at the corner of present day Central and Edith NE. The building had been purchased and donated to the city by Joshua and Sara Raynolds for use as a public library as long as Albuquerque citizens could raise $1,000. The library opened with 2,382 books.
Erna Fergusson and Clyde Tingley were influential in the early growth of the library. Fergusson was known as the First Lady of New Mexican Letters and was the granddaughter of wealthy merchant Franz Huning. Tingley was a city commissioner for three decades and a governor of New Mexico.
After the death in 1945 of journalist Ernie Pyle, one of Albuquerque's most famous transplants, his heirs wanted to memorialize Pyle and his work. They left his house to the city to use as a public library. Tingley appointed Fergusson to chair a committee to develop the memorial. The Ernie Pyle Library opened to the public in 1948 as the first branch library.
Another local WW II hero, Clarence M. Botts, was honored with a bequest made by his family. A large meeting room called Botts Hall at the original Main Library was built in 1947. It offers space for the community to gather together, to learn, to engage and to remember.
Others, too, have recognized the value of the Albuquerque Public Library in their wills. The Thomason estate helped renovate Special Collections, formerly the Main Library. The estate continues to fund transportation for children's classes to visit the library. Renovations of Special Collections also benefited from the Babski estate.
The Jirikowic estate has made a significant contribution to the new library planned for Central and Unser. The estate of Richard A. Freedman, a reader, learner, library customer and downtown Flying Star regular, was designated to purchase books of general interest to the public. A Freedman life insurance policy became the seed money to form The Albuquerque Public Library Foundation.
Such gifts make public libraries brilliant monuments, as author Toni Morrison eloquently says, "Access to knowledge is the superb, the supreme act of truly great civilizations. Of all the institutions that purport to do this, free libraries stand virtually alone in accomplishing this mission. No committee decides who may enter, no crisis of body or spirit must accompany the entrant. No tuition is charged, no oath sworn, no visa demanded. Of the monuments humans build for themselves, very few say touch me, use me, my hush is not indifference, my space is not barrier. If I inspire awe, it is because I am in awe of you and the possibilities that dwell in you."

Acts of Generosity, 2012-2013 (Posted: 11/12/2013)
Please join our many donors with your own year-end, tax-deductible contribution online, with a check or through United Way.

$5,000 and up
The estate of Richard Freedman
The estate of Robert Jirikowic
The estate of Benjamin Nathanson
The estate of Dr. George Waldriff


$1,000-$4,999
Diane & Robert Fleming
The estate of Hazel B. Lodge
NM Science Fiction Association
Pamela & Richard Salmon
Lynn Schibeci & Stephen Spitz


$500-$999
Kathy & Lance Chilton
Julia & Gil Clarke
Andrea Escher
Judy & Chuck Gibbon
Tamara Grybko
Jan & Ken Harper
Howard Henry
Mary & Robert Julyan
Carol Merovka
Janet Saiers


$100-$499
Linda & Carl Alongi
Janice Arnold-Jones & John Jones
Sue Barnard
Jackie & Tim Bowen
Wayne Bower
Susan Broidy
Sarah Belle Brown
Philip & Jennifer Brown/Dwyer
Dana & Fred Bungé
Cindy & Jennifer Burns
Barbara Busch
Mary & Michael Callahan
Natasha Carty
Judy & Stephen Chreist
Jean Civikly & Ray Powell
Francine Cogan
Mary & Joe Cotruzzola
Emile Courreges
Ann DeHart & Robert Milne
Julie & Steven Denning
Laurance & Alexis DuPont
Elisabeth Duran
Gay Dybwad
Lauren Fernandez
Nancy & Doug Francis
Ruth & Ken Frazier
Maria & Rod Geer
Jewel Glavey
Anne & Dick Gonzales
Jacqueline Guaderrama
Alice Haddix
Elizabeth Haskett
Kathryn & John Hoover
Elois & Patrick Hurley
Shannon & Patrick Hurley
Suzanne Jollensten
Mary Theresa Jorosz
Gale Kaplan
Richard Kirschner
Allene & Walter Kleweno
Shelley & Herb Koffler
Marilyn Kunde
Laura & Charles Lefkofsky
Linda Lewis
Jane Ann & Jim Lunn
Toni Martorelli
Sandra & Bruce Masson
Christina Miles
Martha Miller
Eileen O'Connell
Diane Harrison Ogawa
Renee & Chris Patton
Sandra Penn
M/S Pino & Hofstedt
Theresa Pribyl
Betsy & Russ Raskob
Kathleen & Will Raskob
Richard Raskob & Catherine Maclean
Kathleen & John Rich
Bev & Regner Rider
Gerri Rivera
Patricia Claire Rodgers
Marylou Ruud & Doug Chevrier
Carol & Bruce St. John
Mary & Joe Sabatini
Priscilla Sanders & Lonnie Essres
Susan & Thomas Slates
Michael Stewart
P.K. Strong
Pamela Sullivan & Thomas Tumolillo
Carol & Donald Tallman
Jessica Taylor & John Gibbon
Chandler & Richard Todd
Sarah & Harry Weaver
Elizabeth & Wallace Wendell
Mary Adams Wotherspoon
Julie & Joseph Wright


Up To $99
Judith & Otto Appenzeller
Jan & Fred Bales
Joan Bamrick
Kathryn Bennett
Barbara & Phillip Bowman
Jan Bray
JoAnn Carchman
Gary S. Chase
Seth Chavez
Ellann Cohen
Susan Conway
Shirley Daugherty
Betsy Davis
Linda Morgan Davis
Mary Lou Edward
Janith Edwards
Kathleen Falk
Syd & Mark Farrell
Virginia & Frank Feather
Evelyn Feltner
Michael Garcia
Sue & William Gardner
Mary Gerhart
Patty & Chris Gibbon
Eloise Gift
Michele Gillett
Judy & Charles Gilman
Judith & Robert Gish
Joan & Neil Goldberg
Felice Grad
Patricia Haber
Brandon Haines
Cheryl Ann Harris
Janice & John Houser
Ardyce J. Kirk
Melinda & Kenneth Knoll
Carol & Chuck Kreis
Anne Lefkofsky
Lisa Leahigh
Carol & Art Lynch
Melissa & Angus Macpherson
Antonia Mahon
Macon McCrossen
Martha Miller
Michelle Miller
Mimi Montgomery
Carol & James Moye
Cheryl Mugleston
Ann & James Nelson
David Packman & Carol Dill
Patricia Palmer
Wendy Parker-Wood & Bev Nulman
Ila Dee Parnell
Robert Parsons
Jerie Pederson
Roni Polk
Veronica Reed & LeRoy Lehr
Alexandra Salmon & Eric Thomas
Tiana J. Scott
Diana & Jerome Shea
Mona Corcoran Sherrell
Donna Shockley
Debra Shoemaker
Suzanne Silva
Paul Smit
Jane Sprague & James Burbank
Corinne Thevenet
Robert Thompson
Lonna & Allan Trosclair
Leigh Turner
Anne Valdez
Ceil & Fred Van Berkel
Pamela Walker
Yinan Wang
Chenyi Wei
Kathleen Winslow
Martha Wolf
Marion Woolam
Carolyn & Roy Yanagida
Frederick Yost


Audience Enchanted by Hillerman and Characters (Posted: 11/12/2013)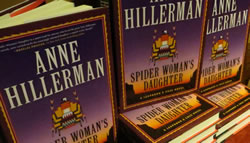 Anne Hillerman performed her magic at the KiMo Theatre Oct. 1 when she launched Spider Woman's Daughter in an engaging multimedia presentation. Images of the mystical and lonely landscape of the Navajo nation, as well as a look into her father's and her lives were projected on a screen as a back drop to the narrations. Talented actors brought the characters of Bernie Manuelito and Jim Chee to life on stage.
Hillerman's book follows in the footsteps of her father's famous stories set in the Navajo nation. She continues the tradition of weaving together history and mystery, but takes her novel in a new direction by focusing on and developing the characters of police officers, Manuelito and Chee who are in pursuit of justice while trying to solve a vicious murder.
The presentation also was exceptional in its approach of engaging the audience in the creative process of writing a novel. Hillerman discussed the genre of mystery, her father's unique talents for spinning tales, and her rich heritage of growing up in New Mexico.
Hillerman and Bookworks sponsored the evening for the benefit of The Albuquerque Public Library Foundation. Hillerman and Spider Woman's Daughter was featured in the Fall 2013 issue of UNM's Mirage Magazine.

Library Bonds (Posted: 11/12/2013)
In the City of Albuquerque's Oct. 8 election, 72 percent of voters approved the passage of library bonds. The Foundation thanks everyone who voted.

Sign Up for a Library Card (Posted: 03/25/2013)