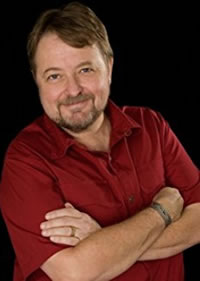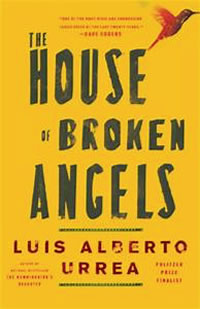 The Albuquerque Public Library Foundation & Bookworks presented Luis Urrea, The House of Broken Angels at the KiMo Theatre on March 14, 2018.
A Word with Writers, with Santiago Vaquera-Vasquez, moderator.
Hailed by National Public Radio as a "literary badass" and a "master storyteller with a rock and roll heart" Luis Alberto Urrea is a prolific and acclaimed writer who uses his dual-culture life experiences to explore greater themes of love, loss and triumph.
A finalist for the Pulitzer Prize for his landmark work of nonfiction The Devil's Highway, Luis Alberto Urrea is also the bestselling author of the novels The Hummingbird's Daughter, Into the Beautiful North, and Queen of America, as well as the story collections The Water Museum.
He has won the Lannan Literary Award, an Edgar Award, and a 2017 American Academy of Arts and Letters Award in Literature. Born in Tijuana to a Mexican father and American mother, he lives outside of Chicago and teaches at the University of Illinois-Chicago.
"Urrea is unstintingly, unironically, and unselfconsciously tender…. His pages slip past effortlessly, with the amber glow of slides in a magic lantern." New York Times Book Review
In a recent article in Construction Reporter author Garry Bollard writes that a new Albuquerque library is set for a historic site in a unique district.
"For decades, music and dance lovers from around New Mexico and the larger region of the west made their way to the famous Caravan East Night Club."
Located at 7605 Central Avenue NE the nightclub, billed as "America's Finest Western Club," was host to a variety of performers including Charlie Pride and Al Hurricane, finally closing its doors for good last December.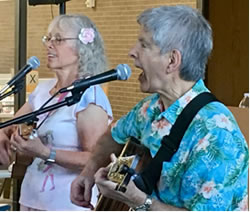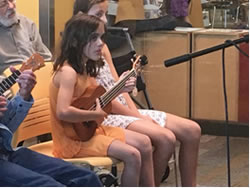 Albuquerque's first circulating ukulele collection became available at the Juan Tabo Library at a packed house launch event on September 16, 2017.
Judy and Mike Muldawer, who donated the ukuleles to the library system, introduced the instruments to an excited crowd of musicians and would be musicians by teaching them three chords. With a little practice, these chords became a complete song that was rendered by those lucky enough to be first to check out a ukulele and those who had brought their own instruments. The rest of us sang along, enjoyed refreshments and a great time was had by all!
Ten brand new ukuleles along with instructions and music are now available for checkout at the Juan Tabo Library. There may be a waiting list as they are very popular.
In celebration of the American Library Association's Teen Tech Week 2017, the library staff conducted a book trailer contest sponsored by the Albuquerque Public Library Foundation.
Book Trailers are similar to movie trailers or previews, but they promote books instead of films. Book trailers are made to encourage people to read a particular book or novel. they give an audience a sense of what a book is about without giving away too many details. A Book Trailer is not a book review or a book report.
The winners are posted here for you to enjoy. Click on the links to appreciate the skills of Albuquerque's tech savvy teen readers!
Invasion of the Overworld (Group Entry)
Blackthorn Key (Audience Favorite)
Charlotte's Web (Individual Entry) - attached
Jacqueline Woodson, who has been the recipient of numerous literary awards, won the 2014 National Book award for her New York Times bestselling memoir Brown Girl Dreaming.
Ms. Woodson, sponsored by Albuquerque Public Library Foundation and Bookworks, spoke at the KiMo Theatre in Albuquerque on June 13, 2017. Amanda Sutton, Events and Marketing Director of Bookworks said, "We are pleased to host Ms. Woodson, a multi-award winning author whose books have been enjoyed by children, teens, and adults. Woodson represents the best of modern American literature, and we are honored to have her visit Albuquerque in support of our public library here."
Free Library announces One Book, One Philadelphia selection: Another Brooklyn