Cranston Returned to the Duke City (Posted: 12/12/2016)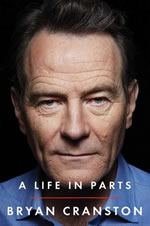 Bryan Cranston graced the stage at the KiMo on October 18, 2016 as part of a joint fundraiser for Bookworks and the Albuquerque Public Library Foundation. The award winning actor of television, stage and movies and author of "All the Way" took part in the "A Word with Writers" series as part of the national book tour for his memoir. The book is told in short story format about Cranston's life and rise to fame.
Bob Odenkirk of "Better Call Saul" fame interviewed Cranston. The evening was lively and included references to the award winning and popular television series, "Breaking Bad" in which they both starred. The sold-out audience each received a copy of the new book and greeted Cranston in a warm manner.

Sherman Alexie Visit a Big Success (Posted: 06/28/2016)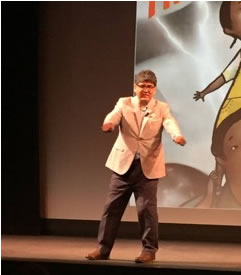 Sherman Alexie mesmerized the audience at his May 26 performance at the KiMo Theatre.
Sign up for our newsletter so you will know about the next "A Word with Writers" event."

A Word With Writers featuring Isabel Allende was a sell out! (Posted: 04/04/2016)
Ms. Allende did not disappoint and the crowd at the Kimo was enthralled with her presentation. The author was particularly gratified to have sufabulous attendance and participation as this was the end of a 13 city book tour. Thank you Albuquerque readers for your support.


Cherry Hills Branch Library (Posted: 04/04/2016)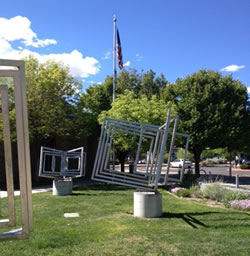 Your bicycling member of the APLF Library Board was happy to be able to roll right up to the side of the Cherry Hills Library in late April to tour the light, airy facility and meet its Branch Manager, Leigh Turner. Ms. Turner, who is also area manager for three other libraries, East Mountain, Lomas/Tramway, and Juan Tabo, was welcoming and clearly pleased with her library.
Ms. Turner has been branch manager for 15 years, though that's only slightly more than half of her career as a librarian. "I can't think of anything more satisfying than being a librarian, and I can't imagine myself doing anything else," she told me. She had been a librarian for Colorado Springs's Pikes Peak Library District and for several hospitals in Colorado and Albuquerque before settling for good – everybody's good! – at the Cherry Hills Branch.
Cherry Hills' branch manager loves to read herself, favoring English mysteries. She walks most days of the week, often listening to an audiobook as she strides along. Ms. Turner has a son in Korea, a daughter and her first grandchild in California. He said that both are avid readers. When asked how that came about, she hesitated (I think because it was a foregone conclusion): she read to them and then alternated listening to them read and reading to them when they were very young.
Ms. Turner introduced me to many of her staff, which totals fourteen – ten permanent and four substitute staff, who keep the library open more than almost all of the other branches, on seven days a week. She pointed with pride to the fact that Cherry Hills checks out more material (books, audiobooks, films, CDs) than any other branch in the system. She said that the patrons of the Cherry Hills Branch are great readers.
The Cherry Hills Branch was built in 1998 with the strong support of the surrounding communities, which lobbied City Council endlessly (and successfully) for its construction in what was then a rather empty part of the city. The area has grown, however, and the branch, the ABC Library System's farthest north, has become busier and busier.
One doesn't feel that life is hectic there – at least it hasn't on any of the occasions when I've been there. The branch's high ceilings and abundance of natural light probably contribute to its calm, and have given me several quiet afternoons to study or read.
It probably wasn't as quiet one recent afternoon when more than 200 children and parents came for a reading program; that was exceptional, but groups of more than 100 are not uncommon, Ms. Turner said. The Branch hosts about a dozen children's reading-centered activities each month, from Read to the Dogs to Let's Lego and Leap into Science, all housed in the children's area, watched over benignly by a huge Clifford the Big Red Dog.
Adult activities are also common in the library: a weekly "Itch to Stitch" group gathers in one of the two large meeting rooms (there are also two smaller study rooms and a beautiful outdoor amphitheater-like setting) and Master Gardeners, Genealogy, and Spanish Literature all graced a recent month's schedule.
As with all of the branches, wifi is available, along with 16 computers in the adult "Computer Corral" and two in the large children's area, "Portal to Reading." There's a large collection of audiobooks and eBooks, many films to check out, and a large and rotating book collection (Cherry Hills participates in the system's "floating collection" policy, such that it keeps books from elsewhere in the system returned there.) It has a huge "Hold Books" section – about 800 items at any time.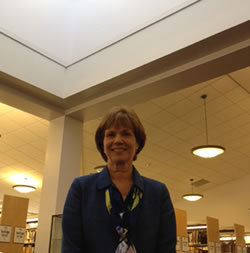 I took a photo of Ms. Turner standing in the natural light of what is affectionately called "The Squaretunda" (it would be a rotunda if it were round).
There's nothing but positive to sat about the Cherry Hills Branch, but, as many artists have said about New Mexico, so also about Cherry Hills: "It's the light." It's also the people – the clientele, families, kids, seniors, and the excellent staff, led by and embodied by Leigh Turner.
901 Barstow NE
Albuquerque, NM 87111
505-857-8321
Open Sunday 1-5, Mon, Tues. 10-8, Wed.-Sat. 10-6

Sherman Alexie Visits Albuquerque May 26 with Thunder Boy Jr. (Posted: 04/04/2016)
Bookworks and the ABQ Public Library Foundation Host A Word With Writers at the KiMo.
Event sponsors:
New Mexico Bank and Trust
Sandia Laboratory Federal Credit Union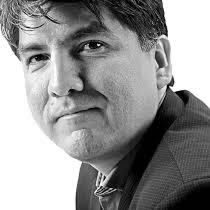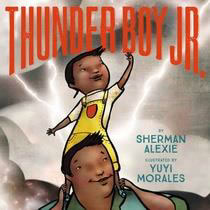 National Book Award winner, Sherman Alexie, visits Thursday, May 26, on tour for his new picture book, Thunder Boy Jr. (Little Brown & Company, on sale May 10).
Mr. Alexie, will read this book and speak on his work at the KiMo Theater on Thursday, May 26, 7 p.m. as part of the Bookworks-Albuquerque Public Library Foundation fundraiser, A Word With Writers. Lee Francis, Director of WordCraft Circle of Native Writers and Storytellers, will introduce Mr. Alexie.
Tickets are $50, $25 and $5. Priority tickets are $50 and include front row seating and signing line placement along with a signed copy of Thunder Boy Jr. A $25 general admission ticket admits one with a signed copy of Thunder Boy Jr. and the option to purchase one add-one ticket for $5. Bookworks will have Alexie's backlist titles for sale, and Alexie will sign books following the event. Each ticket purchase also includes a donation to the library foundation.
"We look forward to working with Bookworks on our fourth installment of A Word With Writers. We hope this event appeals to families who love Mr. Alexie's work," says Julia Clark, President of the Albuquerque Public Library Foundation.
Danielle Foster, co-owner of Bookworks says, "We are so excited to be hosting Sherman Alexie for our Word with Writers series. We just love his new book, Thunder Boy Jr. and we can't wait to share it with our community!"
In the new book, illustrated by Caldecott award-winning Mexican illustrator, Yuyi Morales, the title character, Thunder Boy Jr., is named after his dad, but he wants a name that's all his own. Thunder Boy Jr. wants a name that celebrates something cool he's done, like Touch the Clouds, Not Afraid of Ten Thousand Teeth, or Full of Wonder. But just when Thunder Boy Jr. thinks all hope is lost, he and his dad pick the perfect name—a name that is sure to light up the sky.
The book is already seeing rave pre-publication reviews in School Library Journal, Booklist, Horn Book, and Publishers Weekly. A perfect Father's Day book to share with the whole family, Thunder Boy Jr. includes Alexie's lyrical text and Morales's vivid and heartfelt illustrations that celebrate the special relationship between father and son.
"Mr. Alexie has been so hugely supportive of our work as independent booksellers," says Amanda Sutton, Marketing & Events Director at Bookworks. "We've been looking forward to his return on book tour since we last hosted him in 2012."
For more information or to buy tickets, please visit http://www.bkwrks.com/sherman-alexie, call Bookworks at 505-344-8139 or in person at 4022 Rio Grande Blvd NW.
Download Sherman Alexie event flyer
Event details:
A Word With Writers with Sherman Alexie
Thursday, May 26, 2016 - 7:00pm
KiMo Theater
421 Central Ave NW
Albuquerque, NM 87106.

Baby Shower (Posted: 04/04/2016)
Expectant and new parents are invited to visit with many healthcare providers and vendors that serve families with young children from 1-3 p.m. on April 30, 2016 at the Main Library.
Refreshments, handouts and consultations with providers are free.
Participants have included Albuquerque Business Education Compact, St. Joseph Community Health, UNMH, ABQ Health Partners, March of Dimes, WIC, the New Mexico Breastfeeding Task Force and others.

Sandia National Laboratories donates $6,000 to Foundation for Early Reading Centers (Posted: 01/04/2016)
Children need to hear 1,000 stories read to them, or three stories a day, before they learn to read on their own. Early Literacy Centers at Juan Tabo, Main, North Valley, San Pedro and South Valley libraries teach parents and caregivers with children from birth to five how to use colors, letters, numbers, sounds, shapes and textures through singing or books to enhance learning.
Lockheed Martin on behalf of Sandia National Laboratories has donated $6,000 to the Foundation to expand this successful early reading approach from five centers to seven. Each center costs $3,000. A handful of Early Literacy Backpacks filled with teaching materials (see photo) are available at the existing centers for checkout for three weeks. Many more are desired.
Donors are urged to add to Sandia's investment in reading readiness by making donations to increase the number of backpacks and expand the centers to as many library branches as possible. To find your closest center, go to abclibrary.org/hours-locations, or click here to donate.