Bookworks and the ABQ Public Library Foundation Host A Word With Writers at the KiMo.
Event sponsors:
New Mexico Bank and Trust
Sandia Laboratory Federal Credit Union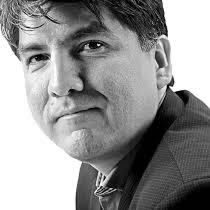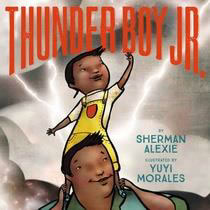 National Book Award winner, Sherman Alexie, visits Thursday, May 26, on tour for his new picture book, Thunder Boy Jr. (Little Brown & Company, on sale May 10).
Mr. Alexie, will read this book and speak on his work at the KiMo Theater on Thursday, May 26, 7 p.m. as part of the Bookworks-Albuquerque Public Library Foundation fundraiser, A Word With Writers. Lee Francis, Director of WordCraft Circle of Native Writers and Storytellers, will introduce Mr. Alexie.
Tickets are $50, $25 and $5. Priority tickets are $50 and include front row seating and signing line placement along with a signed copy of Thunder Boy Jr. A $25 general admission ticket admits one with a signed copy of Thunder Boy Jr. and the option to purchase one add-one ticket for $5. Bookworks will have Alexie's backlist titles for sale, and Alexie will sign books following the event. Each ticket purchase also includes a donation to the library foundation.
"We look forward to working with Bookworks on our fourth installment of A Word With Writers. We hope this event appeals to families who love Mr. Alexie's work," says Julia Clark, President of the Albuquerque Public Library Foundation.
Danielle Foster, co-owner of Bookworks says, "We are so excited to be hosting Sherman Alexie for our Word with Writers series. We just love his new book, Thunder Boy Jr. and we can't wait to share it with our community!"
In the new book, illustrated by Caldecott award-winning Mexican illustrator, Yuyi Morales, the title character, Thunder Boy Jr., is named after his dad, but he wants a name that's all his own. Thunder Boy Jr. wants a name that celebrates something cool he's done, like Touch the Clouds, Not Afraid of Ten Thousand Teeth, or Full of Wonder. But just when Thunder Boy Jr. thinks all hope is lost, he and his dad pick the perfect name—a name that is sure to light up the sky.
The book is already seeing rave pre-publication reviews in School Library Journal, Booklist, Horn Book, and Publishers Weekly. A perfect Father's Day book to share with the whole family, Thunder Boy Jr. includes Alexie's lyrical text and Morales's vivid and heartfelt illustrations that celebrate the special relationship between father and son.
"Mr. Alexie has been so hugely supportive of our work as independent booksellers," says Amanda Sutton, Marketing & Events Director at Bookworks. "We've been looking forward to his return on book tour since we last hosted him in 2012."
For more information or to buy tickets, please visit http://www.bkwrks.com/sherman-alexie, call Bookworks at 505-344-8139 or in person at 4022 Rio Grande Blvd NW.
Download Sherman Alexie event flyer
Event details:
A Word With Writers with Sherman Alexie
Thursday, May 26, 2016 - 7:00pm
KiMo Theater
421 Central Ave NW
Albuquerque, NM 87106.
Expectant and new parents are invited to visit with many healthcare providers and vendors that serve families with young children from 1-3 p.m. on April 30, 2016 at the Main Library.
Refreshments, handouts and consultations with providers are free.
Participants have included Albuquerque Business Education Compact, St. Joseph Community Health, UNMH, ABQ Health Partners, March of Dimes, WIC, the New Mexico Breastfeeding Task Force and others.
Children need to hear 1,000 stories read to them, or three stories a day, before they learn to read on their own. Early Literacy Centers at Juan Tabo, Main, North Valley, San Pedro and South Valley libraries teach parents and caregivers with children from birth to five how to use colors, letters, numbers, sounds, shapes and textures through singing or books to enhance learning.
Lockheed Martin on behalf of Sandia National Laboratories has donated $6,000 to the Foundation to expand this successful early reading approach from five centers to seven. Each center costs $3,000. A handful of Early Literacy Backpacks filled with teaching materials (see photo) are available at the existing centers for checkout for three weeks. Many more are desired.
Donors are urged to add to Sandia's investment in reading readiness by making donations to increase the number of backpacks and expand the centers to as many library branches as possible. To find your closest center, go to abclibrary.org/hours-locations, or click here to donate.