A Word With Writers (Posted: 05/08/2015)
Join us for an evening with writers Mira Jacob and Kirstin Valdez Quade presented by The Albuquerque Library Foundation and Bookworks.
When: June 13, 2015, 7:00 pm
Where:
Kimo Theater
419 Central NE
Albuquerque, NM
Tickets for the event are $7. The first seven rows of the theater will be sold in advance for $20. Tickets are available online at KimoTickets.com or at the Kimo box office.
Proceeds from the ticket sales will benefit the Albuquerque Public Library Foundation.
Authors will sign books after the talk, and books will be available for purchase in the lobby from Bookworks.
Mira Jacob is the author of the critically acclaimed novel The Sleepwalker's Guide to Dancing which was shortlisted for India's Tata First Literary Award, honored by the APALA, and named one of the best books of 2014 by Kirkus Reviews, the Boston Globe, Goodreads, Bustle, and The Millions.
Kirstin Valdez Quade's fiction has appeared in The New Yorker, The Best American Short Stories, and elsewhere. She was a Stegner Fellow and Jones Lecturer at Stanford University and teaches writing as the Nicholas Delbanco Visiting Professor at the University of Michigan. She is a 2013 Rona Jaffe Foundation Writer's Award winner and a 2014 honoree of the National Book Award of "5 under 35."

Anne Hillerman, Rock With Wings Fundraiser (Posted: 04/21/2015)
When: May 5, 2015, 7:00 pm
Where:
South Broadway Cultural Center
1025 Broadway Blvd SE (south of downtown Albuquerque)
Albuquerque, NM 87102
Tickets $5 and all funds to benefit the Albuquerque Public Library Foundation. Tickets available in advance at Bookworks. Please come in or call 344-8139.
Doors will open at 6:30 with a signing with Ms. Hillerman to follow.
Bookworks will sell Ms. Hillerman's books at the event and prior to the evening, including the brand new Leaphorn & Chee mystery, Rock with Wings and the new trade paperback of Spider Woman's Daughter.
For more information, contact Bookworks at 344-8139.
From Anne Hillerman's amazon.com page:
Anne Hillerman, daughter of best-selling mystery writer Tony Hillerman, will continue her father's Navajo detective series with "Spider Woma's Daughter," due for publication Oct. 1, 2013 (HarperCollins.) The book follows the adventures of Joe Leaphorn, Jim Chee and Bernadette Manuelito as they track a would-be cop killer, travel to Chaco Canyon on the trail of a murderer, and discover intrigue in the world of ancient Indian art and artifacts. She is the author eight non-fiction books including "Tony Hillerman's Landscape: On the Road with Chee and Leaphorn." She and photographer Don Strel made numerous road trips to photograph and write about the landscapes beloved by New Mexico's best known mystery writer. Working on that book inspired her novel.
"In the process of researching Tony Hillerman's Landscape, I re-read all of the Chee/Leaphorn mysteries, paying close attention to the settings. I ran into mud, dust storms, rez dogs, snow and those pricelessly beautiful days Tony Hillerman wrote about for more than 35 years," Anne said. "I loved nearly every minute of it. My personal highlights included New Mexico's Bisti badlands, the mysterious landscape near Ship Rock and vast, empty Chaco Canyon."
Anne, the eldest of Tony and Marie Hillerman's six children, came to New Mexico as a child and enjoys living in the Southwest. She is currently at work on the second book in the new mystery series. Her other major non-fiction projects include "Gardens of Santa Fe," with features photos of Santa Fe's finest gardens and interviews with their creators, and "Santa Fe Flavors: Best Restaurants and Recipes." Both received top honors at the New Mexico Book Awards. She worked for many years as a journalist, receiving awards for her writing from the New Mexico Press Association and the National Federation of Press Women. When she isn't working, Anne likes to ski, garden and experiment with new recipes in the kitchen. She is a founder of the Tony Hillerman Writers Conference held annually in Santa Fe, N.M.
Synopsis of new book from amazon.com:
Navajo Tribal cops Jim Chee and Bernadette Manuelito, and their mentor, the legendary Lieutenant Joe Leaphorn, investigate two perplexing cases in this exciting Southwestern mystery from the New York Times bestselling author of Spider Woman's Daughter. Doing a good deed for a relative offers the perfect opportunity for Sergeant Jim Chee and his wife, Officer Bernie Manuelito, to get away from the daily grind of police work. But two cases will call them back from their short vacation and separate them—one near Shiprock, and the other at iconic Monument Valley.
Chee follows a series of seemingly random and cryptic clues that lead to a missing woman, a coldblooded thug, and a mysterious mound of dirt and rocks that could be a gravesite. Bernie has her hands full managing the fallout from a drug bust gone wrong, uncovering the origins of a fire in the middle of nowhere, and looking into an ambitious solar energy development with long-ranging consequences for Navajo land. Under the guidance of their mentor, retired Lieutenant Joe Leaphorn, Bernie and Chee will navigate unexpected obstacles and confront the greatest challenge yet to their skills, commitment, and courage

In Praise of Libraries (Posted: 04/21/2015)
A salute to society's most successful civic institution
By Joe Queenan. Printed in the March 2015 issue of The Rotarian
The public library is the only civic institution in my community that is uncompromisingly successful. Not everyone in my small town is crazy about the police force, and not everyone is all that pleased with the public schools. No one ever seems terribly happy with the planning board, the architectural review board, the board of trustees. Some people think the volunteer firemen get too much money for new equipment, though no one ever dares say it out loud.
The public library is different. The public library is the community's kindly grandmother: helpful, patient, understanding. Nobody in my town ever stands up and says he dislikes the public library. Nobody in your town does, either. Grumpy old librarians who keep shushing you, sure. But not the library itself.
The public library is an indispensable institution that somehow manages to get taken completely for granted. Like the clouds above us, like the birds that fill those skies, it is a glorious creation that is hiding in plain sight. Society pays little attention to it, even though society cannot survive without it. Not any real society. Small towns can do without movie houses and fancy restaurants and stores that sell 50 kinds of balsamic vinegar. They can even do without bookstores. But small towns cannot do without a public library. Cannot, cannot, cannot. You can look it up.
The public library serves many functions in a community. It is an adjunct to the public schools, a place where kids can do their homework. It is a day care center of sorts, where small children gather for story hour. It is a safe haven where senior citizens can pass the time in the company of others, where the unemployed can look for work. It is a place where the lonely can be less lonely, the bored less bored, the dejected less dejected, and the ignorant more enlightened. It is the one place in a small town where teenagers cannot possibly get into serious trouble. Well, not without really setting their minds to it.
The public library has features that make it different from any other institution. It is public, in the true democratic sense of the word, and it is free. The value of being free cannot be overestimated. You cannot hang out in the local coffee shop for free. You cannot hang out in the diner for free. You cannot hang out at the senior citizens center for free if you are not a senior. Yes, you can pass the time in the park or along the banks of the river, but not in December, especially not in Chicago. But you can hang out in a library no matter who you are, no matter what your income, no matter how you are dressed, no matter what your interest. The library's philosophy is simple: Come one, come all.
The wide array of things that libraries offer means that they reach all levels of society. They make society better than it would be if left to its own devices. Libraries are a subtle, almost cunning, bulwark against the racial and socioeconomic segregation that society naturally gravitates toward, even when it does not do so out of malice. People congregate in libraries in a way that they do not congregate elsewhere. Because they are not bound by narrow class or economic or cultural strictures, libraries can cater to everyone. Poor people do not shop at the local gourmet store. Teenagers do not frequent stores that sell expensive perfumes or whimsical gifts or Inuit pottery or Veuve Clicquot. The library is the only place where people of all colors, creeds, ages, and political beliefs freely, easily, and inadvertently intermingle. The public library is the only fully democratic institution I know of.
Libraries are both aspirational and inspirational. I love going into a library and watching little kids do their homework. I love to watch retirees devouring newspapers and magazines, refusing to recede from life just because they are no longer working. I love to watch people who do not look like book lovers reading books anyway. Anyone can read in the privacy of their own homes, but there is something joyous about watching people reading or studying or researching or exploring in public. Time spent in a library is time not spent in front of a television. That in itself makes the public library the most valuable institution a society could possibly imagine. Being in front of a television will only inspire you to watch more television. Being in front of a stack of books could inspire you to take a gander at Jane Eyre or Persuasion or Beloved or, at the very least, Ethan Frome. You just never know what might happen in the public library.
Public libraries are not judgmental in the way that other institutions are. They offer good books, but they also offer bad books. Lots and lots and lots of bad books. If you want wheat, they will lend you wheat. If you want chaff, they've got plenty in stock. Inside the library, it's a free-for-all, culturally speaking. Some people are reading David Baldacci; some people are reading David Copperfield. But the most valuable thing that libraries offer us is a path through the looking glass, a sense of wonder. American life is all about planning and regimentation and scheduling and efficiency. The public library is where serendipity reigns. It is the place where you throw out all the rules and wing it. I personally never go into the library and come out with what I went in for. I go in looking for a luminous, elegiac novel by a terse, glacial Englishwoman and come out with a rousing mystery set in Reykjavík. I go in for Freedomland or Atonement or Bel Canto and come out with Get Shorty or Dracula. When I go into the supermarket, I already know what I am bringing home. When I wander into the library, I might bring home anything.
Maureen Petry is the director of the Warner public library in Tarrytown, N.Y., the village I have called home for 32 years. I asked her about the challenges libraries face. "Some people think libraries are obsolete, because you can Google everything," she says. "Some people don't see why we need all these books. Well, last year, 192,000 items circulated in this building. Not all of them were books, but most of them were. So somebody still thinks library books are important."
She adds: "We are a community center, yes, so we offer help with doing your taxes and applying for jobs and improving your English. But we can't just be that. We can't just be a service organization. We can't lose sight of our identity as a cultural center."
Petry says you cannot underestimate the role of the library as a community adhesive. She believes that people become more appreciative of libraries as they mature. This is, indeed, a sign of maturity.
"The library is especially valuable to people as they grow older," she says. "You cannot overstate this. Maybe you're sitting at home, all alone. Maybe you don't get that many visitors anymore. So you come here. When you go to the library, you see children, families, people of all age groups. It makes you feel that you are part of a community." She pauses.
"In the library, you get to feel that you are part of something bigger than yourself. It's life."
And a big part of life is adventure. Yes, public libraries are a place to learn, but they are also a place to play. They are a place to experiment, a place to go hither when one is expected to go yon. Not all work conducted in the library is rewarded, not all efforts bear fruit, not every pathway leads where you might expect it to go. So what? The journey is what matters, not the destination. With all those strange books on all those strange subjects arrayed along the shelves, the library reminds me of the old trunk back in kindergarten that little kids can root around in, trying on different costumes: cowboy, pirate, ballerina, certified public accountant.
At school and at home, authority figures – parents, teachers, older siblings, Uncle Ralph – can tell young people, "You're not old enough to read that yet; that book is not age-appropriate." In the library, young people can choose what they read. They can gain access to otherwise forbidden knowledge. The library is thus both the ultimate backstage pass and the rabbit hole we can follow Alice down. The library is not just the House of Knowledge. It is the House of Dreams.

Raising Readers (Posted: 02/11/2015)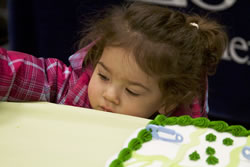 Your Foundation dollars at work.
The Foundation focuses on free library services for people of all ages, with particular emphasis on reading readiness for children from birth to age 5. The board hopes you will join us in raising $40,000 in 2015:
To provide library resource information to new parents through their medical professionals;
To promote library-centered infant social, physical, cognitive and language development;
to expand early-childhood-specific literacy centers in the public libraries;
To purchase age-appropriate furniture for the early childhood reading area at the new Central and Unser branch, scheduled to open in the spring.
To learn more about these programs and other library offerings, visit abclibrary.org or call the Foundation at 505-553-1074. To donate by check, credit card or PayPal, click below.


2015 JCC Book Fest & Author Series (Posted: 09/08/2015)
Wed Oct 21 - Wed Nov 4, 2015
Film Presentation: Woman in Gold
Letty Cottin Pogrebin, Single Jewish Male Seeking Soul Mate
Jessica Fechtor, Stir: My Broken Brain & The Meals that Brought Me Home
Simon Goodman, The Orpheus Clock: The Search for My Family's Art Treasures Stolen by the Nazis
Hannah Nordhaus, American Ghost

Baby Shower (Posted: 09/08/2015)
Expectant and new parents are invited to visit with many healthcare providers and vendors that serve families with young children from 1-3 p.m. on Oct. 17 at the new Central and Unser Library.
Refreshments, handouts and consultations with providers are free.
Participants have included Albuquerque Business Education Compact, St. Joseph Community Health, UNMH, ABQ Health Partners, March of Dimes, WIC, the New Mexico Breastfeeding Task Force and others.

Book Club Bonanza 2015 (Posted: 05/08/2015)
Book Club Bonanza was a fantastic success. The space at Erna Ferguson was overflowing with enthusiastic participants. Eileen O'Connor became the archaeologist of availability as she demonstrated the truly amazing world of information accessible via the Albuquerque Public Library site.
The Gizmo Garage for those "hooked up" with their pads or phones or laptops was exceptionally informational as well. Refreshments were provided by Trader Joe's and our thanks to them is extended. So successful was this first try that more will follow. A great handout was produced by the APFL. We are planning on updating and adding to this — as we have a grasp on how to do it, it will be done!

Central & Unser Grand Opening this Spring (Posted: 02/11/2015)

Follow the translucent green tower to your new city library located at 8081 Central Ave NW (on the NW corner of Central Avenue and Unser Blvd., next to the Central Unser Transit Center).
The sparkling new Central and Unser Library, which will serve a population of 40,000, is on schedule to open in the spring, thanks to the dedication of the construction staff, the architects and city staff working on the project.
Furniture arrives in February and shelving is expected in early March. Books and computers will be moved in soon after. Thirteen new staff have been hired and trained.
Donations from The Freedman Trust, The Albuquerque Library Foundation and many individuals covered almost 15 percent of construction costs. The balance was secured by Councilor Ken Sanchez from voters who approved Albuquerque's general obligation bonds and from the State and Bernalillo County.
The new library, with 25,000 square feet, is second only in size to Main, and its community meeting room capacity of 150 is second only to Main's 220 capacity.
The library also will be home to:
70,000 books;
40 public access computers;
the only separate Young Adult Room in the library system; and
a separate program room for children, third only to such dedicated rooms at Main and Cherry Hills.
Directions
From I-40:
Take exit 145, NM 345 S, onto Unser Blvd.
Drive southbound on Unser Blvd. for approximately 3 miles.
Turn right onto Central Avenue and make an immediate right.
Surface Street Directions Heading West on Central:
Head West on Central Avenue.
Drive past Unser Blvd. and make the first right.