On Behalf of the Board (Posted: 12/07/2022)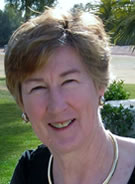 Julia Clarke
President, APLF Board of Directors
Dear Library Supporters,
In the spirit of the season, please accept our heartfelt thanks to the donors and sponsors who made these smiles possible. We couldn't have done it without you.
Community Giving. Community Strong.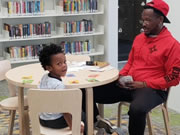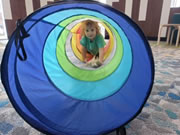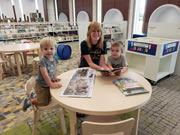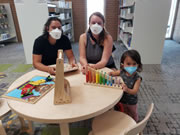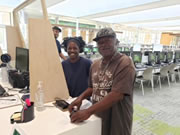 Thanks to Sandy Rock and customers of the International District Library for these photographs.

Why I Give - Amy Renne, APLF Board Member (Posted: 12/07/2022)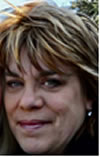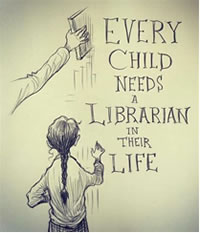 How can I not give? Named after the Amy in Louisa May Alcott's classic, Little Women, it was literary predestination. The decision was made before I was born. From there, the next stop was storytime at the library and learning to sit still and listen. I got to be pretty good at it. Later, it was my own library card - proof to me, I was recognized as a person outside my family. Believe me, it mattered.>
In the years that followed, my family moved across the country for my dad's career — far from my small hometown to places and cultures different from what I had known, and always starting over at a new school. I got to be pretty good at that, too. It wasn't easy. However, we always began at the public library — the one place consistent and predictable for me. It made sense and I knew my way around. Librarians sensed another blossoming book lover, offering titles and new sections of the Dewey decimal system yet to be discovered.
At first, only 3 books could be taken out, then 5, then anything I could read in the two-week interval until we returned. It was always easy to begin again at the library, whether it be a granite edifice in town or the county bookmobile or the 2nd floor of the Grange Hall. It was there that I distinctly remember gliding my fingertips across the spines of the entire hardbound set of Laura Ingalls Wilder's Little House on the Prairie and knew it was my summer reading project. There's something powerful about reading your first set of books. You may know this feeling, too. Libraries have given me so much.
Newberry and Caldecott Award winning books came to the house regularly. Elizabeth George Speare's, The Witch of Blackbird Pond remains my forever favorite, along with Hailstones and Halibut Bones by Mary O'Neill, poetry of colors. My mom started library school while I was in high school. Her graduation with a Master's in Library Science later paved the way for my own graduate studies. If she could do it, then I could. Recipes at home were written on the back of the discarded Dewey decimal cards she brought home from work. I still have them.
Libraries continue to weave themselves in and out of my life for many reasons, both professional and deeply personal. Libraries and librarians helped lift my heart and gave me purpose after the death of my son. Not much made sense for a long time, but I figured out the best way forward was to keep doing good and that good would be through the library and the Foundation. My thanks to Dean Smith and Julia Clarke for their support.
So, that's why I give - in memory of my son and as a thanksgiving for all that libraries have given to my family. I am not a wealthy woman, but the money that would have gone to help with a wedding, more school or all those other bits we parents continue to help with into adulthood - will go to APLF and the important work we do to support children and adults dreaming bigger dreams for themselves, learning how to read and ask questions, and finding a place of safety and sanctuary. Giving in memory of my son, Pete, has soothed my soul.
In this season of giving as you consider a gift to the myriad of well-deserving agencies and non-profits, please consider APLF. Each dollar gifted to APLF is a vote of your confidence in us and those we serve. Every gift, no matter how small or large, makes a real difference to library services and programs. You can see it in the pages of the Library Event Guide that celebrates the opportunities available across Albuquerque and Bernalillo County in our 19 libraries - free to all.
We are the embodiment of the folktale, The Little Engine That Could.
I think we can. I think we can. I hope you will join us.

Neighborhood Libraries Strengthen Communities (Posted: 12/07/2022)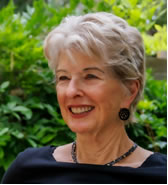 Rayme Romanik, APLF Board member
If you have the skills to read a newspaper, quickly skim a restaurant menu, or savor the first chapter of a new book, you have learned an incredible skill that will enhance your life many times over. Yet, in he United States, the richest country in the world, an astonishing 32 million American adults - 14% of the population - are considered illiterate.
While the causes of illiteracy are many, having a library near one's home can make a huge difference. Libraries have a special responsibility to everyone in a community, but especially to children - to support the process of learning to read.
Libraries do this by providing an open and welcoming environment that fosters creativity and exploration through diverse story times, access to books, art activities, and family areas with opportunities to role play, build, and discover. All of these things foster brain development, early literacy, and math skills. Libraries empower children to become confident and competent people.
In 2019, a Gallup poll found that visiting a library is the most common cultural activity Americans engage in by far. Most people know that they can borrow books from a public library for free. But did you know that you also can borrow (not rent) movies, newspapers, magazines, e-books, puzzles, cake pans, ukuleles, and early literacy kits? At your library, you have access to free WiFi and various databases such as BrainFuse Help Now (which provides academic support for all levels). Libraries offer classes both online and in-person. Gardening, cooking, and nutrition classes, as well as STEM and STEAM programs are just some examples of what is available.
Years of planning have come to fruition with the newly opened International District Library. This district, home to a diverse population and amazingly more than 40 spoken languages, has lacked many services for years. What could be better to strengthen this neighborhood than a world-class library?
What will you find at the new library? In addition to books, DVDs, CDs, periodicals and audio books, there is a large community room with wooden floors perfect for dance classes; spaces for those who prefer quiet time to read and study; a place that teens can call their own; plenty of computers; and a large, welcoming Children's Area complete with its own computer resources.
The Albuquerque Public Library Foundation raises funds to further support library programs, services and facilities. Check out your own public library branch and sign-up for a free library card if you don't already have one and learn how you can access all that our libraries have to offer. Librarians are always available to help.
Adapted from the Guest Column published in the Albuquerque Journal - April 14 2022.

On Behalf of the Board (Posted: 10/05/2022)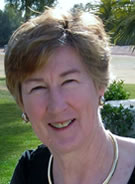 Julia Clarke
President, APLF Board of Directors
Dear Library Supporters,
Fall is upon us, and our community is bustling.
The children are in school, and the Balloon Fiesta lifts our eyes skyward with joy. Such a favorite time of year and one that we all enjoy sharing with friends and family.
Speaking of sharing, the new free Fall Event Guide is now available online and at your nearby library. Your continuing financial support for the Albuquerque Public Library Foundation provides the funds for publishing this popular Guide as well as many of the free programs offered at each library branch.
In the new Guide, you will discover new and expanded programming for children, families, and adults: music activities, baby and toddler storytime, family storytime, STEM labs and STEAM programming for all ages, book clubs, computer and mobile device basics, movies and so much more.
Our libraries are an essential part of our ever-growing learning community. Your donation of any size helps to make these and other library programs possible.
Thank you for joining with others who donate to ensure our libraries continue to thrive.
Community Giving. Community Strong.

For New and Expecting Moms and Dads! Babies Welcome! (Posted: 10/05/2022)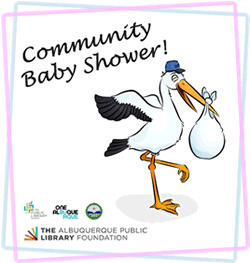 When: Saturday, Oct 22 from 1 to 3 pm
Where: International District Library
7601 Central NE 87108
505.768.4970
Join us for a free community information fair featuring representatives from health, social service and cultural agencies that have a focus on the health and well-being of young families.
Enjoy gifts, giveaways, refreshments and other fun surprises. And bring your baby!
Sponsored by The Albuquerque Public Library Foundation

Your Library is so Much More than Books (Posted: 10/05/2022)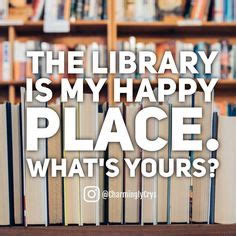 When you think of a library, what comes to mind? Books and more books? Marion the Librarian? Quiet places?
Today's libraries are so much more than books, and so we asked library patrons why their library branch is their happy place.
Here's a sampling of what we've heard:
Julien loves the Literacy Center because there are different toys than the ones he has at home.
I am so grateful for the help I received from library staff to set up my e-books and e-audio books.
Even before I could walk or read, I attended story times, crafts, and Read to the Dogs. I love libraries.
I love the new friends I'm making in my knitting sessions at the library.
My grandson loves creating his own flying machines with the Legos available at Lego Time in the library.
I so look forward to Hector's "Talking Movies" group every month.
When our grandchildren visit, our first stop is the Cherry Hills Library where they check out a slew of new books.
A librarian helped me on the computer to create and print my "lost dog" signs. I was so grateful.
I credit the library for getting me started in embroidery which led to my successful Etsy store.
I'm a mother of six and money is tight around the holidays. I was able to bring the kids to the library to decorate gingerbread houses, watch movies, and play on the computers during winter break and it was such a help to all of us.
I needed an email address so I could apply for a job but my phone could not accept text messages and the email domains needed to text me to set up an address. The library staff worked together and found a domain that allowed me to create an email address without a phone number and now I can apply for jobs.
I love math and just got to spend a wonderful hour on geometry problems with the library's STEAM program.
I came to the library today to return books/tapes. Heard music and my heart felt so much joy. So great to hear programs and young local talent. Thank you, Taylor Ranch Library and Cibola High Guitar Group.
Thanks to all for sharing your thoughts.

VOTE Nov 8th - Library Bonds are on the Ballot! (Posted: 10/05/2022)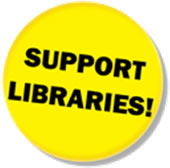 Look what bonds purchase the library:
Books, CDs, DVDs
E-books, E-audio
Magazines
Databases
Music, Movies
Streaming Music and Video
Why do we need bond funds?
Bonds are the ONLY source of funding for informational, educational and recreational materials for our Library!
Please VOTE in 2 places on your ballot!
COUNTY BOND 1 and STATE BOND 2
http://www.supportabclibraries.org for more information.
Check the NM Secretary of State's VOTER INFORMATION PORTAL to confirm your registration or register to vote.
Voter registration ends October 11. Your vote matters.

Why I Give - Rayme Romanik, APLF Board Member (Posted: 10/05/2022)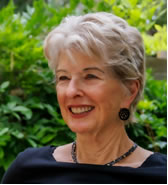 My story feels a little different. I didn't grow up in a community with a library within walking distance, and my father took our only car to work every morning.
I was slow learning to read and only remember my mother reading Readers Digest and my father reading the SF Chronicle. Then one day, long after I had started school, a bookmobile showed up at the bottom of my street. I walked down the hill, ventured inside, and was greeted by the nicest librarian, stacks of colorful books, and a bench to sit on as I leafed through various options.
While I was shy, I eventually managed to ask for a recommendation. What followed were classics like Harold and the Purple Crayon, Thumbelina, and books by Beverly Cleary. I loved my bookmobile and its every-other-week visit to my neighborhood.
As I got older, I started studying in libraries — my high school library and my local public library. That pattern persisted into college and even medical school. The library was always such a safe and welcoming place. I loved the card catalog system, the posters announcing lectures or clubs, getting lost in the stacks, finding hiding places to set up my study space, and being able to stay until closing.
Then for years, I didn't visit libraries. I was busy with work and my family. I didn't read much for myself during those years other than medical journals and textbooks. However, I did read to my son, and we opened each other's eyes to the wonderful world of children's literature. The books we read were mostly purchased or received as gifts. It was almost as if we had our own children's library at home.
It wasn't until I found the time to join a Book Club that I rediscovered my local Tony Hillerman Library. What a resource it was when it was my turn to review the selected book.
So why do I give? I think it started just realizing how lucky I have been, as I could just buy a book if I wanted one. Libraries make it possible for everyone to have access to books. But as I got more involved, I saw libraries as so much more than just books.
Libraries bring people together, offering culture and companionship across all ages with their varied programs and clubs. A library is a refuge and a safe place for our teens, and it helps with reading, exploration, and independence for our young people.
I think a public library is the most important institution that a community can have, and I want our libraries to thrive. That's why I give.

On Behalf of the Board (Posted: 08/12/2022)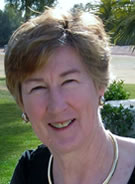 Julia Clarke
President, APLF Board of Directors
Dear Library Supporters,
Albuquerque has a new library—the International District Library is officially open! Children have been seen laughing and blowing bubbles in the Activity Room! Computers are being utilized. Workspace and Study Rooms are being reserved. Each time I go through the door, there is more activity. Libraries come together slowly and purposefully, and our newest library is no different.
July 9th, 2022 was a special day in our community, and we want to share that joy with you. We have included Library Director Dean Smith's opening remarks, along with the passionate presentation of Albuquerque's newest Poet Laureate, Anna C. Martinez. Anna has lived in several areas of the International District and speaks from the heart.
On behalf of the Foundation and the staff of this beautiful library, please come experience the quiet calm, and sky-high views this gorgeous, purposefully designed building has to offer. After reading this issue, we hope you will feel like you were with us at the opening of the International District Library and be encouraged to come to visit. The staff will extend their warm welcome to you.
Right behind the information desk, you'll see the names of our generous donors who made it possible for APLF to provide children's room furnishings and other resources at the International District Library. We extend our heartfelt thanks to all of you who helped make it happen.
Community Giving. Community Strong.

July 9, 2022 - Opening of the International District Library (Posted: 08/12/2022)
Saturday, July 9, brought together a remarkable group of several hundred people from all parts of Albuquerque to celebrate the opening of the newest addition to the libraries of Albuquerque and Bernalillo County—the International District Library at 7601 Central NE!
What a joy it was to come together after so many years to see this dream become a reality. Library Director, Dean Smith, shared his warm welcome and thanks to those who made it all happen. His complete remarks are here.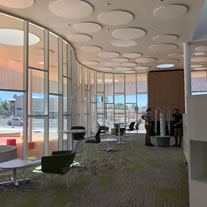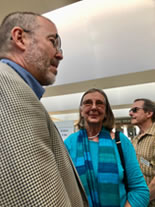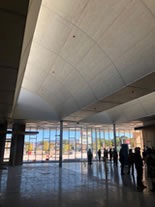 Anna C. Martinez - Albuquerque's Newest Poet Laureate (Posted: 08/12/2022)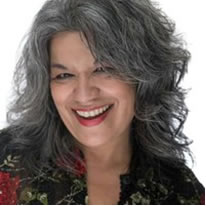 Excerpted from her work, The Great Equalizer, as Keith Richards of the Rolling Stones once stated: "Growing up, there are 2 institutional places that affect you most powerfully: the church, which belongs to God and the public library, which belongs to you. The public library is a great equalizer."
In her first official performance as Poet Laureate, Anna C. Martinez read out her newly commissioned poem, The Great Equalizer, for the opening of the Albuquerque International District Library (IDL) on July 9. You'll find the complete text here.
Anna has lived in 6 different areas in the International District (ID). In her own words, "I understand and feel its beating heart. It was an honor to have that be my first occasion poem."
Anna is Albuquerque's sixth Poet Laureate, appointed June 29 at a gala Albuquerque Museum ceremony, to serve a two-year term starting July 1 by the city's Poet Laureate Program.

Why I Give - Daniel Wald, APLF Board Member (Posted: 08/12/2022)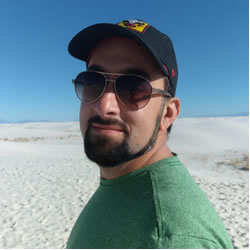 Personally, I've never been able to jump on the digital book bandwagon. There is something in the physicality of printed books that is a comforting, tactile experience for me. So, naturally, I've collected a massive collection of books over the last few decades. This collection has followed me in my adult life as I've moved across the world and schlepped my books with me.
It's been a huge liability to have hundreds of heavy boxes of just books trail me as I've taken the winding road that has led me to settle here in Albuquerque.
Although I seem to have passed on my bibliophile tendencies to my kids, a breaking point was inevitable. We simply don't have the space to keep endlessly acquiring more books! For my family and me, the constraint is space. For others, it's money and resources. For others, it's cultural. There are many reasons why people may not have access to the books and ideas that they want or need. Libraries are, for me, a glorious wonderland of glee—shelf after shelf, wall after wall of books—new ones calling to me all the time to be discovered.
I give because I love books. And I want others, regardless of their circumstances or constraints, to have easy access to the world of ideas that books offer. I have lived abroad in places without public libraries. Access to the knowledge and ideas in these places is reserved for only the elite. Places without libraries tend to lack accessible indoor places for people to gather, and I can feel this inequity in the social interactions I have had living in societies without libraries.
To this point, I also give because libraries are safe spaces of connection in a world that is increasingly disconnected and lonesome. Yes, they offer books, but they offer so much more: community, connectedness, shelter, and self-discovery—to name a few. Libraries embody the best of society: a democratizing access point in our social infrastructure where everyone is welcome, everyone is respected, and where we are all on an even playing field. Money cannot buy you priority access in a library—they are countercultural in that way. Libraries are places where the rich and poor come together to ask questions and seek answers; to take classes and find solace; a free place of activity for the whole family.
Libraries are hidden gems that shoulder an oversized responsibility in bolstering what unites us, all the more important in times when divisiveness is pulling our communities apart. I especially felt this living in Brooklyn, NY, with a newborn and four-year-old. Four of us lived in 500 square feet (which we shared with my oversized book collection). We had limited income—I worked for a nonprofit, and my wife was finishing her dissertation. We didn't have money or resources to regularly buy access to museums and play spaces that our neighbors did. The library was our place—rain, snow, or punishing sun—we were always welcome, and the kids were always entertained. Our local library was an extension of our daily lives.
I give because I want everyone in Albuquerque to have access to world-class libraries like I have. Our beautiful city has many serious challenges. Access to welcoming libraries can help fill the gap in instances where our schools and social services are falling short. Indirectly libraries can lead to a more skilled workforce, more economic development, and reduction in crime. I want libraries to help Burqueños elevate themselves to realize their full potential, regardless of race, ethnicity, age, or means. I want libraries to help Albuquerque blossom into a diverse, thriving community rooted in respect for ideas, cultures, and people.
Join me in giving to the Albuquerque Public Library Foundation to ensure our libraries continue to lead the people of Albuquerque to brighter tomorrows.

On Behalf of the Board (Posted: 06/02/2022)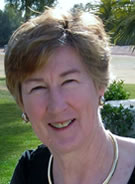 Julia Clarke
President, APLF Board of Directors
Dear Library Supporters,
The APLF Board of Directors joins me in expressing our heartfelt gratitude for your response to our second Library Giving campaign in April.
We are always encouraged by your financial support as well as by the expressions of appreciation for our wonderful library staff and the programs and resources provided by the library system.
The library community donated just over $27,000 to support creative programs and services that enrich participants' lives. The APLF Board individually donated an additional $19,500 as matching funds — for a total of over $46,500. Our heartfelt thanks!
These programs and services include STEM and STEAM programs such as Leap into Science, gardening, food and nutrition classes for all ages, and Beginning Birding Kits. You'll find a complete list here.
Summer is beginning, and many in-person events will be taking place at your neighborhood library. Pick up a free EVENT GUIDE at any library or check the library website for complete programming information.
Thank you for your continued support of The Public Library, Albuquerque Bernalillo County, and the Albuquerque Public Library Foundation.
We look forward to the new beginnings that will take place this summer!
Community Giving. Community Strong.

Grand Opening of the International District Library (Posted: 06/02/2022)
Mark your calendars! Come join us!
Saturday, July 9 at 1:00 pm
7601 Central NE, Albuquerque
What a community celebration it will be!
We are excited to see this 21st-century library come alive with customers, programs, and resources. In the meantime, you can see the preparations for opening in these photos.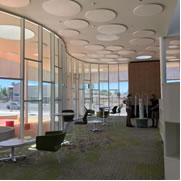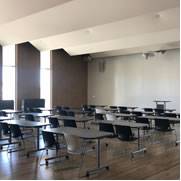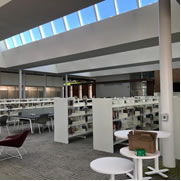 Lydia T. Ashanin - Welcome to the APLF Board! (Posted: 06/02/2022)
We are so happy to introduce the newest member of the APLF Board — Lydia T. Ashanin. Lydia's professional background includes over 30 years of impactful marketing and communications experience in New Mexico and nationally.
She led the successful development, creation and management of multiple programs focused on social responsibility, wellness and healthcare for under-served members of communities in New Mexico and elsewhere. Coalition-building is a fundamental value for Lydia, as it is for all of us on the APLF Board.
Lydia received her MBA from the UNM Anderson School of Management and was recognized in 2010 as the Albuquerque Business First Woman of Influence and again in 2019 as an Albuquerque Journal Women in Business honoree.
We look forward to working with Lydia to build strong programming and services that only are available through community financial support. Welcome, Lydia!

Why I Give - Russ Davidson, APLF Board Member (Posted: 06/02/2022)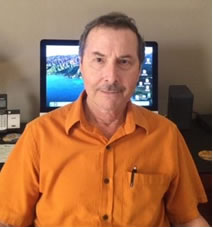 I'll answer the question in two ways: First, for the importance of libraries to me personally. They've been a part of my life for almost as long as I can remember, starting in early childhood, with weekly trips to bring books back from the local branch library. Then in my teenage years, when I had summer jobs working for the San Francisco public library system, to working at the reference desk of the University of North Carolina-Chapel Hill library and the Environmental Protection Agency library in the Research Triangle, while in library school there.
Then onto a career based in the University of New Mexico Library and finally, to spending weeks and months doing my own research in libraries and archives in Mexico, Colombia, Ecuador, Spain, and the US West and Southwest. Libraries have been the springboard to my professional accomplishments.
The second reason, though, and the more important, is their universality. The public library is there for everyone; it's a boundless world of knowledge, discovery, and possibilities open to all, free of charge.
We frequently hear that libraries and the free flow of information they provide are pivotal to our democracy. It's a truth that can't be stressed enough—now more than ever. Libraries, with everything they contain, also inspire us to bigger and greater things.
Nearly a half-century ago, one of America's great writers, Ralph Ellison, made a reference to libraries that has lodged in my mind all these years: "The library," he said, "is a nexus of dreams, a place where we are able to free ourselves from the limitations of today by becoming acquainted with what went on in the past and thus project ourselves into the future." How true Ellison's words were and how true they remain.
But in a more tangible, down to earth way, libraries across this country are essential to millions of people, year in and year out, in numerous practical ways:
Their reference sources, printed and electronic, are a lifeline to work and jobs; their DVDs, audios, and recordings are an ever-replenished source of entertainment, along with books, magazines, and other materials
Their rooms and public spaces are there for reading, thinking, and simply idling away the time
Their different clubs and social and educational services and programs help strengthen families, neighborhoods, and the wider community
In short, their contribution in sustaining and enhancing the quality of civic life is multidimensional and enduring. It's for these reasons and others like them that I take great pleasure in supporting our libraries.

Book Sale on the Second Saturday of Every Month (Posted: 06/02/2022)
The Friends of the Public Library opens their book sale doors on the second Saturday of every month.
Mark your calendars for June 10th from 10-4 pm!
The Friends hold this in-person event at the Main Library in the Lower Level Activity Room. Click here for complete information. Proceeds from the Friends of the Library Book Sales support the Summer Reading Program.
This year's theme is "Oceans of Possibilities." Rhonda Trujillo is making sure that Los Griegos Library patrons of all ages immerse themselves in this fun program. We hope you enjoy these photos of her art work in support of this wonderful theme. Go take a look. The kids will love it.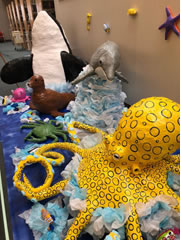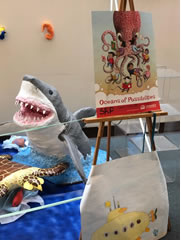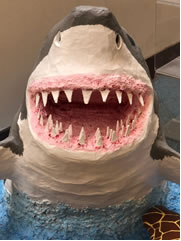 On Behalf of the Board (Posted: 04/06/2022)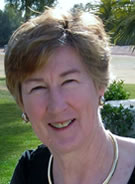 Julia Clarke
President, APLF Board of Directors
It's here! Library Giving Month is April 1 – 30! The Albuquerque Public Library Foundation (APLF) raises funds to enrich Library programs, services and facilities.
This year we are emphasizing the importance of creative public library programming, especially programs that are somewhat new to the library environment — STEM & STEAM programs.
All gifts to the Foundation from April 1 -30 are eligible to be matched by the APLF Board.
"STEAM / STEM-based education teaches children more than science and mathematics concepts. The focus on hands-on learning with real-world applications helps develop a variety of skill sets, including creativity and 21st century skills.
21st century skills include media and technology literacy, productivity, social skills, communication, flexibility and initiative.
Other skills attained through STEAM / STEM education include problem solving, critical thinking, creativity, curiosity, decision making, leadership, entrepreneurship, acceptance of failure and more.
Regardless of the future career path considered by these children, these skill sets go a long way to preparing them to be innovative."
Excerpted from National Inventors Hall of Fame
STEAM and STEM are present in many schools throughout our community and some of our libraries, but not all. By strengthening our public library programming, more children and families will have the opportunity to encounter new ideas, learn new skills, become motivated to learn about the natural and the physical world and have fun doing it.
Library craft programs fuel imaginations, teach new skills and often provide resources not available in all households. APLF supports a number of programs including Gardening, Food and Nutrition classes for all ages, Early Literacy initiatives, the Career Online High School program and Ukuleles in the Library.
Please join us in enriching all creative opportunities available at our current 18 locations - soon to be 19 libraries with the opening of the new International District Library in Summer, 2022. We can't wait!
Community Giving. Community Strong.

James Webb Space Telescope (Posted: 04/06/2022)
Many of you are familiar with the mission of the HUBBLE telescope and the photographs that have forever changed our idea of what the universe looks like.
You may not be familiar with the HUBBLE's successor, the James Webb Space Telescope "the most powerful telescope ever launched."
The design challenge was how to collapse the WEBB's solar array into a size that could be carried by the rocket designed to put it in orbit. All to observe "first stars and the formation of the first galaxies." It came down to origami as a design solution. STEAM at one of its finest moments. Read on!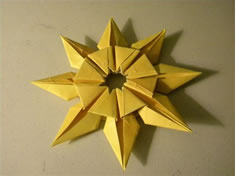 Excerpted from a FB comment from Kevin Liddane 1/14/22
"For the past 5 years I have been a presenter to middle school students on STEM. I have used the James Webb Space Telescope (JWST) to cover all of it, math, physics, chemistry, engineering, optics, biology, astrophysics. It's all wrapped up in WEBB. Recently, I met a mom who said to me... I don't know what I'm going to do with my daughter.
"I asked her, 'what's going on?' She told me her daughter is a graphic arts major and she wants to be an astrophysicist. I asked how her grades are in core sciences. She replied, excellent and her daughter is taking advanced mathematics on her own in the summer so she can prepare.
"I told her about WEBB, about how it wouldn't fit into a rocket and engineers were struggling with how to get it into space — about how someone spotted an origami statue on a desk and was inspired to 'fold it up' like an origami statue.
"I pointed out to her that NASA had a 'space' problem and the solution came from an art object. I said she's perfect for Astrophysics because she is trained and thinks differently, NASA needs artists who are also astrophysicists."
APLF believes the future leaders, scientists, engineers, and technicians in our community will benefit from the creative enrichment opportunities, like STEAM and STEM, offered by the Library.

APLF welcomes Daniel Wald to the Board (Posted: 04/06/2022)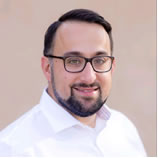 As a non-profit executive who works in underserved parts of the world, I frequently visit places without public libraries. In these places, access to learning, meeting, and discovering new ideas in a library setting are reserved for the wealthy.
I've witnessed a mother in rural Panama rip pages from a gifted book to divide between her children, and I've seen the transformative effect the establishment of a children's lending library had on my community in Kenya.
I cherish libraries — for myself, for my children, and for my community. This dedication to the institution of libraries led me to join the APLF board. I want to ensure that our library system in my adopted hometown of Albuquerque is strong and supported. I believe that healthy libraries are a fundamental piece of healthy communities and can help citizens realize their full potential. Because my work is global, I am excited to give back to my local community through volunteering.
My wife, a professor of geography, brought our family to Albuquerque (from Brooklyn) 5 years ago to take a job at CNM. We love the warm community and beautiful landscapes here. My weekly bike rides with my kids (ages 7 and 10) to our local library branch (Lomas Tramway) have become a cherished ritual. They love researching ideas, discovering new books, and surfing the library catalog. I intend to bring my background in non-profit management, grant acquisition, and civic engagement to my work with APLF.
Respectfully, Daniel Wald

Welcome Spring! (Posted: 04/06/2022)
The ABQ-BERNCO Seed Library was established in 2014 to encourage a community of water-wise home gardeners. The Seed Library, now housed at the South Broadway Library, aims to provide access, helpful hints, and skills to enable everyone to participate in this gardening community by offering:
Free, open-pollinated, non-GMO vegetable, certified organic or untreated herb, and flower seeds to library cardholders
Free monthly garden-related programs to foster all levels of gardeners through growing, harvesting, seed saving, and more—all within our unique high desert environment.
Visit the Seed Library collection at 1025 Broadway SE. You can find the library located inside the South Broadway Cultural Center. Each patron with a library card in good standing may check out 30 packets of seeds each year to grow in a home garden. For your convenience, seeds can be delivered to other libraries.

Begin Birding in Your Own Backyard (Posted: 04/06/2022)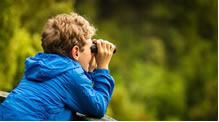 The City of Albuquerque's Open Space Division and the U. S. Fish and Wildlife Service, with the support of the Albuquerque Public Library Foundation are bringing Beginning Birding Kits to The Public Library, Albuquerque and Bernalillo County!
Birding Kits will teach observation and recording skills. Not only is birdwatching an enjoyable pastime, the skills developed are essential to many careers!
Beginning Birding Kits are checked out on a first come, first served basis at most Public Library locations. Kits cannot be placed on hold by computer or phone, so please visit your neighborhood branch to get started. More information available here.

Why I Give - Anna Zollinger, APLF Board (Posted: 04/06/2022)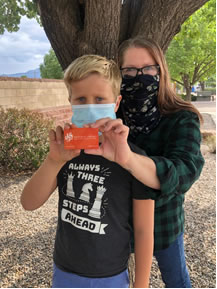 I have loved the public library as long as I can remember.
Growing up in Yorkshire, England, I loved climbing into the cozy warmth of the mobile library that wound its way up and down the narrow lanes to reach each tiny hilltop village.
Later, on my first visit to London, I was awestruck and in love with the imposing grandeur of the British Library – which I learned had the most catalogued items of any library in the world.
I loved the sense of mystery and arcane knowledge I felt in every library I explored.
I loved, and was astonished by, the idea that I was trusted to borrow these marvelous treasures….these books of magic and possibility! I loved the limitless feeling of abundance. I loved all librarians, regardless of temperament. I loved…and continue to love the library with unabashed intensity – and for so many reasons.
But my love of the public library is not why I give. I give because of all the times I have needed the library.
When I needed a refuge from the unkindness of my schoolmates, I found sanctuary at the library.
When I needed to believe I was destined for a bigger life than the one I saw stretching out in my small English village, I found a whole wide world waiting for me in books at the library.
When, arriving in New York City, I found it far more overwhelming than Holden Caulfield had led me to believe - it was at the New York Public Library that I got my bearings, and it was, of course, a librarian who helped me find my lodging, decipher the subway map and told me where to eat for cheap. I went back to the library every day until my money ran out and I fled to New Mexico.
I needed the library more than ever when I became a single parent, living in Albuquerque, where I hadn't yet found my feet. I needed the elders who frequented the library, and who helped me in raising my sons.
When I began my career as a community inclusion advocate for people with disabilities, the library was often the only place my friends and I were not only welcomed but felt valued.
When I lost my job after 10 years, I needed the library to remind me I was a real person with potential.
When I realized I needed to be involved in positive change because the world had lost its mind, it was at the library that I found the sense of purpose and community and hope I so badly needed.
Looking back, I've needed the library for so many reasons. And I need it now – we all do - more than ever before.
And that's why I give. Anna

Friends Book Sale - April 9, 2022 (Posted: 04/06/2022)

Mark Your Calendars for the next Second Saturday FRIENDS BOOK SALE!
Main Library at 501 Copper Ave NW
Lower Level - Activity Room
From 10 to 4 pm, shop more than 25,000 books, CDs, DVDs, and records, most discounted 80 – 90% Paperbacks are just 25 cents each!
Admission is free for members and $2 for non-members
FREE PARKING! Two-hour free parking available in the Very Special Arts Parking Garage on the SE corner of Copper Ave. and 5th St., kitty-corner to the Main Library. Bring your parking ticket to a library staff member to get validated.
CARRY OUT SERVICE! Can't carry all those great buys? Take your books to the holding area and we'll take them up to your car for you after you check out. Happy hunting!

A Letter from the Editor, Amy Henne (Posted: 02/07/2022)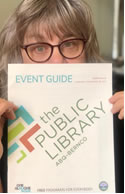 Well, here we go again. Just when we were hoping the pandemic was waning, we are facing another round of health-related restrictions.
However, may I remind you of the incredible resources our libraries have to offer you in terms of movies and music and our own Youtube channel, TheABCLibrary? You'll find an exciting list of possibilities there in PLAYLISTS, including 10 STEM lab experiments! Explore and discover what new resources have been added since the last time you took a look.
Be creative! Live dangerously! You may elect to pick up books you put on hold at a library you've not visited before. I'm partial to Special Collections at Central and Edith. The aesthetic atmosphere is so inspiring that I always enjoy my visit. I also enjoy the Ernie Pyle Library just because the tiny little house reminds me of a fondly remembered childhood library.
Books are just the beginning. The library programs offered for enrichment and enjoyment for our entire community are supported through the fund-raising efforts of both the Albuquerque Public Library Foundation (APLF) and the Friends of the Public Library.
Your contributions to the 2021 APLF Library Giving Campaign funded two new communications tools to the benefit of us all. The Library Event Guide is first. Now in its second issue, it's available in print at all libraries and on the Library website. The second being double-sided magnetic glass WELCOME boards to publicize and bring more programming and services to your attention. They are gorgeous! Look for them the next you are in.
This year, the APLF Board pledged a generous matching funds pool for the April 2022 Library Giving Month fundraising campaign. All donations received between April 1 and April 30 are eligible for matching. This year APLF is raising funds to support and strengthen STEAM and STEM programming throughout the library system. STEAM programming adds the ARTS to the equation of Science, Technology, Engineering, Math.
In the meantime, check the Library Event Guide available at all libraries for scheduled in-person programs close to you. No matter what it is you're interested in, there's something happening every day at your library! Join us!
Community Giving. Community Strong.

Exciting News at the Taylor Ranch Library! (Posted: 02/07/2022)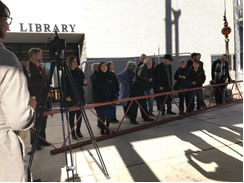 The Taylor Ranch Library is looking forward to welcoming library customers to the new Ken Sanchez Community Room this spring. Construction is well underway and on schedule.
This project has been in the works for several years and is named for Councilor Ken Sanchez, who initiated the funding process. Library lover Dolores Hartley left a bequest to the Albuquerque Public Library Foundation for the new Community Room, and her bequest is being used to purchase furnishings, such as tables and chairs. Our sincere thanks for her generous gift that will be put to such good use.
On December 16, Mayor Keller and Councilor Lan Sena invited the community to join in a "Beam Signing" event. Representatives from the surrounding neighborhoods were thanked for their work to get this project done, and all were invited to sign the beam before it was installed. APLF was well-represented by Julia Clarke.
CABQ One Albuquerque produced a wonderful video of the event. Take a look!

Remembering and Celebrating (Posted: 02/07/2022)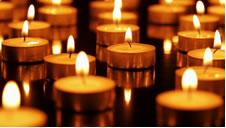 So much has happened to all of us over these past few years—new beginnings and life passages, along with the difficulty of loss. In 2021, the Foundation saw a remarkable increase in the donations being made in memory of loved ones who have passed, in celebrations of the lives of those still with us, and many appreciations for our libraries and staff.
These dedications and more are posted on our APLF website during the calendar year. All memorials and celebrations are respectfully archived at the end of each year. As for me, I can think of no better place to give than to our public library. Emily Dickenson said, "Hope is the thing with wings." I say hope is a library.
Should you feel so inspired, please join our community of givers in remembrance of your loved ones and in celebration of lives well-lived and jobs well done.

Why I Give - Judy Gibbon, APLF Board Member (Posted: 02/07/2022)
Ever since the day my mother took my sister and me on the bus to the Main Public Library in Galveston, Texas I have had a love affair with libraries. As a six-year-old I was smitten with the idea that all I had to be able to do was print my name and the world of book borrowing was mine.
While my public library usage was not always available during my growing up years, I always had access to the school library. Growing up, it was a consistent part of my life to have a book on my bedside table for the end of the day or to be with me on a rainy afternoon. Those times I was entranced by the lives of the March girls, and my other fictional friends.
As a young mother, taking my two boys to our local public library and pulling them home in our wagon loaded with them and with their laps full of books was part of our regular routine. When our daughter arrived, she joined the weekly library trek.
Why were these library trips so important? They were places filled with adventures, answers, personal growth, entertainment and compassionate librarians. I never could get over the idea of a "free public library". It was a symbol to me of one of the best things about our community and there was a library branch near us wherever we lived. It was a place open to all - those who came on foot, a bus or in a car. My passion for libraries and what they offered to all grew along with my children.
When they were teenagers, I was a member of Leadership Albuquerque, and I received a notice from the City that the Library Advisory Board was looking for a representative from my quadrant of Albuquerque. I held my breath while writing my application letter and was ecstatic when I was accepted for what came to be a ten-year stint in that group. That was followed by my involvement as a founding member of the Albuquerque Public Library Foundation in 2013.
For the last two decades, I have been able to give back both with time and treasure to the places that have given so much pleasure and shared knowledge to me, my children and my husband in hopes that our libraries will continue to flourish.

The Greatest Library Resource of All (Posted: 02/07/2022)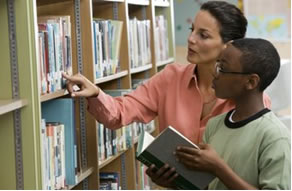 We enjoy sharing information on library resources with you. Some of this information is just a reminder, and we hope you might see something new and of interest. However, the best-kept secret is that the most significant resource in The Public Library, Albuquerque and Bernalillo County is our talented staff.
Many staff are librarians with Master of Science degrees from accredited universities. Some come to us after pursuing careers in other fields, and still, others are giving public library work "a test drive" to determine whether this is their chosen career. All come to work each day with enthusiasm for library customers and for sharing their skills and expertise. Library programming couldn't continue to adapt to 21st-century realities—including a pandemic—without them. Next time you visit your favorite library, say hello to the staff. They always are there to welcome you!