Colson Whitehead Brought us to Our Feet (Posted: 08/02/2023)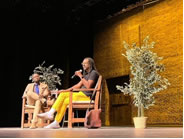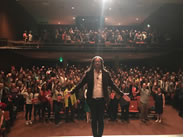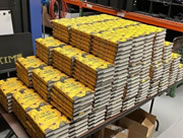 How exciting to be back at the KiMo Theater and to enjoy such an outstanding presentation by Hakim Bellamy and two-time Pulitzer Prize winner, Colson Whitehead.
There was a short monsoon rain just before the doors opened, but it didn't diminish the anticipation and enthusiasm of the nearly sold out audience.
As this was the first "A Word With Writers" in-person event since 2019, there many waves and hellos to friends and colleagues across the aisles of the theater.
Mr. Bellamy's well-prepared questions were met with Mr. Whitehead's thoughtful and authentic responses much to the delight of the audience.
The audience's rousing standing ovation at the end of this notable event was an uplifting moment.
Autographed copies of Mr Whitehead's recently published novel, Crook Manifesto - the second book in his Harlem trilogy, were ready for ticket holders as they came in the doors.
APLF is grateful to Bookworks for bringing this program to Albuquerque and for their partnership with the Albuquerque Public Library Foundation.
We also wish to thank the many volunteers and staff who worked tirelessly behind the scenes. Well done!

Albuquerque is Reading (Posted: 08/02/2023)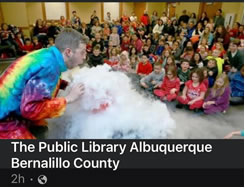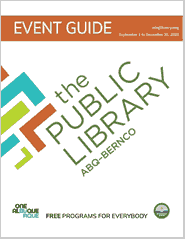 Youth Services Coordinator, Debbie Hassi, reports that the 2023 Summer Reading Program is a huge success!
Over 14,000 participated, a significant increase over the 2020, 2021, and 2022 summers. The special programs offered through the summer have attracted nearly 10,000 people of all ages and interests! It's clear that library staff are on track in identifying the interests and desires of library users.
The Summer Reading Program is an example of the public library's support of lifelong learning and family connection. The Friends of the Public Library, Dion's, The Albuquerque Isotopes, the ABQ BioPark, Eastern New Mexico University, AMP Concerts, Guitar New Mexico, the New Mexico State Library and the Albuquerque Journal all contributed to the success of this wonderful summer tradition.
Be sure to check out the September 2023 Event Guide (coming in late August) that will list activities and services available throughout the 19 libraries in our library system.
There's fun at the Library all year round!

Why I Give - Kay Rhoads, APLF Board Member (Posted: 08/02/2023)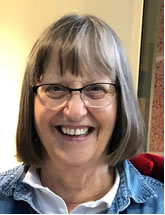 "Why should I learn to read?" asked the first grader quite seriously. As a volunteer reading tutor, I quickly answered how life would be so much harder if he didn't.
We talked about job and educational obstacles and how every part of life is impacted by the written word. Fortunately, he was convinced it would be worth the effort to learn. After struggling for such a long time, he began discovering books in the school library he wanted to read. What was easy for me was really hard for him. I can't remember not reading or being read to.
I have so many memories associated with reading - climbing a backyard tree to read and reading under the covers at bedtime. Receiving books as gifts was always a joy. In the library, I liked the Dewey decimal system and the drawers of the card catalog.
Later in life, it was joining book clubs, learning how to download books to my Kindle and researching my graduate thesis. All are powerful experiences that continue to reinforce my love of books and love of learning.
Libraries are sources of great wisdom and are safe spaces in our 21st century world.
Libraries are filled with books that entice, amuse, entertain and teach. Those books can be unsettling and provocative as well as comforting and familiar.
Libraries provide access that is equal, fair and open to all. It begins with a free library card.
A literate society has been a powerful sign of civilization since ancient times.
Reading is central to who I am and what I know. Libraries are where the books are - thankfully. All this is why I give.

Another Successful Community Baby Shower (Posted: 06/12/2023)
Each year APLF sponsors 2 Community Baby Showers for new parents and their families in the spring & fall. Our spring Baby Shower was held this year in the Community Room at the International District Library. Big sisters and brothers joined their parents at this happy and hopeful community event. There were gifts, giveaways and other fun surprises, along with refreshments.
This free community information fair features representatives from health, social service and cultural agencies that focus on the health and well-being of young families. Over 150 people attended, making this our largest baby shower yet!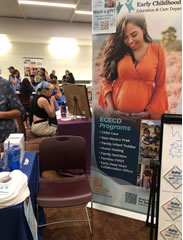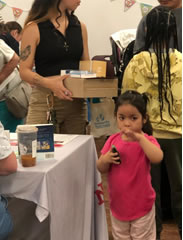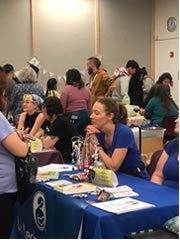 Experience Our Soon-to-be Upgraded Library System! (Posted: 06/12/2023)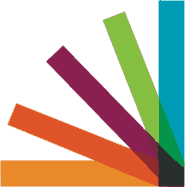 The Public Library, Albuquerque and Bernalillo County will soon unveil a significant upgrade to the online system. Read full press release here.
This enhanced system will provide better communication, including text messaging and improved search capabilities. The library's new website will simplify access to the library's wide range of resources.
There will be a period of limited service from June 19-21. Most online services will be unavailable during this time. However, eBooks, eAudiobooks, eVideos, and eMagazines can be downloaded through Libby and Hoopla for offline use. Customers will be able to check out materials at library locations.
Please contact your library with questions.

The Public Library's Summer Reading Program, All Together Now, is Here (Posted: 06/12/2023)

June 3 - July 29, 2023
We're looking forward to welcoming readers of all ages at all our branches this summer. Click here for complete information.
What is Summer Reading?
A free 8-week program at branches of the Public Library that encourages babies, children, tweens, teens and adults to read (or be read to!) throughout the summer. Sign up and pick up a Reading Log at any of our Library branches or signup online.
Set your own reading goals and read whatever you like at your own pace wherever you're most comfortable. Babies, Children, Tweens & Teens: once a week, bring your reading log to any of our Public Library Branch locations, show us your progress, and you'll earn a weekly prize! Adults will earn chances at weekly prizes at each check-in visit.
All participants who turn in their completed reading logs up until the end of the Summer Reading Program will be entered into grand prize drawings for their age group held at each branch.
Why is Summer Reading important?
Studies have shown that children who read during the summer are more able to maintain their reading skills and that children who see their parents read, or who read with their parents, generally score higher on standardized tests.
Reading is important for everyone in the community, regardless of age, and reading is a skill that grows with practice throughout a lifetime. It's free, easy to do because you read whatever you like at your own pace, and it's a fun, easy, zero-risk way of showing your support for the Public Library and its services.
The Summer Reading Program is generously sponsored every year by Friends of the Public Library.

Bookworks Relaunches A Word With Writers (Posted: 04/27/2023)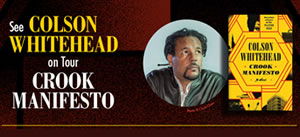 Colson Whitehead in Conversation with Hakim Bellamy
When: Thursday, July 27, 2023
Where: KiMo Theatre
Cost: $34 – $39
Bookworks and the Albuquerque Public Library Foundation welcome multiple Pulitzer Prize-winning author, Colson Whitehead, on tour for Crook Manifesto. Mr. Whitehead will be in conversation with Hakim Bellamy, inaugural Albuquerque Poet Laureate.
Each ticket includes a signed hardcover of Crook Manifesto and a donation to the Albuquerque Public Library Foundation.
Please join us for this thought-provoking evening to benefit APLF.

On Behalf of the Board (Posted: 04/12/2023)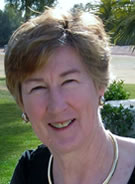 Julia Clarke
President, APLF Board of Directors
As always, our heartfelt thanks to the donors who made 2023 Library Giving Time such a success. One by one, we see small and large donors continue to join us in strengthening our Public Library system throughout Albuquerque and Bernalillo County. Thank you for being part of our growing community!
We appreciate all the support you have shown throughout our 2023 Library Giving campaign. Every click, like and comment on social media, every subscriber to our newsletter, every single donation makes a real difference. We truly could not do this without you.
Community Giving. Community Strong.

Taylor Ranch Library & Ken Sanchez Community Room (Posted: 04/12/2023)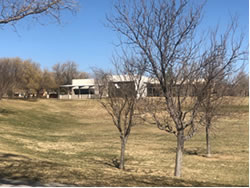 Near the intersection of Montano and Unser, you will find our beautiful Taylor Ranch Library sitting at the top of the hill. Placed on the edges of the Petroglyph National Monument, this library is truly a neighborhood gem.
The park area where this neighborhood library is located provides expansive outdoor space for sledding at first sign of a good snow, play areas for children and a dog park for canines and their "people." Park benches are plentiful for walkers.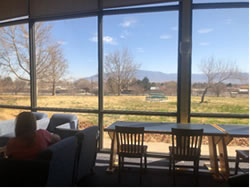 Opened in November 1989, the Taylor Ranch Library is located in the middle of the Santa Fe Village neighborhood in the Taylor Ranch area.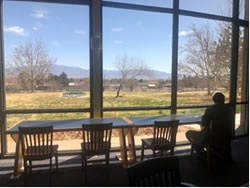 The interior view east to the mountains is panoramic. The sense of peace and nature from the outside continues to the open and welcoming interior.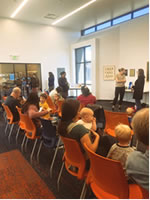 The Delores Hartley bequest to APLF provided the funds to furnish the Ken Sanchez Community Room. Infants, toddlers and their grandparents, parents and caregivers come together in this gloriously colourful space.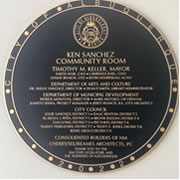 The Ken Sanchez Community Room was dedicated in 2022 after many years of planning and securing funding. It is used by community members, local schools and neighborhood organisations.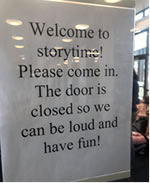 Children are welcomed here at every turn. Kelly Brocklehurst, Children's Librarian at the Taylor Ranch and library staff have a devoted following of young and old alike for storytime and other activities such as crafts, music and movement, journaling and book clubs.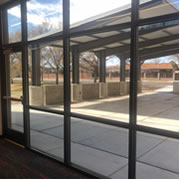 The Community Room opens to a beautiful shaded patio where the Summer Reading Program is held. There have been up to 200 participants for the Summer Reading Program.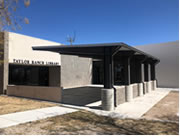 Many Taylor Ranch patrons first experienced the library when they themselves attended children's storytime. Those children grew up and now bring their own children to storytime, too. Sweet and inspiring stories are shared of library adventures that span three and four generations.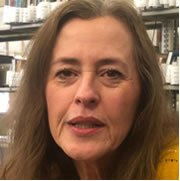 Lilly Byres-Richardson, Branch Manager of Taylor Ranch, has nothing but praise for her "extremely dedicated staff who are devoted to their jobs and to the community. We work really hard to have the answer to questions be YES!"

On Behalf of the Board (Posted: 03/14/2023)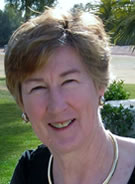 Julia Clarke
President, APLF Board of Directors
Dear Library Supporters,
We are pleased to announce the 3rd annual Spring Library Giving campaign March 17-27. This year's theme is Spring for the Library - Come grow with us!
APLF is a 501c-3 non-profit organization, run by a volunteer Board of working and retired professionals.
APLF steps in where there is a need and there are no public funds to meet those needs — as we are able. Support from our donors goes to fund new and continuing programs & services; along with facility upgrades and initiatives not covered by our tax dollars.
Books are just the beginning! Come join us.
Donations received by March 27 are eligible to matched by the APLF Board.
Community Giving. Community Strong.

On Behalf of the Board (Posted: 02/09/2023)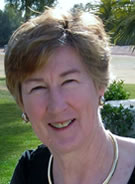 Julia Clarke
President, APLF Board of Directors
Dear Library Supporters,
Like many of you, my thoughts turn to spring this time of year. I am ready to see the budding leaves, the crocus blooms, and, yes, even a weed or two. Spring's promise of growth brings me joy, and as I think about our public libraries, the potential for individual growth comes to mind.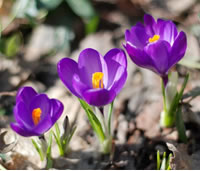 This potential manifests in different ways at different stages of life. Many of the programs sponsored by APLF help children develop new skills and identify new interests, story times nurture our newest readers, and the Library Event Guides grow attendance and awareness of programs and services that may be new to you.
Your donations support many of the efforts that occur in the one place where everyone is welcome and everyone belongs—our public libraries. Thank you.
Community Giving. Community Strong.

Poets in the Library: Hidden Treasures in Every Neighborhood (Posted: 02/09/2023)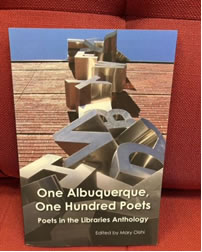 Albuquerque's vibrant community of poets gathered at the International District Library on December 17, 2022, to celebrate the publication of One Albuquerque, One Hundred Poets; Poets in the Library Anthology. Mayor Keller and Dr. Shelle Sanchez joined the festivities. Here are just a few of the poets who read. Photo acknowledgements to Jeff Hartzer.
Albuquerque's fifth poet laureate, Mary Oishi, created the "Poets in the Libraries" (link) series in 2020 and 2021.
"Albuquerque has hidden treasures in every neighborhood," Oishi wrote. Happily, quite a few of those treasures were discovered, including a truck driver, a paramedic, musicians, those who started writing in their later years, and those only ever shared with their family and close friends."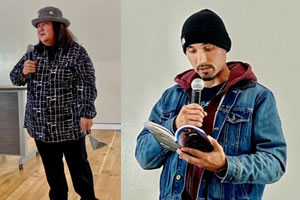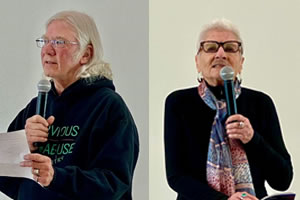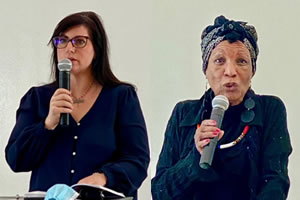 Several poets in the series performed and published for the first time, thanks to this series.
"Poets in the Libraries" was implemented with the help of staff throughout the library system. Library Engagement Coordinator, Mary Sue Houser, oversaw the project.
The team invited Albuquerque poets to read at seventeen of the city's public libraries. The only public library not represented in the anthology is the International District Library, which was under construction during the pandemic.
Poets read virtually from home, outside, or at the city's public libraries. The readings were recorded and produced as part of GOVTV's "Poets in the Libraries" series on YOU TUBE, which also includes a visual tour and the history of each library.
The "Poets in the Libraries" anthology showcases the work from the series and Albuquerque's vibrant—and ever-growing—poetry scene.
The book features 100 poems, a map of the public libraries, an introduction by Oishi, and a bio for each poet, along with their home library.
Poetry is divided into sections, including poems on Albuquerque and New Mexico, nature and the environment, animals, relationships, grief and loss, healing, and empowerment.
The book lifts up our community poets, our city libraries, the poet laureate program, books and publishing, and public and private reading time.
One Albuquerque, One Hundred Poets is available at local bookstores or via Amazon, Barnes & Noble, and Bookshop.
You will also find this anthology available to check out at Albuquerque public libraries.
Each book purchased benefits the Albuquerque Public Library Foundation, co-publisher of the anthology.

Free subscription to NYT from NM State Library! (Posted: 02/09/2023)
The New Mexico State Library is making 2 high-profile digital resources available FOR FREE to NM state residents!
All libraries across New Mexico will now provide visitors with FREE ACCESS to a New York Times digital subscription, which includes access to both its cooking and games sections, along with The Palace Project e-book library. Both e-books and audiobooks are available through the service, and the material encompasses all reader levels in both Spanish and English.
"All of this is part of the New Mexico State Library's commitment to improve access to entertaining and educational materials," said Kate Alderete, deputy state librarian.
Albuquerque and Bernalillo County residents can access the New York Times for free from the public library's website by clicking here OR clicking on Research, then eResources & Databases, and clicking on New York Times At Home. Then, simply click Redeem, and sign into your NY Times account or create a new account. This code will give you access to the Times for 24 hours, and can be reused.
The Palace Project is accessible through an app on your tablet or smart phone. Just download the app, choose New Mexico State Library when you are asked to "find your library", create a Palace Project library card, and start borrowing! If you have any problems with the app, just give the NM State Library reference desk a call at 505-476-9702.
Click here to read the entire Journal article. Permission granted by The Albuquerque Journal to link.

CABQ Public Arts & the International District Library (Posted: 02/09/2023)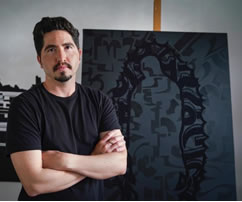 Reyes Padilla is the artist selected in 2022 for the City of Albuquerque Public Arts Program. When completed, Padilla's work will be installed inside the expansive windows of the new International District Library located at 7601 Central Ave NE.
For ten days, Padilla will study with international designers at Franz Mayer of Munich, Germany. Founded in 1847, Franz Mayer of Munich is a glass art company that transforms artwork into some of the most brilliant glass designs in the world. The company specializes in developing and producing international projects, spanning traditional to avant-garde artworks and techniques.
"The concept for this project was to really emphasize the amount of communities that make up the International District," Padilla says. "There's so much diversity there." Padilla says when the project is installed, visitors will be able to see it from outside the library.
"You'll have to enter the library to experience it to its fullest," he says. "With the different equipment and materials, this project will be unlike anything we've seen here in New Mexico. It will be a great representation of the community."
The Public Library has numerous pieces of public art installed across our library system—you can find a complete listing of all locations here.
Click here to read the complete article. Permission granted by The Albuquerque Journal to link.

Why I Give - Julia Clarke, President, APLF Board of Directors (Posted: 02/09/2023)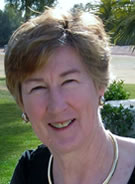 Public libraries have always been a part of my life. Like most of you, my parents shared the wonders of the library when I was a small child.
Imagine my excitement when Frances Horwich of "Miss Frances and the Ding Dong School" came to "my" branch of the public library. I was hooked!
My career trajectory in academic and public libraries provided a front-row seat to learn that the public library is valued as a welcoming and helpful resource in one's life journey as well as a place of comfort and often joy.
Allow me to share some observations of those who benefit from the daily work of the library staff and volunteers. It is those individuals who ensure that public libraries make a positive difference in the life of our community—growing their potential and enhancing their quality of life.
There wasn't a dry eye in the room when we opened a note from a patron of the Special Collections Library. She wrote to thank the staff for taking the time to teach her how to set up an email account and apply for a job. She got the job, and her note said it all: "Thanks to the staff, I can pay rent and buy food."
A customer who was left with one arm after surgery came to the library before attending any special events or even lunch with her friends. We combed her hair, made sure her dress was fastened correctly, put on her jewelry, and ensured that things were "just right." In turn, she taught us how to make a cake with one hand and a few other tricks she'd learned along the way—a true win/win.
Over the years, I saw the tattoos on the arms of the Holocaust survivors, observed the grief of families impacted by horrific crimes, and witnessed miraculous recoveries. The library was always there for them.
On occasion, families stopped at the library on the way home from the hospital to get a library card for the newest addition to the family. And we all rejoiced when we learned of successful science fair projects. Sadness or joy—the public library was among the places they wanted to be.
I loved every minute of working in public libraries—even the pet show that failed to meet all expectations. Of course, the program was my idea. Little did I know that adults and children would arrive with mules, exotic birds, reptiles, and the more usual dogs, cats, and gerbils.
All was going well, and almost every pet was awarded the perfect ribbon: Biggest Ears, Longest Snake, etc. A darling white dog in a "sailor-style collar" was next, and I awarded him the "Most Nautical" prize. The 70+-year-old owner was not amused and hit me over the head with her purse. I laugh every time I think about it!
Our public libraries are treasures and mean something different to each person who walks through the doors. For many, the public library is a constant and is treasured throughout their lives.
Yes, our community members check out and read books, access databases, and otherwise enrich their lives. However, it is their interaction with the staff and the confidence in knowing that the public library will provide the help that is needed that makes the difference.
I thank all who contribute, support, and strengthen this beloved institution that is, quite simply, an essential part of our lives. This is why I give.