A Letter from Julia Clarke, President APLF (Posted: 02/10/2021)

Dear Library Supporters,
Librarians work every day to make a difference in our community. The Albuquerque Public Library Foundation is delighted to support the staff as they transform our community by bringing resources, stories, ideas and possibilities to life. Be sure to read the delightful profile of the Ernie Pyle Library in this issue of Bookish. It's true – wonderful things really do come in small packages.
We just learned that a generous donor is matching all donations to the Library Giving Day campaign, which is on April 7 this year. All gifts, large and small, will be matched! $25 becomes $50. $500 grows to $1,000. Just imagine the possibilities for doing Good!
While spending some time on the library's website, I found two new offerings of interest to me. One is the Culinary Arts database that looks interesting for home cooks as well as food industry professionals. Also, the U.S. Major Dailies database that provides access to the New York Times, the Washington Post, the Wall Street Journal, the Chicago Tribune and the Los Angeles Times. I encourage you to explore the library website. There are a multitude of free on-line resources available to you!
We are counting the days until April 6 when Albuquerque native Kirstin Valdez Quade will discuss her newest book The Five Wounds for the next "A Word with Writers," a virtual event in partnership with Bookworks. Buy your tickets here!
We value our readers and appreciate your continued support for our public libraries.
Supporting our Future Together,
Julia

International District Library BUZZ (Posted: 02/10/2021)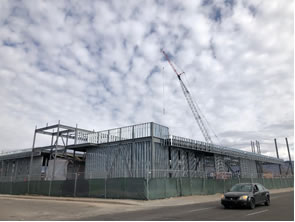 Are you looking for a short in-town drive? Do you have kids or grandkids who love Legos and construction equipment? Head up Central Avenue traveling East. About a block past the Louisana intersection on the north side of Central, you will be able to see the massive crane used to construct the inner steel structure of our magnificent new International District Library. It's all taking shape.
The construction site is at 7605 Central NE. It's exciting to see this 21st century library being born. This is the largest investment in this area for almost 50 years. Dean Smith, Director of our Public Library System announced earlier this month to the Library Advisory Board that construction is on time, on budget and due to open late 2021. We can't wait!
8 short months ago, Mayor Keller hosted the groundbreaking ceremony. The old Caravan East has been taken down and ground scraped bare to begin construction. Show the kids where it started and where things are now. Join us as we watch the future take shape right before our eyes. Stay tuned!

Ernie Pyle Library (Posted: 02/10/2021)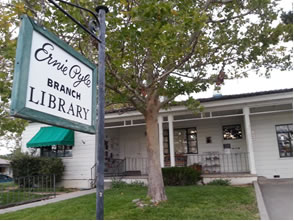 900 Girard Avenue
Surrounded by the neighborhoods of
Victory Hills, Nob Hill, Ridgecrest and parts of the UNM North Campus
THEN -
Safe. Familiar. Protected. The home at the corner of Girard and Santa Monica was built in 1941 by Pulitzer-Prize winning journalist Ernie Pyle and his wife, Jerry. Having chosen Albuquerque to settle in after decades of traveling the world together while Ernie worked as roving reporter, they built their small home looking to the future after the end of World War II. Alas, it was not to be. One month before the end of WWII, Ernie was killed by a sniper on the island of le Shima, Japan in May, 1945. Jerry followed him just months later, succumbing to influenza.
It was Ernie and Jerry's wish that their home become a library for Albuquerque. Erna Fergusson, after whom the Erna Fergusson Library is named, and the Friends of the Public Library helped that wish become a reality in 1948. In 2006, the house was designated a National Historic Landmark. The Ernie Pyle Collection of original documents and papers is available through our Special Collections Library.
Ernie and Jerry would be so proud that their gift to the City of Albuquerque continues. Although the house is an active library, its appearance as a home has been carefully preserved. Both the interior room layout and the landscaping, even the picket fence built by Ernie for Jerry and the grave marker of their dog, Cheetah, have been lovingly preserved.
AND NOW -
Waving to me through the window by her desk, Lizzie Peacock, Site Supervisor, opened the side door to her office, which was at one time the garage and later the guest room with a teeny tiny bathroom. Of course, Lizzie Peacock had a peacock on her mask. With a name like that, I was instantly convinced she could be a character from the pages of Harry Potter. Lizzie loves her library and all those who enter. She speaks of them as family and misses the daily 3:30 pm city bus dropping kids off from school to meet their parents and visit with other neighborhood kids who are home-schooled. She's looking forward to the future when the kids will return to fill the yard with laughter, shouting and lots of hugs. Remember those?
Well-worn and creaking hardwood floors speak of the 73 years this home has faithfully served the surrounding neighborhoods. It's a treasure of a house filled with books and love. It's apparent in every room. Even the closets have floor to ceiling shelves for everything from books to DVDs. There is not an inch of unused space and it is a Home for Book Lovers.
Before the pandemic, many programs were held outside under the sheltering shade of old trees. Lizzie and capable staff will return there to hold music and movement classes along with story time. One special addition to story time at Ernie Pyle is the sign language that Lizzie teaches the children that corresponds to the theme of the week. The "Hello" and "Goodbye" songs are a big hit. Lizzie speaks fondly of the library patrons how" absolutely love this library" and how fiercely attached they are. "It's a small-town library in the middle of a big city. For me, it's a perfect fit."
The staff at Ernie Pyle have developed "grab and go" book bundles for children during the pandemic. A quick in and out with 3 fiction and 1 nonfiction book centered around specific topics, such as feelings, colors, numbers, bears. They don't have to look, just a quick in and out with a touch of surprise. The library is so tiny and only one or two people at most are allowed in at a time for 15 minutes. Library patrons utilize holds "like nobody's business. Even the kids put things on hold!"
As I left, a young mother was navigating the red wagon that carried her young son with both legs in a cast after corrective surgery. The little boy laughed when I told him how brave he was. When asked mom how she was you could hear the weary determination in her voice. They had walked to the library and it was their special outing for the day. Walking down the old driveway to my car, I was hailed by a woman leaving the library telling me she was done and did I want to come in. The mother and child were next in line and they happily moved up. There's just something about a library that brings people together in kindness and generosity of spirit.
Joining Lizzie Peacock are two more vital staff members. Lizzie describes them with great enthusiasm.
Debbie Maestas is the newest addition to our Ernie Pyle Family. She is incredibly positive and friendly,and brings a wealth of library knowledge and creativity to our branch. She especially enjoys working with our emerging readers helping them find just the right books. She has also adapted the Grab & Go theme picture book bundles to fit the needs of our neighborhood and our patrons absolutely love them!
Jen Vossen's years as shelver and now library assistant here at the Ernie Pyle library have made her an asset to both staff and our patrons, she keeps the library looking beautiful and organized! Extensive knowledge of the collection combined with her energetic and lively demeanor make her the perfect fit and a joy to work with.
I highly recommend making your visit to this historic treasure tucked away in the Victory Hills neighborhood. Small is truly beautiful. Next month, I'll be visiting the Lomas Tramway Library. I've never been there before and I'm excited to discover this part of Albuquerque.
Regards, Amy Henne

What We (Still) Are Reading! (Posted: 02/10/2021)
Palaces For The People by Eric Klinenberg is a love letter to public libraries everywhere. Seen as fundamental and foundational to civic engagement in a democracy, public libraries offer not only shared spaces but shared values of respect, engagement and equal access to all. Public libraries strengthen neighborhoods and support intellectual and economic health.
This month, we share a selection of talks by Eric Klinenberg about his book. The first is from the Toronto Public Library, entitled On Civil Society. The second is from The Gov Lab, entitled Social Structure and Civic Life. We hope you enjoy listening!
And if your interest is piqued, check for book availability here.

Lists. Lists. Lists. What did Albuquerque read in 2020? (Posted: 02/10/2021)
What were our most popular checkouts? 2020 was an unusual year for us with multiple closures. Our lists of checkouts for items like print books, CDs, and DVDs were all affected. Here's the year's most popular items reflected to the best of our abilities.
Here's a list of the most popular books, e-books and audio books borrowed from Public Library ABQ-BernCo in 2020. The pandemic has helped turn 2020 into a record year for digital lending through our Public Library system. How many have you read?
Top digital books by genre in 2020:
Adult fiction: Where the Crawdads Sing by Delia Owen
Adult nonfiction: Becoming by Michelle Obama
Young adult fiction: The Hunger Games by Suzanne Collins
Young adult nonfiction: Funny, You Don't Look Autistic: A Comedian's Guide to Life on the Spectrum by Michael McCreary
Children's fiction: Harry Potter and the Sorcerer's Stone by J. K. Rowling
5 most popular e-books in 2020:
Where the Crawdads Sing by Delia Owens
Educated: a Memoir by Tara Westover
Becoming by Michelle Obama
The Dutch House by Ann Patchett
The Giver of Stars by JoJo Moyes
5 most popular audio books in 2020:
Harry Potter and the Sorcerer's Stone by J. K. Rowling
Becoming by Michelle Obama
Where the Crawdads Sing by Delia Owens
Talking to Strangers: What We Should Know about the People We Don't Know by Malcolm Gladwell
Educated: a Memoir by Tara Westover
Many thanks to Eileen O'Connell, former Branch Manager at Special Collections, now Digital and Material Support Service Manager for our library system, for developing this list.

A Word with Writers: Kirstin Valdez Quade (Posted: 01/12/2021)
Bookworks and the Albuquerque Public Library Foundation are pleased to present Kirstin Valdez Quade for A Word with Writers on April 6, 2021. Ms. Quade will be talking about her debut novel The Five Wounds (W.W. Norton). From this award-winning storyteller comes her stunning debut novel about a New Mexican family's extraordinary year of love and sacrifice. The Five Wounds has been selected as one of Oprah Magazine's Most Anticipated Books of 2021.
Kirstin Valdez Quade is originally from New Mexico. She now lives in New Jersey where she teaches at Princeton University. Her collection of short stories Night at the Fiestas won the National Book Critics Circle's John Leonard Prize. Kirstin is the recipient of a "5 Under 35" award from the National Book Foundation, the Rome Prize, and the Rona Jaffe Foundation Writers Award. Her work has appeared in The New Yorker, New York Times, The Best American Short Stories, The O. Henry Prize Stories, and elsewhere. Many of you may remember her appearance at a 2015 "A Word with Writers" event at the KiMo Theatre.

What We're Reading Now (Posted: 01/12/2021)
Palaces for The People: How Social Infrastructure Can Help Fight Inequality, Polarization, and the Decline of Civic Life
Author: Eric Klinenberg
5 copies available through our Library – check the catalog
Should you be thinking about how our country and civil society moves forward in the years ahead, you might consider reading this insightful book. For those of you seeking a solid way forward to heal divisions in our country, it is a must read.
Klinenberg defines social infrastructure as "the physical places and organizations that shape the way people interact." From neighborhood bodegas, beauty and barber shops, to schools, playgrounds, parks and the public library - ALL are building blocks of public life. He believes "the library is among the most critical forms of social infrastructure we have."
In the coming months, we will share more of this vision for strengthening the visibility of our public library system and the role the library plays in continuing to bring health to our community.
Eric Klinenberg is the Helen Gould Shepard Professor in the Social Sciences and director of the Institute for Public Knowledge at New York University. He is the coauthor of the #1 New York Times bestseller Modern Romance: an Investigation, and author of the acclaimed books Going Solo, Heat Wave, and Fighting for Air. He has contributed to The New Yorker, The New York Times Magazine, Rolling Stone, Wired, and This American Life.

New Year Reflections from Julia Clarke, President APLF (Posted: 01/12/2021)

Dear Library Supporters,
Happy New Year! How wonderful to write those words after the many challenges of 2020. I am filled with hope and anticipation as we begin this New Year together.
Ten years ago, a small group of former Library Advisory Board members and one faithful library retiree gathered to take the first steps to form what now is the Albuquerque Public Library Foundation (APLF). Our 501c3 organization launched in April, 2013 with the sole purpose of raising funds to enrich library programs, services and activities throughout our 18 and soon to be 19 libraries with the completion of the International District Library in late 2021.
Our public libraries are a fundamental institution in the social infrastructure of our democracy. I highly recommend reading Eric Klinenberg's Palaces for the People to more comprehensively understand the role the public library plays in building and strengthening our community. Described by Andrew Carnegie as "palaces for the people," public libraries welcome everyone.
This year, APLF is focusing on raising $150,000 for the Children's Room at the International District Library. In addition to our end of year Annual Appeal, the Foundation will be participating in the April 7 National Library Giving Day campaign. All funds raised will be targeted to the Children's Room at International District Library. Your gifts, small and large, will accomplish this.
With your continued support, the future of our public library system will continue evolving and responding to the needs of each neighborhood, our larger community and the customers we serve. Thank you for joining us on this journey!
Kind regards, Julia Clarke

Welcoming Our Newest Board Member (Posted: 01/12/2021)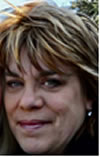 The APLF Board is pleased to welcome Amy Henne as our newest Board Member. Currently finishing her second term on the Library Advisory Board, Amy is deeply committed to strengthening library support in our diverse community. Some of you may remember her from her shop, Lavande Bleu, in Historic Nob Hill where she also served as President of the Nob Hill Business Association.
Along with her entrepreneurial talents, Amy brings a wealth of professional marketing and communications expertise along with experience in state and federal government. Prior to joining the APLF Board, Amy served as President of the Bel Air Neighborhood Association and as a docent for Casa San Ysidro, part of the Albuquerque Museum. Please join us in welcoming her.

San Pedro Library (Posted: 01/12/2021)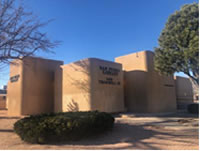 San Pedro Library @ corner of San Pedro and Trumbull
International District - Opened 1967
Bounded by Lomas, Gibson, Wyoming & San Mateo
Serving the neighborhoods of Elder Homestead, Fair West, La Mesa, Siesta Hills and South San Pedro. More than 28 languages, including English, are spoken throughout the area.
On a very cold winter morning, Florence Sablan, San Pedro's Branch Manager, greeted me at the door with her kind, smiling eyes and a warm welcome. I was immediately reminded that a library may begin with a building and a collection, but the soul of a library is found in the people who are inside. Patrons and staff are what give life to the library. The staff at San Pedro keeps the light burning through these difficult times of closures and limited services.
The International District's neighborhoods are known as some of the most diverse communities in Albuquerque and in New Mexico. From decades-long residents and homeowners to those newest to Albuquerque, customers come from a wide range of economic circumstances and backgrounds.
Problem-solving and personal service continue throughout the pandemic. Library staff often find themselves addressing community needs beyond that of library resources - caring for the needs of each individual. Florence shared this story:
"A customer came in with her two children and was being helped at the front desk when she collapsed. 911 was called. As staff and the older child were caring for the mother, another staff member noticed how distraught the younger child was and gave him a new stuffed bear, recently donated by the Inez Neighborhood Association. 911 soon arrived and all staff were grateful for the positive outcome. The mother called later to thank everyone for the care shown to her and her children."
The pandemic and resulting library closure highlight the digital divide and the critical role libraries play in serving patrons with limited or no computer or internet access. Library users still need to apply for jobs, housing, birth certificates and other forms of identification and the library is able to help. The team at San Pedro continue to meet each need as best they are able. Customers who need tax forms have been able to get them printed by library staff who have also copied pay stubs to send for unemployment benefits. As Florence says, "We're not in the business of saying no."
To Florence and her team, it's about respect for each person walking through the doors. Here's what she shared: "I work with intelligent, committed and caring librarians, who often go above and beyond to help our patrons. Our branch is known for friendly and helpful staff. Here's a little something about each of them."
Abby Hernandez is insanely creative and comes up with the best displays. Bilingual in Spanish, Abby is a huge help and comfort to the Spanish speakers who come to the library.
Leslie Fox patiently helps patrons with tough reference questions and setting up their devices and troubleshooting eBooks.
Lin McNickle wears hats every day. Patrons look for the hat lady for advice about what to read or watch next. The is also known as the lady who sings and plays guitar during story times.
Toni-Lynn Hart applies her years of experience to each customer interaction and her knowledge is invaluable.
As we all move through the continued unknowns of this pandemic, the San Pedro Library will continue to serve and respond to the needs of this dynamic community. Stop in and say hello!
The library system has 15 branches in the City of Albuquerque and 3 in Bernalillo County. Our libraries are visited by more than 2 million people each year.
More than 73,600 children from birth through high school participated in children's activities in 2017, including the annual Summer Reading Program and Every Child Ready to Read®.
Our libraries provide computer and internet access to visitors so they can participate in the information economy. In 2017, the libraries provided 360,000 hours of computer access in 698,000 individual sessions.