Remarks From Dean Smith Given at the Friends for the Library Annual Meeting (Posted: 07/12/2019)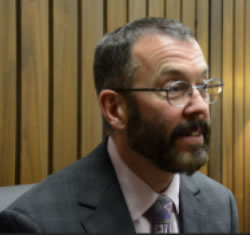 Today we are here to share two simple words: Thank you!
We say thank you to the many volunteers who work with our donations and discards: covering in the book shop, picking up donations from Fiction to Go, setting up and tearing down monthly book sales, and the phenomenal process of pricing and sorting.
We say thank you to the Friend's Board Members who donate significant amounts of their time keeping the Friend's of the Public Library moving forward.
We say thank you to the 600 members of the Friends.
The funds that the Friends collect while handling donations to and discards from the Library support educational and training opportunities for Library Staff, and all of our programs, including Summer Reading.
We say thank you to the 357 volunteers that work in our 18 branch libraries providing over 15,671 hours of time keeping up displays, shelving materials, and assisting with programs. 178 of those volunteers are teenagers who work the Summer Reading Tables for 4,941 hours a year.
We say thank you to the Foundation Board who volunteer hours of time to help enhance the Library. The Foundation solicits and facilitates additional funds including the "All of Us Grant" from the National Institutes of Health, raised significant capital contributions for buildings such as the Rudolfo Anaya North Valley Library and Central & Unser and applied for .grants from organizations such as the Sandia National Laboratories Community Outreach program that has provided support for Early Literacy Centers, the library's Museum Pass Program, coding and STEM programs and the upcoming Cooking Classes for Kids.
We say thank you to the Advisory Board members who represent the Library to our elected officials. Their advocacy has resulted in a 40% increase in our materials budget, significant capital outlay from the City, County and the State for new roofs, new heating and cooling systems, and new parking lots. Their efforts have resulted in improvements to every one of our 18 buildings.
We say thank you, but the real thank you comes in what all our volunteers see every day when they are in the Library: our incredibly diverse community using the Public Library to enrich their lives, whether they are in one of our 18 libraries across the City of Albuquerque and Bernalillo County or online.
That thanks comes in the unemployed citizen using the computers to improve their skills and apply for a job.
That thanks comes in the teen who finds themselves represented in the stories about other people.
That thanks come from the wheelchair user who is able to use our facilities because they are up to date and accessible.
That thanks comes from the senior citizen who stays active in their community by attending a program at their local Library.
That thanks comes from the child attending a storytime with their parent, learning socialization and literacy skills.
So the most powerful thank you is not the one that is said, but the one that we all see every day when the Public Library opens our doors to serve all the residents of Bernalillo County.

Library Customer Shares Impact of Reading (Posted: 07/12/2019)
A customer at the Cherry Hills Library shared: "We participated in the Summer Reading Program and my son received a toy, twisty dog as his weekly prize. He was very happy! When we got home, he went to his room and I didn't hear a sound from him for about an hour and half, which is unusual for a five year old. He emerged later with 3 pieces of paper that contained a story about his new "toy". He named it "Slobbers," complete with illustrations explaining how his dog met another dog at the skate park. My husband and I are going to put this story in our son's keepsake box and send it with him when he goes to college. This is why reading is so powerful for any age."
When sharing this story with APLF, the library staff member said: "This re-affirms why we do what we do. The outcome is priceless."

Honey, a Support Dog, Enjoys a Story (Posted: 07/12/2019)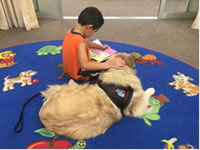 Honey, the friendly dog pictured, usually works at the Sunport welcoming and calming the flying public as they arrive in Albuquerque. On this day, however, she was taking a well-deserved break from her duties and enjoyed a story being read to her by a little boy, much like the one in comment above. Don't we all enjoy a story now and then?
Honey lives with Judy Bissett who provides trained support dogs that volunteer at various community sites such as the Sunport, several libraries and even children's counseling sessions.

Summer Reading 2019 (Posted: 07/12/2019)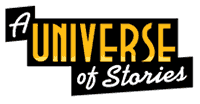 Summer Reading is a free 8-week program at branches of the Public Library that encourages babies, children, tweens, teens and adults to read (or be read to!) throughout the summer. Reading is important for everyone in the community and a skill that grows with practice throughout a lifetime.
Set your own reading goals, read at your own pace wherever you're most comfortable, and visit the library once each week to collect fun incentive prizes. See our event guide for special events and workshops in our libraries.

A Word with Writers: Mira Jacob (Posted: 06/10/2019)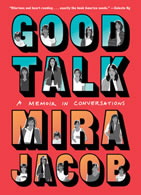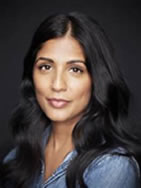 An enthusiastic audience of Albuquerqueans welcomed author Mira Jacob back to her hometown on Friday, May 24th. The official welcoming committee included Mayor Tim Keller and First Lady, Liz Keller and Dr. Shelle Sanchez, Director of the City's Cultural Services Department.
The event was co-sponsored by Bookworks and the Albuquerque Public Library Foundation.
Ms. Jacob read from her latest book Good Talk, a Memoir in Conversations, which is in graphic format. In addition to answering questions from the audience, Mira discussed selections from the book about her parents coming to New Mexico, her life as a writer in New York, and questions from her son about his place in contemporary society.
About Mira Jacob
Mira Jacob is the author of the critically acclaimed novel The Sleepwalker's Guide to Dancing. Her recent work has appeared in The New York Times Book Review, Vogue, Glamour, Tin House, Electric Literature and Literary Hub. She lives in Brooklyn.

Libraries Really Do Change Lives (Posted: 06/10/2019)
We often share stories about interesting programs at our libraries. All of them sound engaging and enjoyable, but are they essential? The short answer is "yes" and library customers confirm that when they express their gratitude to the staff. A staff member at the Central/Unser Library shared:
"One of our mothers, who has six children, fell on some hard times around the holidays in December. She was very happy that she could bring her children to the library to decorate gingerbread houses, watch movies, and play games through winter break. The library helped to keep their minds active while school was out."
A teenage customer at the Lomas Tramway Library reported:
" I've been coming to the library ever since I can remember. Before I could walk or read, I attended story times, crafts, and Read to the Dogs. Once I could read, I would participate in the Read to the Dogs Program, and it created many long-lasting memories. The Summer Reading Program has also been such a huge part of my life; when I was little, I wanted to be one of the people behind the table, and years later that's exactly where I was. After becoming a summer volunteer, I realized that I wanted to volunteer year around and I began to do that as well. The library always presented me with numerous entertaining activities and handed me a world of opportunities because of their books. I read constantly and the library allows me to read them for free rather than purchasing them. The library services brought me joy when I was younger and continues to delight me today."

The All of Us Health Education at The Public Library (Posted: 06/10/2019)
The All of Us Health Education at the Public Library is excited to announce an 8-week nutrition and cooking demonstration program as well as a 12-week Chair Yoga exercise program beginning in June! Visit https://abqlibrary.org/AllofUs for more information about these upcoming events!
The full list of All of Us Health Education Programs this Month:
ICAN – Ideas in Cooking and Nutrition 8-week program on Wednesdays June 5th – July 24th Central & Unser Library at 11:30am
Chair Yoga 12-week program on Wednesdays June 12th – August 28th Juan Tabo Library at 10:30am
"Terrific the Tooth" Children's Puppet Show presented by the Great Arizona Puppet Theater on Saturday, June 8th Lomas Tramway Library at 10:30am
Blue Bear at Storytime! Wednesday, June 12th South Valley Library at 10:30am
Blue Bear at Storytime! Thursday, June 20th Westgate Library at 10:30am

Sandia National Labs 2019 Grant (Posted: 05/07/2019)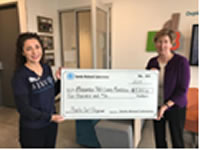 Roberta Rivera, Community Involvement Representative, Sandia National Laboratories and Julia Clarke, Board President, APLF
Sandia Labs has given APLF a $5000 grant for Cooking for Kids programs. Later this year, library users will begin seeing publicity for programs designed to teach children basic cooking skills. Using a carefully designed curriculum and a mobile teaching unit known as a "Charlie Cart," participants will learn about food and how to prepare age appropriate recipes.
All the presentations will incorporate lessons in math, English language arts, science and social studies. We will provide more information once these programs are scheduled. Thank you Sandia for making this possible. Without this grant, these programs could not be offered.

ASRT Library Partnership (Posted: 05/07/2019)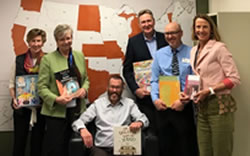 A celebratory luncheon was held on April 10, 2019, at the ASRT headquarters. Pictured above in front of the map showing participating states are from left to right: Julia Clarke, APLF Board President; Cindy Burns, Assistant Director of the library system; Dean Smith, Library Director; Greg Crutcher, ASRT Library Partnership Team; Jake Buehler, ASRT Library Partnership Team and Laura Niel, ASRT Library Partnership Team.
Located in Albuquerque, the American Society of Radiologic Technologists (ASRT) is the world's largest medical imaging and radiation therapy association. The organization recently launched a unique program to support our libraries as well as libraries throughout New Mexico and in many other states. To launch the project, ASRT reached out to Albuquerque Library System representatives in 2016 for guidance on how to develop a strategy for a program to get information about the radiologic sciences into the hands of readers of all ages. In just three short years, the ASRT National Library Partnership has spread nationwide. It includes books, interactive displays and video materials.
Libraries apply for grants from the ASRT and then purchase books and other materials based on recommendations from ASRT. Once a year, participating libraries create displays featuring the myriad of materials that highlight radiologic technologists and the medical imaging and radiation therapy profession. The ideal time for the display is during National Radiologic Technology Week® in early November. ASRT also supplies bookmarks, bookplates, fliers and posters. In short, they ensure success with their support!
The Public Library of Albuquerque and Bernalillo County and the Albuquerque Public Library Foundation have participated since the program's inception. We're honored to be part of this wonderful program.
Some of the initial inspiration for the program came from Laura's grandmother, Anne McRedmond, who was a librarian at Ernie Pyle for many years.

New APLF Board Members (Posted: 04/04/2019)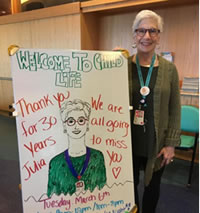 Julia Grimes
Julia comes to the Board from a natural place – she's a librarian. For 13 years she ran the patient resource library at UNM Hospital. She then was appointed head of the Child Life Program at UNMH, a place of respite and learning for hospitalized children.
Books weren't left behind there, though; volunteers under her direction read to children in the hospital, and she started an Albuquerque branch of Reach Out and Read, the national program that provides books to children visiting their doctors. After retiring about a year ago, Julia maintains her commitment to literacy with her work on the APLF board and serving as Secretary for the Libros for Kids board.
Julia and her attorney husband live in Albuquerque. Their daughter, son-in-law and grandson (who loves books) live in Atlanta and their son and daughter-in-law live in Washington, DC. Both of her children are attorneys.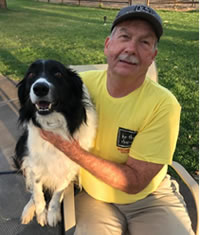 John Heidrich
John Heidrich is a reader of fiction, which he largely borrows electronically and reads after his long workday as a veterinarian. John also is a teacher and researcher in animal health, is a bicyclist, and a volunteer par excellence. Along with his wife and son, John's volunteer activities include the Libros for Kids organization, of which he is President, and Be the Change Volunteers, which works to improve educational opportunities worldwide. Their volunteer activities have taken them as far as India, Peru and Uganda.
John and his wife Linda and their dog Kronk (but not their parrots or llamas) have participated in our library system's Read to the Dog Program, which they find wonderful. John lives 5 ½ miles away from the nearest public library, so he is looking forward to the new Northwest Albuquerque library, currently in the planning stages.

The Main Library (Posted: 04/04/2019)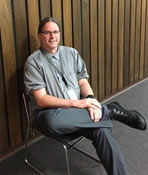 Joshua Fox, area manager for Albuquerque's Main Library smiles when he mentions long-time users asking in his library how to "get to the Main Library." To some of an older generation who have grown up in Albuquerque, Main Library will always be at Central and Edith. That beautifully-restored library is now "Special Collections," while the true Main Library, at Fifth and Copper NE, was built in 1975, designed by well-known Albuquerque architect George Pearl. The library now resides on the State Historical Registry.
Despite having the unflattering registry description as a local exemplar of "brutalist architecture," Mr. Fox points to the welcoming aspect of the big single room on the ground floor. It's not only the architecture that's welcoming, it's also the staff – everyone is welcome at our Main Library. And Mr. Fox points out that it's really three libraries in one: on the upper floor is the genealogy library with its helpful staff helping novice and more advanced genealogists (and the library's administrative offices, as well as files of old Albuquerque newspapers), the ground floor holding the large general collections and a few small meeting rooms, and the lower floor housing a large children's library plus three larger meeting rooms. Those three meeting rooms get heavy use, for children's programs in the amphitheater-like indoor space attached to the children's collection, a community room used for such events as a Community Baby Shower, the Friends of the Albuquerque Public Library's monthly book sale, and political and professional group meetings and theatrical practices often fill the auditorium.
The library is graced by plentiful art – large sculptures (part of the city's One Percent for the Art Program) on exterior walls, changing art exhibits near the entrance, and a magnificent set of illuminated pages from a locally calligraphed version of Don Quixote, installed on the stairway to the upper floor. There's also a carpeted stairway up from the upper floor to the roof; Mr. Fox believes it was intended for a never-built uppermost floor. Some of the art comes from the Tom and Jo Thomason Estate, which has also funded transportation to the library for groups of schoolchildren.
Children – and adults – come for a full range of activities including story hours, Lego clubs, "Read to the Dogs," and a popular weekend family craft program. Computers are heavily used. Families eat their lunches in the lower floor's patio during nice weather. The library system's largest bound reference collection is used by many, especially its auto repair manuals. A Science, Technology, Engineering and Math (STEM) program is being planned for May. Details will come later, though Mr. Fox teased us with description of two components: "elephants' toothpaste" and a mini-catapult. And plans are well along for the annual summer reading program, which this year will feature written material about space, as well as a working mini-planetarium.
Genial Joshua Fox has presided over this large domain for the past four years, since coming from southern California, where he and his wife Reanna (who in turn is in charge of the South Valley Library) grew up. Mr. Fox was a history major at the University of California – Riverside, and received his master's degree in library science at San Jose State University. He loves the proximity of the Sandias and other sites for hiking; he says he has too many hobbies to mention, but includes painting miniatures and, of course reading. He says his current reading list includes many books on cognition and on motivating others; he does a great job of motivating his staff to welcome all of to his/our Main Library.

Special Library for Those with Special Needs (Posted: 04/01/2019)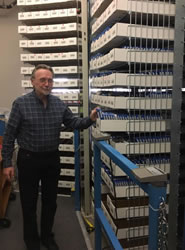 Just off the bustle of Cerrillos Road in Santa Fe sits the New Mexico State Library, and within it is a service unlike any other in the state, the Library for the Blind and Physically Handicapped (LBPH). Serving about 3000 New Mexicans throughout the state, LBPH offers a great deal to visually and physically handicapped people – those who can't see the printed page, and those who can't pick up a book or turn pages.
Speaking with John Mugford, the head librarian, one learns of the resources made available directly from LBPH and, through that library, from the National Library Service for the Blind and Physically Handicapped, usually known as NLS. Mr. Mugford, who has been at his job since 2001, is enthusiastic about the services provided, with about 100,000 books now available either in Santa Fe or through other regional libraries. The New Mexico regional library, LBPH, celebrated its 50th anniversary in 2017, any is part of the national system which was set up in 1931 as part of the Library of Congress.
Like the Albuquerque Bernalillo County Public Library system, LBPH offers audio books. Unlike local library systems, including Albuquerque's, audio books from LBPH and NLS are unlimited in number of copies and unlimited in duration of loan. They are sent out as computer files, but unlike ABC Libraries' audiobooks, they must be downloaded onto a computer and then played on a special device. And one must qualify for the device – qualifications are as noted before: inability to see well enough to read or inability to hold a book or turn pages, or, a potentially large category, dyslexia, which must be diagnosed by a health-care provider.
Currently, Mr. Mugford says, almost all of the library's use is of audio books, though there are about 30 New Mexicans who use Braille books (there's a large repository of Braille books in Utah, from which New Mexico users can borrow). Books are read by volunteers and are often available within a few months of publication.
Much of the library is online, though Mr. Mugford led me into an impressive stack of recordings close to his office – that's where he's pictured. Mr. Mugford, his library and his connections to other regional and national resources are a real asset to New Mexicans. The LBPH website is at http://www.nmstatelibrary.org/lbph; its email address is [email protected].

Alamosa Library (Posted: 02/14/2019)

By Lance Chilton, APLF Board Member
If you're looking for a beautifully-designed, quiet library branch, you can't do better than the Alamosa Branch Library, perhaps a little too well hidden on Albuquerque's West Side, at 6900 Gonzales SW. Sweeping curved windows in front and back give fine views of the Sandia Mountains to the east and of the West Mesa to the west.
Branch manager Nicholas Newlin aims to make the library a center for the community surrounding it, especially for teens looking to better their fortunes through better test performance and college admission and adults seeking jobs. That's not to dismiss younger children, who he hopes will find literacy resources (adults too!) at the 17-year old branch library; the little kids come for story times, especially for the Tuesday morning story hours attended by the YDI Head Start classrooms in the same complex. Mr. Newlin noted that the youngest patrons get a boost when they are exposed to literacy before entering school.
Other libraries in the Albuquerque-Bernalillo County System are co-located with other community services (the Palo Duro Senior Center is across the parking lot for the Erna Fergusson Library and the North Valley Public Health Office and First Choice clinic are in the same complex as the Rudolfo Anaya/North Valley Library). However, there is nothing to compare with the closely linked tenants of the Alamosa Community Center: its library, its First Choice clinic, its WIC Center, its early development center, its gyms and computer rooms, to name a few.
In September 2018, the entire Alamosa Community Center was renamed in honor of long-time community activist Ted M. Gallegos, who certainly would have approved of the linked services. Another life-long community activist, Diana Powdrell-Yonker, who grew up in the area and now manages the First Choice health clinic in the center, spoke fondly and protectively of the library and its importance to the people of the neighborhood and beyond. She was pleased to meet Mr. Newlin; the two plan to share their passion for literacy through loans of books from the library and cross-referral of patients/patrons.
The Alamosa library serves many young families, as well as retirees, but Mr. Newlin sees the need for further extension into the community, including to the Alamosa Elementary School down the hill across a pleasant park. Mr. Newlin sees the importance of promoting literacy, especially with books on paper, though the library offers as well the many electronic services available through our libraries.
Prior to working at Alamosa, Nicholas Newlin worked at the Main Library alongside Director of Collections and Community Engagement Linda Morgan Davis after coming to Albuquerque two years ago. Fluent in Spanish, which is useful in a part of town inhabited by many who prefer that language (the library prominently displays many Spanish-language materials), Mr. Newlin has spent time as a librarian in Latin America. From Denver, he received his bachelor's degree in history at the University of Colorado, and his Master's in Library Science at the University of Maryland. He and his wife and two school-aged children enjoy their new home town, bicycling and reading; he is a vocal proponent of the ABQ&A's recent campaign to "Stop Bagging, Start Bragging" about our city.

Read to the Dogs (Posted: 02/14/2019)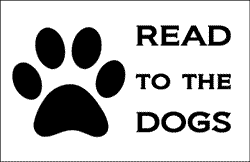 What happens 20 to 25 times a month at eight library branches throughout Albuquerque? What brings together man's best friends and young children at those branches? And what literacy intervention has a strong research basis? The surprising answer to each of these questions is the library's Read to the Dogs program. Mixing placid, well-trained therapy dogs and young children seems to work.
Although the idea of reading to a mute animal may at first blush seem strange, studies have shown that the judgment-free setting allows children to express themselves to an appreciative audience and to improve their reading skills. Cheryl Mugleston, who originated the program in 2002 at the Main Library downtown and is now at the Lomas Tramway Library and has shepherded its growth to its current size, enjoys watching children come into their own as readers. In a study done at the University of California Davis, public school third-graders showed a 12% increase in reading fluency after ten weeks of reading to dogs, while home-schooled children showed a whopping 30% increase in fluency. Comments made by the kids and parents in Davis included the following:
"I feel relaxed when I am reading to a dog because I am having fun."
"I felt like I was reading out loud faster and better."
"I have noticed that he now reads because he wants to, not because he has to."
"My daughter reads aloud a lot more than she used to."
"My son now reads aloud to his little brother. I love that."
It's not just any dog who comes to the eight libraries to be read to: these are therapy dogs selected by one of three agencies, Alliance of Therapy Dogs, Southwest Canine Corps of Volunteers, and Warm Hearts Network. Their owners come with them, and they too are trained to be supportive and nonjudgmental. They enjoy watching the children blossom in the protected environment of a warm library and a warm animal.
Ms. Mugleston tells me that "Volunteer dog owners are very patient people; they love to interact with kids, not correcting the kids, letting them go at their own pace. She has particularly enjoyed seeing served children maintain their reading skills during the long summer vacation, during which many children's abilities in this and other areas slide.
The library's website, https://abqlibrary.org/readtothedogs, is full of excellent information about the program, a schedule for Read to the Dogs sessions, and a link to the UC-Davis research. A longer review of the generally very positive literature about the effects of reading to the dogs can be found at https://www.ncbi.nlm.nih.gov/pmc/articles/ PMC4763282/.
Do Albuquerqueans like it? "Arf, arf!"

East Mountain Library (Posted: 01/17/2019)
By Lance Chilton, APLF Board Member
I arrived at the East Mountain Library in Tijeras just a few hours before an awaited blizzard, and left before the snow began to fall, and some months before the library celebrates its 25th anniversary in October. The mountain community members that use the library were smarter than I, so few were in the library – probably they were viewing the oncoming clouds from a seat by the fire, cradling a warm drink and a good book.
The East Mountain library is the only one of the Albuquerque-Bernalillo County Library system's branches that lies east of the range made up by the Manzanos and Sandias; a sign very close to the library welcomes the traveler to Tijeras, elevation 6300 feet (for reference, Albuquerque's Main Library sits at 4988 feet and the Lomas Tramway Library is at 5765 feet). It serves a mountain community stretching north along New Mexico 14 and south on NM 337 (formerly known as South 14), and east along Interstate 40 toward Edgewood, which has its own library.
"Mountain people are special," branch manager Lynne Fothergill enthuses, "Selfsufficient, independent; they like doing their own catalog research." Most of the library's patrons are well-known to her after four years managing the library – most greet the friendly librarians as they come and go, but only a few need assistance in finding their reading material.
The spacious, bright, and airy library serves the needs of its community well – the teen corner is available for the middle school kids who cross the street (Old Route 66) each school day from Roosevelt Middle School. Also, to meet community interests, the library stocks books on homesteading issues from beekeeping to water issues. There is an extensive collection of videos for cold, snowy winter evenings.
Ms. Fothergill explained the floating collection (where books and other checked out material remains at the branch to which they are returned), and how it is tweaked to fit the needs of a local population. Librarians use a program called Collection HQ to find out what items are getting lots of use and which get little use at each of the branches. So if beekeeping books are getting little use at the Cherry Hills Library, and Spanishlanguage books get little attention in Tijeras, requests for relocation can be made to maximize each branch's collections for its users.
The East Mountain Library further serves its community by posting notices of community events. In addition, it daily or even more frequently posts notices of extreme weather or of other natural concerns, such as the Dog Head Fire of 2016 that caused the evacuation of many homes south of Tijeras.
On a much happier note, the library has many attractions for children, from a preschool story time to a Read to the Dogs weekly program to a yearly Harry Potter extravaganza. All of these are presided over by enthusiastic children's librarian Krystal Webb, whose first library card at age 5 was right here at East Mountain. Krystal takes on various personae during the annual event that spills through the two large children's rooms at the library and out onto the protected patio just to the south of the children's room windows.
Krystal is also responsible for the imaginative decoration of the two rooms: to the north, the room looks like a mountain scene, replete with animals mountain children might see and trees from all four seasons; the south room is decorated like a jungle, again with jungle plants and animals on top of bookshelves and dripping from the ceiling. Krystal started out in the hospitality industry and then quickly shifted to bringing hospitality skills to the library system. Her hospitality degree is from New Mexico State University, and her master's in library science degree was earned at the University of North Texas. Krystal feels very much at home at the East Mountain Library, not only because she has been a patron there for many years, but also because she loves hiking, backpacking and climbing in the mountains. She's also a natural in the children's area, enjoying taking Young Adult novels, fantasy, and magic works home, and being one of the first to review new picture books that arrive in her mountain/jungle domain.

Museum Discovery Pass Program (Posted: 01/17/2019)
What brings balloons, race cars, ancient pueblo ruins and even more ancient dinosaurs, scientific experiments, Civil War era forts, and atomic bombs together? Or better, perhaps, what can bring you and your family together with any one of these?
The answer is the Museum Discovery Pass Program at your public library – all of your public libraries except for the Special Collection Branch. You may have seen the passes hanging from a placard at the information desk of your favorite library branch. There are eight different passes, each available to a family on a first come, first served basis for seven days:
Albuquerque International Balloon Museum.
Albuquerque Museum of Art and History
¡Explora!
Holocaust & Intolerance Museum of New Mexico
Maxwell Museum of Anthropology
National Museum of Nuclear Science & History
New Mexico Family Pass
Unser Racing Museum
Though all of these wonderful cultural institutions are worth supporting financially, many families can't afford the cost when stretching to cover food, shelter, clothing and educational expenses. Other families may not know what they're missing, so the chance to visit the first time without charge may give them the impetus to go another time, once they recognize the wonders of what we have to offer at these great Albuquerque assets.
And it's not just Albuquerque; though the other seven passes cover one great site each within the city, the New Mexico Family Pass alone entitles a family to visit any of 15 state museums and monuments. Two of these are in Albuquerque, the NM Museum of Natural History and Science and the National Hispanic Cultural Center, one is just outside the city (Coronado Historic Site), but several wonderful Santa Fe museums are included and historic sites as far away as the El Camino Real Historic Trail Site south of Socorro and Forts Stanton, Selden and Sumner, the Jemez and Lincoln Historical Sites, and the Las Cruces Farm and Ranch Heritage Museum.
Linda Morgan Davis, Assistant Director of Collections and Community Engagement and originator of the wonderful program, notes that "We have a great partnership with local museums that extends our vision to bring opportunities for knowledge, learning and achievement to our customers and community. This program adds just one more value to owning a library card."
The rules for the passes are a little different than for most other library material to be checked out: you can't reserve them or request them on line or by phone – you just have to look for them at a branch; if they're hanging on the placard, you can check them out for a week. The loan period is shorter than for other materials, to provide more availability to families. This is a very popular program and the library has a limited number of passes available. The library purchases the passes from each museum using library material funds.