Albuquerque Public Library Opening (Posted: 06/06/2020)
Almost all branches of the Albuquerque Public Library opened up again on June 2 with limited hours and limited services and social distancing in place! Information about days of the week and hours of the day and services are available on the library's website.
It's exciting and important that the Albuquerque Public Library will have a Summer Reading Program this summer, despite all the problems with the virus. It's important, because studies have clearly shown that children lose reading skill during summer vacation, and this summer vacation will be the longest any of us have ever seen. See information on the Summer Reading Program.

Ground Broken for the International District Library (Posted: 06/06/2020)
By Lance Chilton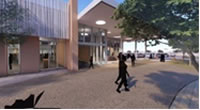 "We are here today to announce a very special groundbreaking. It's special for a number of reasons – because of corona, we can't do it the way we normally would do, but we're doing it to celebrate the groundbreaking of a new library at the site of the old Caravan East, in the heart of the International District." With these words, spoken on May 21, Mayor Tim Keller leads off one of two videos you can see on the city's Facebook page, showing city and state leaders, community activists, and Albuquerque Public Library Foundation board members turn symbolic shovels of sandy earth as construction starts on the new library, which will be the city's nineteenth. An architect's rendering of the completed library is pictured above.
There were many excellent speakers, socially distanced, one by one in front of the sculptural blue door. The most lyrical was our city's poet laureate, Michelle Otero, who gave us permission to reproduce the poem she had written for the event, Breaking Ground.
Caravan East sign says, Breathe
in this moment. We break
ground in this place where we
cumbia'd to Al Hurricane,
two-stepped to Glen Campbell. Breathe in
this moment, when we stand together
by standing apart, holding our touch
for another time. We break ground
in this place of ghosts, strong souls
spiriting us across oceans, whispering
stories in wind. This ground
of sawdust-covered floors. This ground—
alluvial plain off Sandias, where roots
of corn, bean, squash compact under asphalt, converge
on Route 66—journey's beginning or end
or just passing through. We break ground
to say, Stay with me. Sit. Tell your story.
Journeys across states, over continents,
through cloud and ocean se encuentran
aquí en la mesa made of books. We breathe
in this moment, break ground,
break bread—
phô and fufu, fry bread, fideo
ashak and arroz con pollo.
In this moment, we stand together
by standing apart. My mask is
your shield. Your mask is mine.
It won't always be this way.
We break ground to grow
something new, build from seeds
planted before we were born.
We water shoots pushing through concrete.
We are geranium in a coffee can, all colors
of sunrise over Sandias, welcoming
us home.
--Michelle Otero©2020
The wonderful videos, the next best thing to having been able to be there, are at https://www.facebook.com/ABCLibrary/videos/915744752206356 and https://www.facebook.com/180969928599357/posts/3413639248665726/. This second video is also at https://youtu.be/RcfXrju9b6w.

Earth Day Celebration (Posted: 05/05/2020)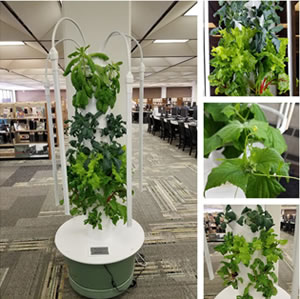 The 50th Earth Day fell on April 22 of this year; carbon emissions were down thanks to the economic contraction that day and the climate breathed a sigh of relief, even as we were confined to quarters for the 42nd day of New Mexico's coronavirus pandemic restrictions. All of us had to celebrate Earth Day in our own way, and our Albuquerque Public Library celebrated with a virtual salad made of its own lettuce and kale and basil, grown in its demonstration tower gardens at the Main, Central/Unser, and South Broadway libraries. Tower gardens use a relatively new and highly environmentally sound means of small-scale agriculture called aeroponic gardening. You can read more about it on the website of the All of Us project on the library's website.

Interview with Library Director Dean P. Smith (Posted: 05/05/2020)

By Lance Chilton
How is the shuttered Albuquerque Public Library doing in this strange time? I spoke with Library Director Dean P. Smith by Zoom on the 49th day of closure.
"In this unprecedented time, library staff continue their mission of bringing resources and services to our community through our varied online services and collections," Mr. Smith said. "Though our buildings are closed, our online resources are available to city and county residents 24 hours a day, 7 days a week."
The richness of the library's on-line services is astounding and available to anyone with a library card, whether or not there's a pandemic raging outside, and whether or not the front doors of any branch are open. Mr. Smith notes that many people, confined at home during the pandemic, have been discovering just that, and many are signing up for library cards for the first time so they can use those resources. Potential users must have a computer, tablet or smart phone, but even wifi is available at multiple sites throughout Albuquerque, including the parking lots of many of the libraries. Click here for an updated map and list of those locations.
What can you get online from our libraries? Almost anything except traditional books on paper. Music, movies, audio-books, e-books, amazing data bases full of information, hints as to what to do with your home-bound kids to keep them occupied… the list goes on. Mr. Smith highlighted a few of the services available as among his favorites:
E-Audio books
Lynda.com's extensive series of instructional videos on designing or using software, business applications, photography, and many other subjects
Brainfuse Helpnow and Brainfuse Jobnow, which provide personalized student tutoring help and advice on resume writing and interviewing for a job 24 hours per day
Hoopla, and its extensive catalogue of books, music, and movies available to all library users in unlimited quantities. The library offers several other platforms for these products, but most limit the number of users at any time to the numbers of copies of a book, for example, that the library has purchased.
All of us hope that the libraries will be opening again soon, but we know neither when that will occur nor exactly what services will be available when they do open. Mr. Smith emphasized the paramount importance of maintaining the safety of library users and staff. Masks and other personal protective equipment will be necessary for both groups. The use of public-access computers is especially problematic, Mr. Smith noted. Computers are grouped in most branches, making physical distancing difficult.
Mr. Smith noted that the pandemic has been very frustrating to public librarians everywhere. "We look upon a library as a place for people to get together and work in one place, whether they interact with one another or not," he said, "but right now we're doing what we need to be doing."

Upcoming Commemoration Event (Posted: 05/05/2020)
During Mayor Tim Keller's telephonic town hall on Monday, April 27, the mayor spotlighted the "wonderful International District Library" as evidence that the city is progressing despite the pandemic. Though there can't be a gala public event to highlight the groundbreaking for the library on East Central between Charleston and San Pedro, a smaller commemoration of the start of construction sometime in May will be covered by the media – watch for it!

Board Member Suzanne Apodaca (Posted: 05/05/2020)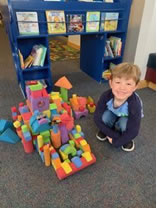 Suzanne Apodaca and her daughter used the Juan Tabo Library for many of Suzanne's 30 years in Albuquerque; she and her now four-year old grandson, Cole, who is pictured at right, have visited the Cherry Hills Library weekly until it closed recently during the virus. One of the little boy's proudest possessions is his library card.
For love of books and libraries and a desire to support them, Suzanne joined our Albuquerque Public Library Foundation board nearly a year ago and has since been doing a yeoperson's job as APLF treasurer ever since.
Suzanne came to the board after retiring in 2018 from a highly successful real estate career that she has since passed on to her stepdaughter. Prior to that she had been bookkeeper for a family construction business and for New Mexico Special Olympics, skills that translate well into keeping careful track of the APLF finances. Suzanne enjoys helping people; she has for several years volunteered to help senior citizens with their annual tax returns.
Suzanne loves to read, favoring spiritual books and fiction, especially fiction telling a family story such as the books of Maeve Binchy, and cites Rosamunde Pilcher's The Shell Seekers as her favorite book of all time.
When not reading or attending to APLF financial matters, Suzanne walks three or four miles a day and cooks plant-based meals for herself and more omnivorous fare for her husband.
Suzanne Apodaca is a great addition to the APLF Board; we're all very happy to have her and her skills alongside us.

National Library Week (Posted: 04/29/2020)
April 19 – 25, 2020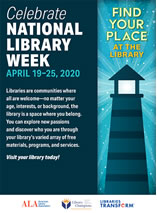 This is a time for us to be thankful for the outstanding library system that we have in Albuquerque and Bernalillo County. To show your appreciation, you could do one of the following:
Check out the Library's website to get information on such topics as digital materials, activities for kids, adult distance learning and city facilities.
Send a note to your city councilor asking him/her to keep libraries adequately funded – especially during this spring budget process and tell him/her why libraries are important to you.
Write a letter to the editor of the Albuquerque Journal expressing your appreciation for the digital materials available from the library – especially during this COVID 19 crisis.
Send a donation to the Albuquerque Public Library Foundation – PO Box 25792 – Albuquerque, NM 87125. We have a very low overhead because all Foundation work is done by volunteers; donations are used to fund library programs and facilities.

Closed Libraries Still Have Much to Offer (Posted: 03/26/2020)
By Lance Chilton
As I write this, I was last in an Albuquerque library yesterday. I won't be in one again for the next month. As all of you reading this know, the Albuquerque-Bernalillo County Libraries have been shuttered until at least April 15 due to our new enemy, the coronavirus, COVID-19. And of course not only libraries are closed.
I stopped by the busy Erna Fergusson library on San Mateo to while away some time between appointments. I found the book I wanted on the shelf and read away – a novel by Louise Erdrich, since we all were unable to see her in person on March 12, again due to the same enemy. A great many people were in the library – the helpful librarians, of course, people of all ages browsing the stacks, many working on computers, some reading magazines or books like me, some dozing. I felt right at home.
My mother was one of those who depended on the computers in her local library in a small town in California – the library was her second home; her first one had no computer. If she were here in Albuquerque right now, she'd be deprived of access to her email and much of her connection with the world, let alone the books she read night and day. I have a computer at home, but many Albuquerqueans do not, and depend on their library computer time for email, news, job applications, and much else. The books in print and the computers aren't available right now, in the interest of our health.
But all is not lost: a great deal of remarkable material is available with your library card even when the library is closed. Many books are available to be downloaded, perfect to be read on your electronic device (computer, smart phone, tablet, or e-reader). Many audio books are ready to be checked out and downloaded electronically. The library's startlingly good set of electronic databases and other eResources are just as available as before the COVID-19 invaded the country and the city. Your new best friend may be abqlibrary.org.
We'll all be happy to bid the coronavirus farewell. We'll all be glad to see our essential libraries open again, and life can resume much as it was before. In the meanwhile, the library has our backs.

Louise Erdrich Books Available at Bookworks After COVID-19 (Posted: 03/26/2020)
One of the many events cancelled due to COVID-19 was the eagerly-awaited in-person interview with Louise Erdrich, a very-inventive author of some 16 novels, including the one she was to have read from on the stage of the KiMo Theater to a sold-out crowd. Having just completed the previous Erdrich novel, Future Home of the Living God, I was anxious to get started on the new one, The Night Watchman.
So I hoped to go to Bookworks, but found that it unfortunately has been forced to suspend most of its services during the emergency. If you had tickets to the Louise Erdrich event, you'll be able to pick up your copy of The Night Watchman after Bookworks reopens. You can still order books through Bookworks' website, and they will be mailed to you free of shipping charges through the end of March. Bookworks hopes to be able to reschedule Ms. Erdrich's event when the dust (and the virus) settle.

Celebrations & Memorials (Posted: 03/26/2020)
The Albuquerque Public Library Foundation is encouraging our library supporters to recognize a friend or family member with a donation to the Foundation. Give a donation in memory of a loved one or in honor of someone you admire and they or their family will receive a personal note from us letting them know about your generous gift.
Click here to donate. Follow the directions to donate online or to donate by mail. Be sure to include contact information about the designee of the gift so that the Library Foundation can let that person know of your gift—without mentioning the amount. Or if it is a memorial, please let us know the person you want notified.
Your donation and designee will be listed our website to recognize your thoughtfulness and your willingness to support the library system. Gifts honoring the milestones in the lives of your loved ones will enable the libraries to offer more programs and services benefitting Albuquerque and Bernalillo County residents of all ages.

Teen Book Trailer Contest (Posted: 03/11/2020)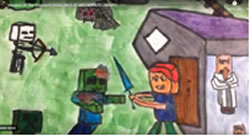 From the Oxford Dictionary definition of trailer:
An excerpt or series of excerpts from a movie or program [OR BOOK] used to advertise it in advance; a preview.
Just this past weekend, your public library held its award ceremony for a group of very talented teens and pre-teens who had made their own book trailers. Sometimes video images and books seem to be in competition for our time, but in this case, the video promotes the book. From the library's website, "Book Trailers are made to encourage people to read a particular book or novel. They usually give an audience a sense of what a book is about without giving away too many details so the audience will want to read the book to find out what happens."
I spoke with members of a family that put together one of the prize-winning trailers for last year's contest – Far from the Tree – "by JEML Productions." JEML is the Larrañaga family of four siblings, Iliana, Lorena, Marisa and Mateo, not separated at birth unlike the heroes of the book. I spoke with two of the Larrañaga sisters. Iliana said that she and her siblings enjoyed doing videos and projects together and especially about a book that she loved. Lorena said that she and her sisters and brother enjoyed the team effort on a great book representing time long ago.
You're now among the first to know that the March 2020 winners of the teen trailer awards (drum roll please):
Best Trailer Video Created by a Tween (age 11-12): Sophia Carrillo for A Tale Dark & Grimm
Best Trailer Video Created by a Teen (age 13-19): Lelia Yane for Alice in Wonderland
Audience Favorite Trailer Video (as decided by an online poll): Lydia Behrens for One for Sorrow
On the same website, https://abqlibrary.org/booktrailercontest, you can watch the wonderful trailers that have won the contest in recent years. We have talented youngsters in this town, not only in the professionalism of their videos, but also in the titles and credits that entice you to check out the books and read them. Old favorites like Little Women and Of Mice and Men, genre fiction like Crimebiters and Invasion of the Underworld, and children's classics like Green Eggs and Ham and Charlotte's Web are all there.
The contest is sponsored in part by the Albuquerque Public Library Foundation which is delighted that scores of youth entered this year's Book Trailer contest, combining their skills in technology with a love for reading.

City Councilor Pat Davis (Posted: 02/14/2020)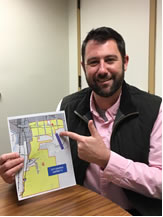 City Councilor Pat Davis remembers how important the Carnegie Library in his small Georgia hometown was. "We only had two TV channels – it was the news, Sesame Street, or a book," he said during a recent interview. He still loves to read, though more often now he has to read legislation and budget reports.
Councilor Davis recently happily announced that groundbreaking for the new International District Library will occur sometime this spring. "It will be a major event," he said, with one hundred shovels." He thought the community had waited long enough; planning has been ten years in the making.
Although there are two libraries in Mr. Davis' district, both are "bursting at the seams," as he said. The Ernie Pyle Library is fun to visit and homey – but that's just what it is, a home, and can't house more than half a dozen people at a time. The San Pedro Library is considerably larger. Like Ernie Pyle, it is filled with helpful librarians, but there is only so much that can be done with very little space, and no meeting rooms.
Councilor Davis referred forcefully to the need for more room for community groups to meet. In his highly diverse district, Council District 6, some 27 languages are spoken. Some families have all the resources they need for fostering early literacy; many do not.
Councilor Davis believes that the International District Library will be a great place for meetings and for displays of cultural objects. He stated that he looked forward to community members coming in to the new library for a meeting or a look at cultural artifacts and then finding all the book and computer and online services that are offered there.
A member of City Council for the past four years and recently re-elected, Mr. Davis relayed an anecdote of his dependence on Albuquerque's libraries. Wanting to be sworn in with his hand on the US Constitution, he had difficulty finding a copy anywhere in City Hall – everything was online and you can't (yet) be sworn in on a computer terminal. Finally, a printed copy of the Constitution was found in the reference section of the Main Library, and since it was not to be checked out, it was escorted over to City Hall for the ceremony. It then was returned to its place in the reference stacks, where it, like all the libraries' great resources, is available to everyone.

Third Graders' Library Cards (Posted: 02/14/2020)
Starting almost two years ago, our Albuquerque Bernalillo County Public Library began issuing cards to every third grader in APS schools, starting with one school, proving it worked, and then moving on and on and on as fast as library staff could make the cards. Those already having cards were given a "novelty" card, which is imprinted with each student's name and a message congratulating them on already having a card. Everyone else got a bright new card and was encouraged to use them at any library in the system.
So far, according to Deborah Hassi, Youth Services Manager, 6,682 children have received a card, roughly 60 per cent of them new to the library system. Librarians emphasize that the services are free, and cards are available at any of the ABC Library's 18 locations.

Early Literacy Support (Posted: 01/22/2020)
What was your favorite book, as a child? Among favorites of grandparent age now, books like In a Night Kitchen, Goodnight Moon, Winnie the Pooh, The Cat in the Hat, and Charlotte's Web are often mentioned. Our children wanted to hear Thy Friend, Obadiah and Alexander and The Terrible, Horrible, No Good, Very Bad Day over and over and over. Older children may read Harry Potter over and over.
The point is to read with a child, whatever book is chosen.. Early exposure to books – and to words! – is important for school readiness – lots of educational and medical evidence supports this.
Our Albuquerque libraries do a great job of supporting early literacy in many ways, including (but not limited to) having outstanding collections of kids' books for all ages. Story times, participation in the program "Every Child Ready to Read" and Read to the Dogs programs are complemented by Early Literacy Centers, with checkout-able Early Literacy kits in eleven of the branches of the Albuquerque Public Library.
Early literacy centers and early literacy kits are projects of the Albuquerque Public Library Foundation, with a major assist from TLC Plumbing. Your donations (and companies' and board members' gifts to APLF) help to establish, equip, and maintain these centers, so important to starting kids off in the right direction on reading.
According to NAEP data provided by Thomas Scharmen, MPH, of the New Mexico Department of Health, in many Albuquerque schools, only a very small proportion of fourth graders can be rated "proficient" at reading. There are many elementaries where fewer than 15% are rated "proficient," and almost none where more than 40% are "proficient." Clearly we need Early Literacy Centers, and APLF would like to thank its donors for supporting them.
For more information, go to The NAEP Reading Achievement Levels by Grade web page for information on criteria and measurement of proficiency, to Understanding Assessment Results for a pediatric view as to the importance of early literacy to child health and well-being.
Click here for a terrific list of what the New York Public Library considers "100 Great Children's Books.". Three all-time favorites from that list are shown below.
And go to our library's website, for information about story times, early literacy centers, and other ways in which the Albuquerque-Bernalillo County Libraries support early reading and literacy.