Closed Libraries Still Have Much to Offer (Posted: 03/26/2020)
By Lance Chilton
As I write this, I was last in an Albuquerque library yesterday. I won't be in one again for the next month. As all of you reading this know, the Albuquerque-Bernalillo County Libraries have been shuttered until at least April 15 due to our new enemy, the coronavirus, COVID-19. And of course not only libraries are closed.
I stopped by the busy Erna Fergusson library on San Mateo to while away some time between appointments. I found the book I wanted on the shelf and read away – a novel by Louise Erdrich, since we all were unable to see her in person on March 12, again due to the same enemy. A great many people were in the library – the helpful librarians, of course, people of all ages browsing the stacks, many working on computers, some reading magazines or books like me, some dozing. I felt right at home.
My mother was one of those who depended on the computers in her local library in a small town in California – the library was her second home; her first one had no computer. If she were here in Albuquerque right now, she'd be deprived of access to her email and much of her connection with the world, let alone the books she read night and day. I have a computer at home, but many Albuquerqueans do not, and depend on their library computer time for email, news, job applications, and much else. The books in print and the computers aren't available right now, in the interest of our health.
But all is not lost: a great deal of remarkable material is available with your library card even when the library is closed. Many books are available to be downloaded, perfect to be read on your electronic device (computer, smart phone, tablet, or e-reader). Many audio books are ready to be checked out and downloaded electronically. The library's startlingly good set of electronic databases and other eResources are just as available as before the COVID-19 invaded the country and the city. Your new best friend may be abqlibrary.org.
We'll all be happy to bid the coronavirus farewell. We'll all be glad to see our essential libraries open again, and life can resume much as it was before. In the meanwhile, the library has our backs.

Louise Erdrich Books Available at Bookworks After COVID-19 (Posted: 03/26/2020)
One of the many events cancelled due to COVID-19 was the eagerly-awaited in-person interview with Louise Erdrich, a very-inventive author of some 16 novels, including the one she was to have read from on the stage of the KiMo Theater to a sold-out crowd. Having just completed the previous Erdrich novel, Future Home of the Living God, I was anxious to get started on the new one, The Night Watchman.
So I hoped to go to Bookworks, but found that it unfortunately has been forced to suspend most of its services during the emergency. If you had tickets to the Louise Erdrich event, you'll be able to pick up your copy of The Night Watchman after Bookworks reopens. You can still order books through Bookworks' website, and they will be mailed to you free of shipping charges through the end of March. Bookworks hopes to be able to reschedule Ms. Erdrich's event when the dust (and the virus) settle.

Celebrations & Memorials (Posted: 03/26/2020)
The Albuquerque Public Library Foundation is encouraging our library supporters to recognize a friend or family member with a donation to the Foundation. Give a donation in memory of a loved one or in honor of someone you admire and they or their family will receive a personal note from us letting them know about your generous gift.
Click here to donate. Follow the directions to donate online or to donate by mail. Be sure to include contact information about the designee of the gift so that the Library Foundation can let that person know of your gift—without mentioning the amount. Or if it is a memorial, please let us know the person you want notified.
Your donation and designee will be listed our website to recognize your thoughtfulness and your willingness to support the library system. Gifts honoring the milestones in the lives of your loved ones will enable the libraries to offer more programs and services benefitting Albuquerque and Bernalillo County residents of all ages.

Teen Book Trailer Contest (Posted: 03/11/2020)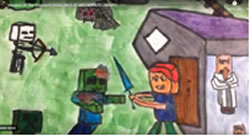 From the Oxford Dictionary definition of trailer:
An excerpt or series of excerpts from a movie or program [OR BOOK] used to advertise it in advance; a preview.
Just this past weekend, your public library held its award ceremony for a group of very talented teens and pre-teens who had made their own book trailers. Sometimes video images and books seem to be in competition for our time, but in this case, the video promotes the book. From the library's website, "Book Trailers are made to encourage people to read a particular book or novel. They usually give an audience a sense of what a book is about without giving away too many details so the audience will want to read the book to find out what happens."
I spoke with members of a family that put together one of the prize-winning trailers for last year's contest – Far from the Tree – "by JEML Productions." JEML is the Larrañaga family of four siblings, Iliana, Lorena, Marisa and Mateo, not separated at birth unlike the heroes of the book. I spoke with two of the Larrañaga sisters. Iliana said that she and her siblings enjoyed doing videos and projects together and especially about a book that she loved. Lorena said that she and her sisters and brother enjoyed the team effort on a great book representing time long ago.
You're now among the first to know that the March 2020 winners of the teen trailer awards (drum roll please):
Best Trailer Video Created by a Tween (age 11-12): Sophia Carrillo for A Tale Dark & Grimm
Best Trailer Video Created by a Teen (age 13-19): Lelia Yane for Alice in Wonderland
Audience Favorite Trailer Video (as decided by an online poll): Lydia Behrens for One for Sorrow
On the same website, https://abqlibrary.org/booktrailercontest, you can watch the wonderful trailers that have won the contest in recent years. We have talented youngsters in this town, not only in the professionalism of their videos, but also in the titles and credits that entice you to check out the books and read them. Old favorites like Little Women and Of Mice and Men, genre fiction like Crimebiters and Invasion of the Underworld, and children's classics like Green Eggs and Ham and Charlotte's Web are all there.
The contest is sponsored in part by the Albuquerque Public Library Foundation which is delighted that scores of youth entered this year's Book Trailer contest, combining their skills in technology with a love for reading.

City Councilor Pat Davis (Posted: 02/14/2020)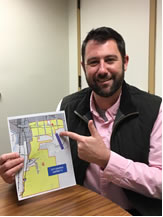 City Councilor Pat Davis remembers how important the Carnegie Library in his small Georgia hometown was. "We only had two TV channels – it was the news, Sesame Street, or a book," he said during a recent interview. He still loves to read, though more often now he has to read legislation and budget reports.
Councilor Davis recently happily announced that groundbreaking for the new International District Library will occur sometime this spring. "It will be a major event," he said, with one hundred shovels." He thought the community had waited long enough; planning has been ten years in the making.
Although there are two libraries in Mr. Davis' district, both are "bursting at the seams," as he said. The Ernie Pyle Library is fun to visit and homey – but that's just what it is, a home, and can't house more than half a dozen people at a time. The San Pedro Library is considerably larger. Like Ernie Pyle, it is filled with helpful librarians, but there is only so much that can be done with very little space, and no meeting rooms.
Councilor Davis referred forcefully to the need for more room for community groups to meet. In his highly diverse district, Council District 6, some 27 languages are spoken. Some families have all the resources they need for fostering early literacy; many do not.
Councilor Davis believes that the International District Library will be a great place for meetings and for displays of cultural objects. He stated that he looked forward to community members coming in to the new library for a meeting or a look at cultural artifacts and then finding all the book and computer and online services that are offered there.
A member of City Council for the past four years and recently re-elected, Mr. Davis relayed an anecdote of his dependence on Albuquerque's libraries. Wanting to be sworn in with his hand on the US Constitution, he had difficulty finding a copy anywhere in City Hall – everything was online and you can't (yet) be sworn in on a computer terminal. Finally, a printed copy of the Constitution was found in the reference section of the Main Library, and since it was not to be checked out, it was escorted over to City Hall for the ceremony. It then was returned to its place in the reference stacks, where it, like all the libraries' great resources, is available to everyone.

Third Graders' Library Cards (Posted: 02/14/2020)
Starting almost two years ago, our Albuquerque Bernalillo County Public Library began issuing cards to every third grader in APS schools, starting with one school, proving it worked, and then moving on and on and on as fast as library staff could make the cards. Those already having cards were given a "novelty" card, which is imprinted with each student's name and a message congratulating them on already having a card. Everyone else got a bright new card and was encouraged to use them at any library in the system.
So far, according to Deborah Hassi, Youth Services Manager, 6,682 children have received a card, roughly 60 per cent of them new to the library system. Librarians emphasize that the services are free, and cards are available at any of the ABC Library's 18 locations.

Early Literacy Support (Posted: 01/22/2020)
What was your favorite book, as a child? Among favorites of grandparent age now, books like In a Night Kitchen, Goodnight Moon, Winnie the Pooh, The Cat in the Hat, and Charlotte's Web are often mentioned. Our children wanted to hear Thy Friend, Obadiah and Alexander and The Terrible, Horrible, No Good, Very Bad Day over and over and over. Older children may read Harry Potter over and over.
The point is to read with a child, whatever book is chosen.. Early exposure to books – and to words! – is important for school readiness – lots of educational and medical evidence supports this.
Our Albuquerque libraries do a great job of supporting early literacy in many ways, including (but not limited to) having outstanding collections of kids' books for all ages. Story times, participation in the program "Every Child Ready to Read" and Read to the Dogs programs are complemented by Early Literacy Centers, with checkout-able Early Literacy kits in eleven of the branches of the Albuquerque Public Library.
Early literacy centers and early literacy kits are projects of the Albuquerque Public Library Foundation, with a major assist from TLC Plumbing. Your donations (and companies' and board members' gifts to APLF) help to establish, equip, and maintain these centers, so important to starting kids off in the right direction on reading.
According to NAEP data provided by Thomas Scharmen, MPH, of the New Mexico Department of Health, in many Albuquerque schools, only a very small proportion of fourth graders can be rated "proficient" at reading. There are many elementaries where fewer than 15% are rated "proficient," and almost none where more than 40% are "proficient." Clearly we need Early Literacy Centers, and APLF would like to thank its donors for supporting them.
For more information, go to The NAEP Reading Achievement Levels by Grade web page for information on criteria and measurement of proficiency, to Understanding Assessment Results for a pediatric view as to the importance of early literacy to child health and well-being.
Click here for a terrific list of what the New York Public Library considers "100 Great Children's Books.". Three all-time favorites from that list are shown below.
And go to our library's website, for information about story times, early literacy centers, and other ways in which the Albuquerque-Bernalillo County Libraries support early reading and literacy.